Dried Fruit Compote is a versatile topping for a variety of sweet and savory snacks.
---
You're going to love this easy to make Dried Fruit Compote. It's filled with dried cherries, dried mango, fresh apples, and flavored with cinnamon, nutmeg and honey.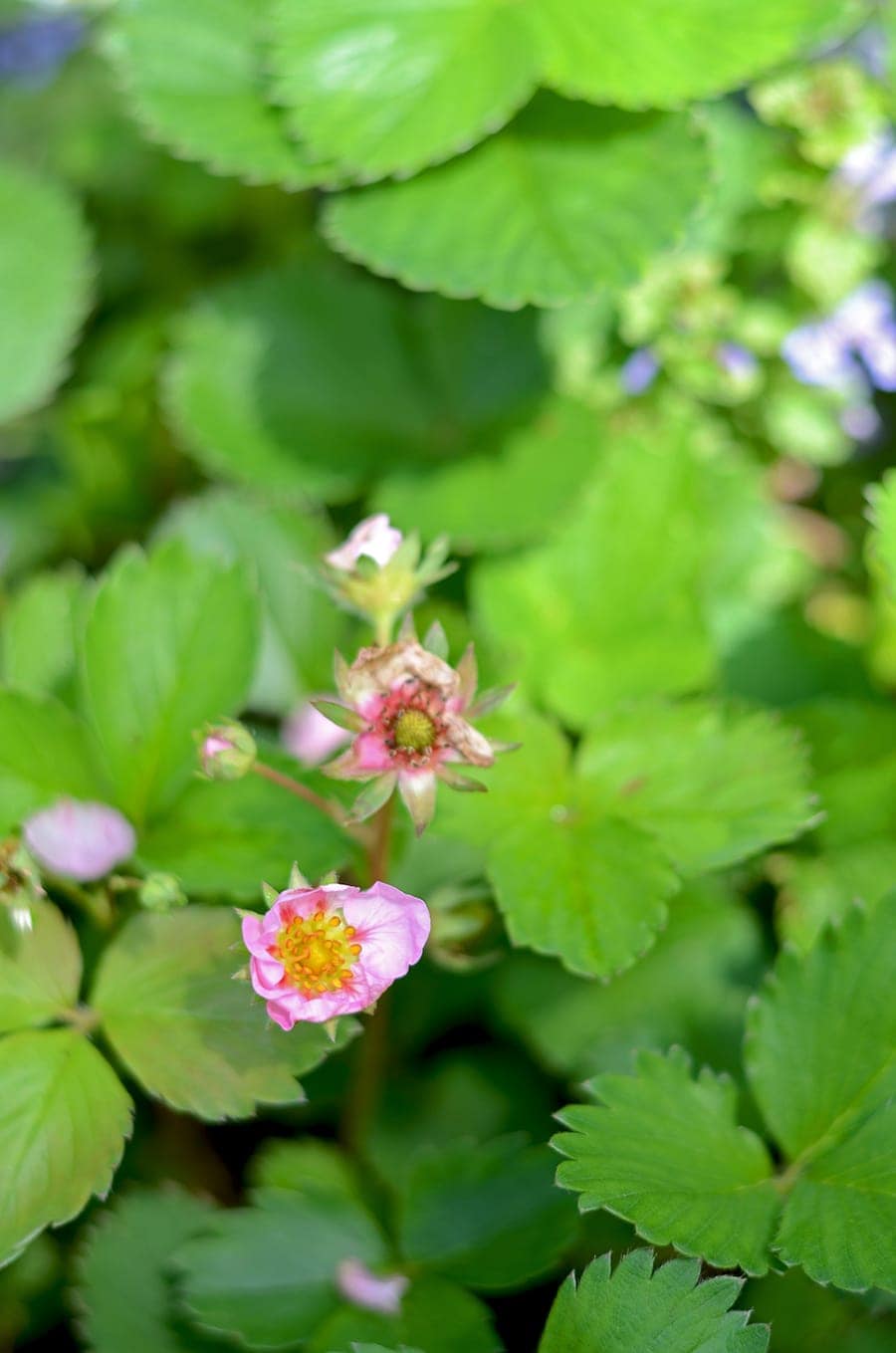 Spring has been busy here….planning a garden club luncheon and a Mother's Day celebration, spring cleaning, and an endless amount of gardening!
We have had nearly nonstop rain to contend with so we are behind on our vegetable planting schedule but the herbs and strawberries are loving the downpours. But so are the weeds! So rain, weed, rain, weed has been the pattern. Very little planting has happened until recently.
Last week, during a lull in the rain, we ripped out what remained of a hedge of dying forsythia to make room for raspberries and blackberries. We chose Arapaho and Triple Crown blackberries, both thornless varieties that promise to need little trellis support. For the raspberries we planted Anne, a yellow variety; Kilanrney, a vibrant red; and Jewel, a black raspberry. All were planted in the shade as locations with full sun are in short supply in our mature treed lot. Fingers crossed that they get enough sun to thrive.
Now the garden is sporting berry bushes that will hopefully supply generous quantities of fruit in future seasons, and I am sporting a poison ivy rash! Remember all that weeding? Despite wearing rose gloves, with latex gloves under and over them, long sleeves and pants…I have a rash on my ankles.
But undaunted I did more weeding later in the week and planted sweet and hot pepper plants and cucumber and squash seeds. Some of the yard has been mulched but not much as it is raining AGAIN! I think Mother Nature mixed up her months this year! It's 51 outside and pouring.
But there is still more to do. I've got four new rhubarb plants and bunch of mums waiting to be planted. And who knows if I'll get to planting the beans or eggplant. There's nothing I can do about the rain other than watch it. Luckily, we have Dried Fruit Compote leftover from Mother's Day and a lovely view of the rain from the porch.
This compote recipe was a last minute addition to the April garden club luncheon. When I plan parties, I always come up with an impossible list of menu items, decor, and activities.
The hubby always says it can't be done, and well, sometimes reality wins. And sometimes the list grows instead of shrinking. At the last minute, I will throw in an extra task or two when caffeine has replaced stamina. A state that results in an energetic frenzy that is part genius and part delirium!
So this last minute compote was created because I wanted more of the cheese course to be homemade (the theme was April in Paris). Of course a jar of Bonne Maman would do, but homemade is always better. I decided to use mostly dried fruit because I wanted the texture that dried fruit would impart, not to mention the fact that dried fruit is more readily available in early Spring than fresh fruit.
It was a huge hit, so I decided to make it again for Mother's Day. I planned on serving brie, which I think always tastes better with a topping of jam.
Although a compote is technically a dessert, I have never eaten one as such. A better classification would be to call it a condiment. This recipe is a perfect accompaniment to a soft cheese, a topping for a custard dessert or a spread for toast. It is bursting with complex fruit flavors, honey and spices that can make an ordinary cheese and cracker appetizer elegant and homey at the same time.
Both my mom and my sister-in-law's mother said the Dried Fruit Compote reminded them of mincemeat. Indeed it has many of the same ingredients, but lacks the fat component and uses spiced rum instead of the usual brandy.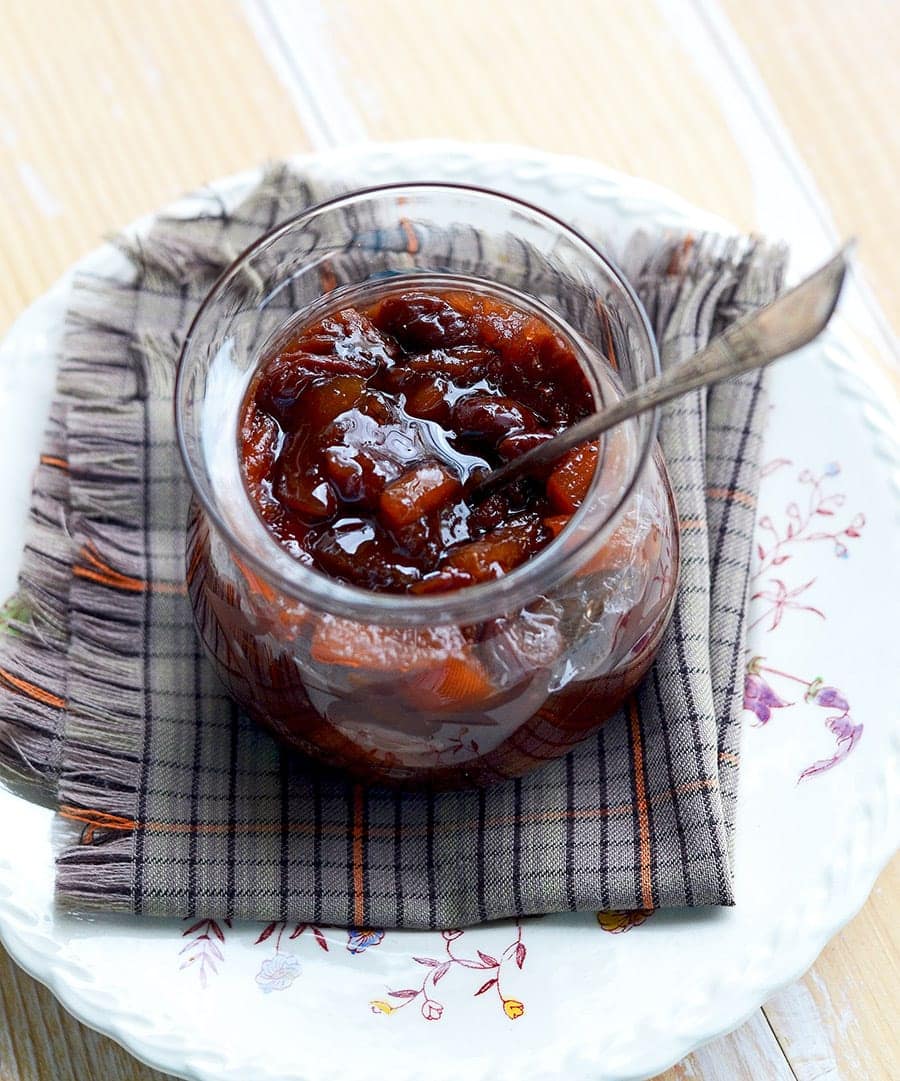 There is something nostalgic about this dried fruit compote. It hearkens back to a day when all things delicious were made with love. Hand pies, homemade yogurt, biscuits and this compote to make them sweet and unforgettable.
Dried Fruit Compote Recipe
I love this compote with brie, but it's also nice served with a butter biscuit.
Print
Rate
Ingredients
1

cup

dried cherries

3/4

cup

dried mango

cut into small pieces

2

medium sized apples,

skinned and diced

1

cinnamon stick

1/3

of a nutmeg seed,

finely grated

1/2

cup

honey

1/4

cup

spiced rum

2

TB

dark brown sugar

3

cups

water

black pepper to taste
Instructions
Place cherries, mango, apples, cinnamon, nutmeg, honey, spiced rum, sugar and water into a large saucepan.

Bring mixture to a boil.

Once boiling, reduce to a simmer, stirring often.

Simmer until most of the apples have cooked down to a sauce, about 40 minutes.

If the water evaporates before the apples cook down, add more water.

By the time the apples are softened, the compote should be thick like a jam.

Remove the cinnamon stick and place compote in an airtight container. Refrigerate until ready to serve.

Serve at room temperature.
Nutrition
Serving:
2
tablespoons
|
Calories:
59
kcal
|
Carbohydrates:
14
g
|
Protein:
1
g
|
Fat:
1
g
|
Saturated Fat:
1
g
|
Sodium:
2
mg
|
Potassium:
15
mg
|
Fiber:
1
g
|
Sugar:
11
g
|
Vitamin A:
724
IU
|
Vitamin C:
1
mg
|
Calcium:
10
mg
|
Iron:
1
mg
Tried this recipe?
Let us know how it turned out for you! Scroll down to leave a comment below.
You might also like:
Blueberry Lime Shortbread
Blueberry Lime Shortbread is a great icebox cookie. It's filled with dried blueberries and lime zest giving it a fresh, zippy flavor.
Blueberry Grapefruit Bars
Blueberry Grapefruit Bars are a perfect warm weather dessert that is sweet, refreshing, tart, buttery and best served cold. Scratch baking at it's best!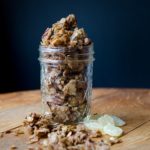 Gingerbread Granola
This Gingerbread Granola is super easy to make and great for snacking, yogurt parfaits or as a thoughtful homemade gift. Gingery, sweet, crunchy, nutty and so good, you'll want to eat this granola all year long!