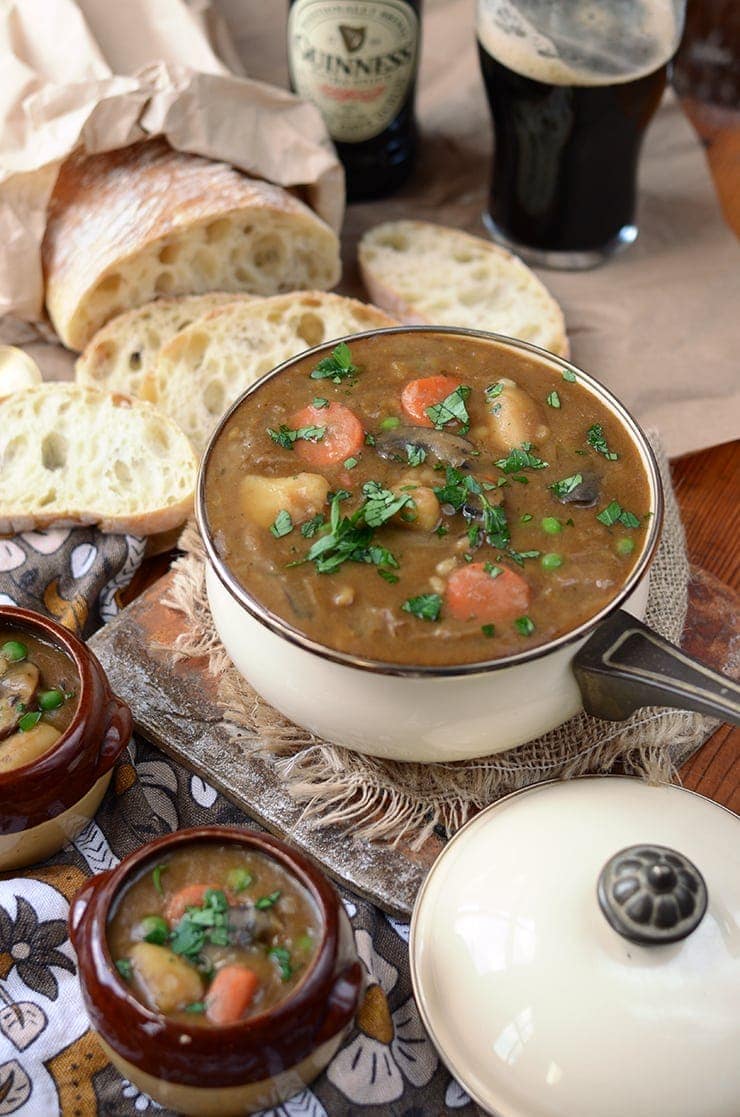 Finally, there's a Guinness stew without meat! You'll love this Vegan Guinness Barley Stew that's just as rich and savory as the traditional versions!
---
St Patrick's Day is just around the corner and you don't want to forget your something green- parsley topped Vegan Guinness Barley Stew! You don't need to be Irish to know this stew is the real deal! It's made with rich caramelized onions, baby portabella mushrooms and of course, stout beer!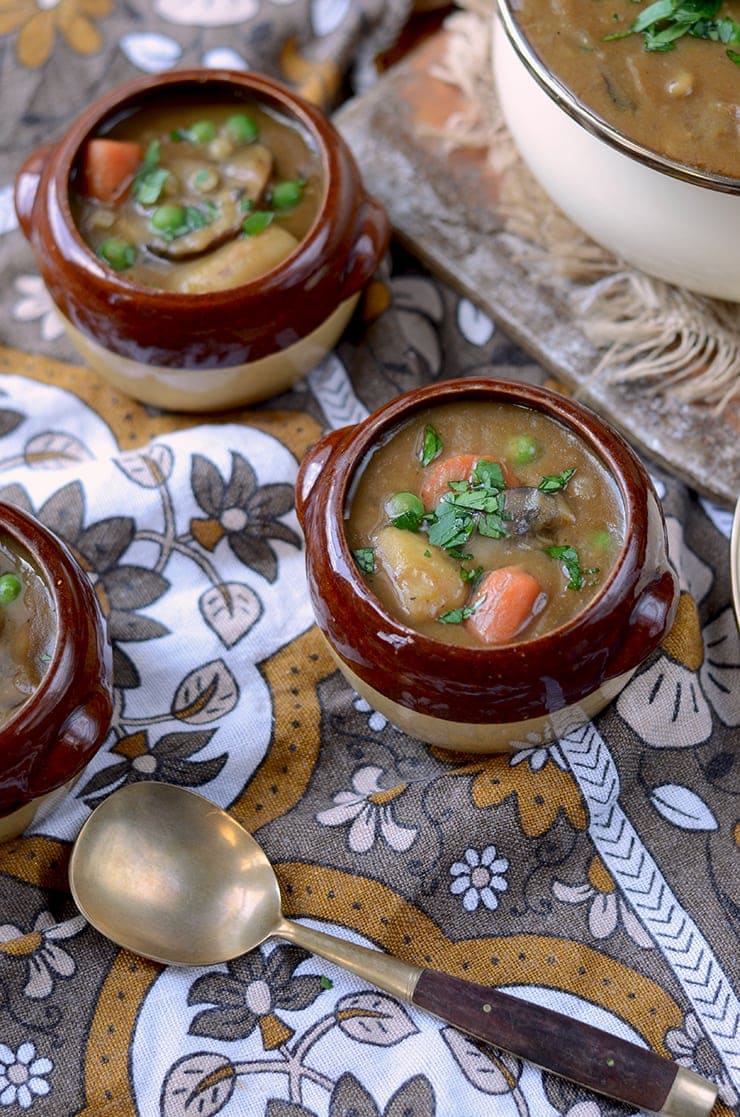 I love a good challenge, so I thought that creating a vegan version of a traditional Irish stew would be a worthwhile adventure. Somehow vegan and Irish don't seem to belong in the same sentence let alone the same recipe. But times are a changin' and we all need something hearty to eat to connect us with our Irish heritage.
I'm a wee bit Irish by way of my maternal grandmother whose maiden name was Higgins. Alas, my family was also a wee bit German and English and growing up in Pennsylvania Dutch country, I'm not exactly an expert on Irish cuisine. But thanks to my family friend Clay (who wears his Irish family heritage on his sleeve) I've been to many an Irish pub and even came to be friends with his truly Irish cousin, Sarah.
So, I declared myself expert enough to tackle this challenge.
Traditional Irish stew historically didn't contain Guinness. It was a simple mutton stew with potatoes, onions and maybe parsley. But over time the dish evolved and beef and Guinness were added, among other ingredients such as barley and celery.
So it stood to reason that Irish Stew could also be made into a delicious vegan dish.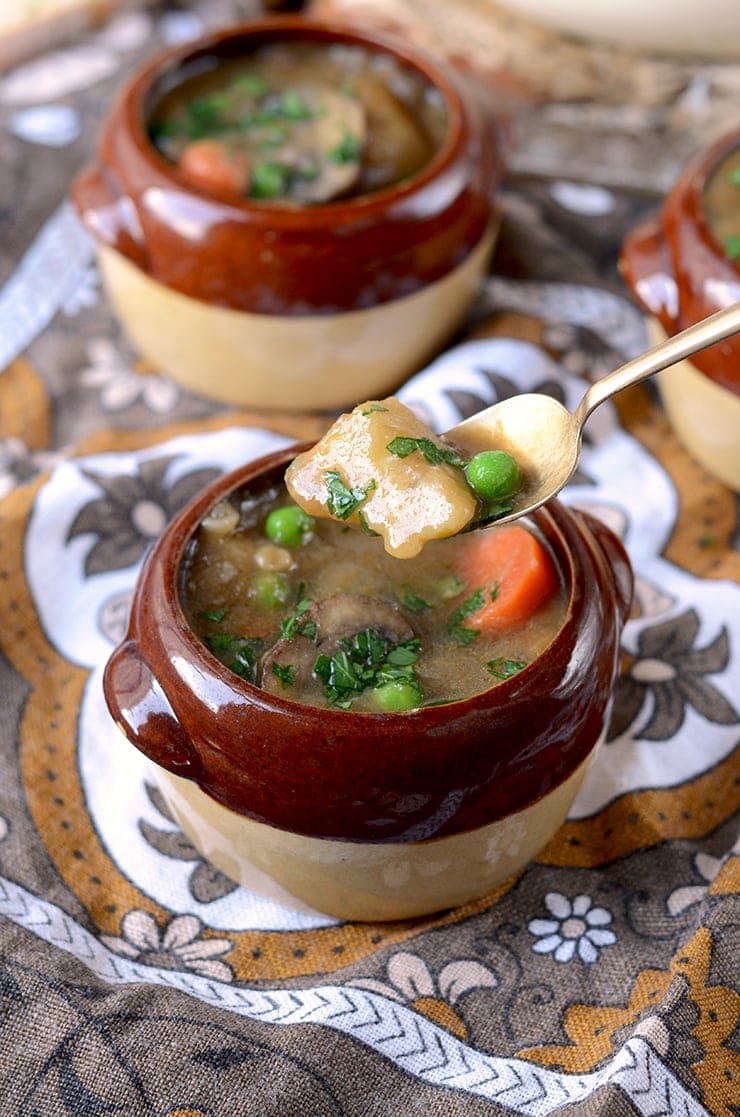 Stout beer brings lots of flavor to the party, so it was important to embrace Guinness as an ingredient for this vegan recipe twist. But that alone cannot replace the meatiness of a traditional Irish stew. So to give the broth the richness it deserves, there's a base of caramelized onions. They also offset the somewhat bitter taste of the beer by adding sweetness.
But I took it one step further by adding baby portabella mushrooms to the mix of potatoes, carrots, parsnips, barley and parsley. Oh and of course I had to add some green peas! Extra green is extra good for St Paddys!
I will give fair warning that this recipe is not quick! Caramelizing onions takes a wee bit of time. If you're in a hurry, you could always try this crock pot method and add the finished product to the soup. But even so, you'll still need some patience. It takes a long time for the alcohol to burn off the broth and the large vegetables to soften… but once you've made your caramelized onions its simply a matter of placing everything in the pot and simmering for about 90 minutes.
Once the vegetables are tender, you add the peas and a sprinkle of parsley and serve it up with a sturdy bread. If you're not vegan, a bit of Parmesan cheese is a nice garnish, but really, the stew speaks for itself….
Because at the end of the pot of golden brown Vegan Guinness Barley Stew you'll find the luck of the Irish ;-) It's that moment when you sit down to a simple, but hearty stew with friends and family. That's what it's all about, right? That sense of camaraderie that comes from sharing a pint or a piece of culinary history. That's a treasure better than anything you'll find at the end of a rainbow.
May your home always be too small to hold all your friends ~Irish blessing


Vegan Guinness Barley Stew
Luckily Guinness is now vegan so everyone can enjoy this quintessential Irish stew!
Print
Rate
Ingredients
2

tablespoons

olive oil

4

cups

onions,

diced

3

carrots,

cut into one inch pieces

2

parsnips,

diced

8

ounces

baby portabella mushrooms,

sliced

3

large

Russet potatoes,

cut into large cubes

1

11.2 ounce bottle

Guinness

4

cups

vegetable stock

3

sprigs

fresh thyme

½

cup

barley

2

teaspoons

salt

1

cup

frozen peas

1

bunch

parsley,

chopped

salt and pepper to taste
Instructions
In a dutch oven, heat oil over medium heat.

Once the oil is hot, add the onions and cook stirring often until onions have caramelized, about 30-40 minutes.

Add to the pan carrots, parsnips, mushrooms, potatoes, Guinness, vegetable stock, thyme and barley.

Simmer until potatoes and carrots are tender, about 90 minutes, stirring occasionally and adding more broth or water it gets too thick.

Finally, add peas and parsley and serve.
Notes
If you're not a huge stout fan, use Guinness draft because it's much less bitter than Guinness Extra Stout
To save time, start caramelizing the onions, and while they are cooking, shop the remaining vegetables.
I you are vegetarian, not vegan, you may enjoy a little Parmesan cheese on top of the stew.
To make a gluten free version, omit the barley
Nutrition
Calories:
375
kcal
|
Carbohydrates:
74
g
|
Protein:
10
g
|
Fat:
6
g
|
Saturated Fat:
1
g
|
Sodium:
1453
mg
|
Potassium:
1535
mg
|
Fiber:
12
g
|
Sugar:
13
g
|
Vitamin A:
6438
IU
|
Vitamin C:
52
mg
|
Calcium:
103
mg
|
Iron:
4
mg
Tried this recipe?
Let us know how it turned out for you! Scroll down to leave a comment below.
UPDATE: Guinness is upgrading their factories to remove "isinglass" from their filtration systems. Although there is not residual animal product in the beer, the isinglass is made from dried fish bladders. It appears that in some locations (such as Australia) this change has already taken place, but here in the US it has not. If you are a strict vegetarian or vegan, this article lists some other stout beers that are vegan.
UPDATE 2018: Guinness has gone vegan! Check out this Q&A from Guinness for more info.
You might also like:
Boozy Irish Brownies
Boozy Irish Brownies have a fudgy chocolate layer that is topped with a whiskey and Irish cream white chocolate ganache. YUM!
Lemon Thyme Potatoes au Gratin
This Lemon Thyme Potatoes au Gratin recipe is a perfect side dish for special meals, holiday gatherings and anytime you want to treat yourself to a special root veggie dish!


Vegan Sweet Potato Chili with Black Beans and Quinoa
This Vegan Sweet Potato Chili with Black Beans and Quinoa will stand up to the strongest scrutiny. It brings smokiness of ancho chili powder, the richness of roasted vegetables, the protein of quinoa and the sweetness of sweet potatoes.