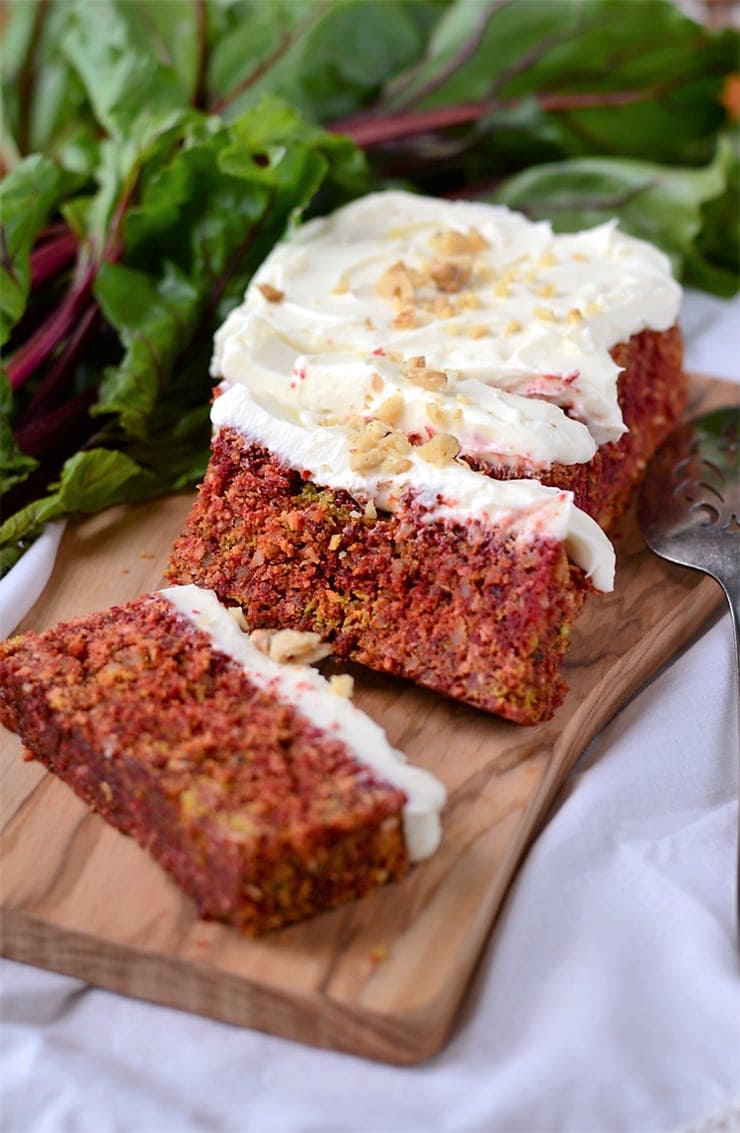 Dress up your dessert or breakfast or snack with this beautiful Rustic Beet Cake with Cream Cheese Icing!
---
Rustic Beet Cake with Cream Cheese Icing is a sweet alternative to carrot cake, but colorful and unique. This recipe will have people asking "how do you make it?". Its the best way to get kids to eat their veggies…well maybe not but once the kids taste this, they'll use that excuse to get a second slice.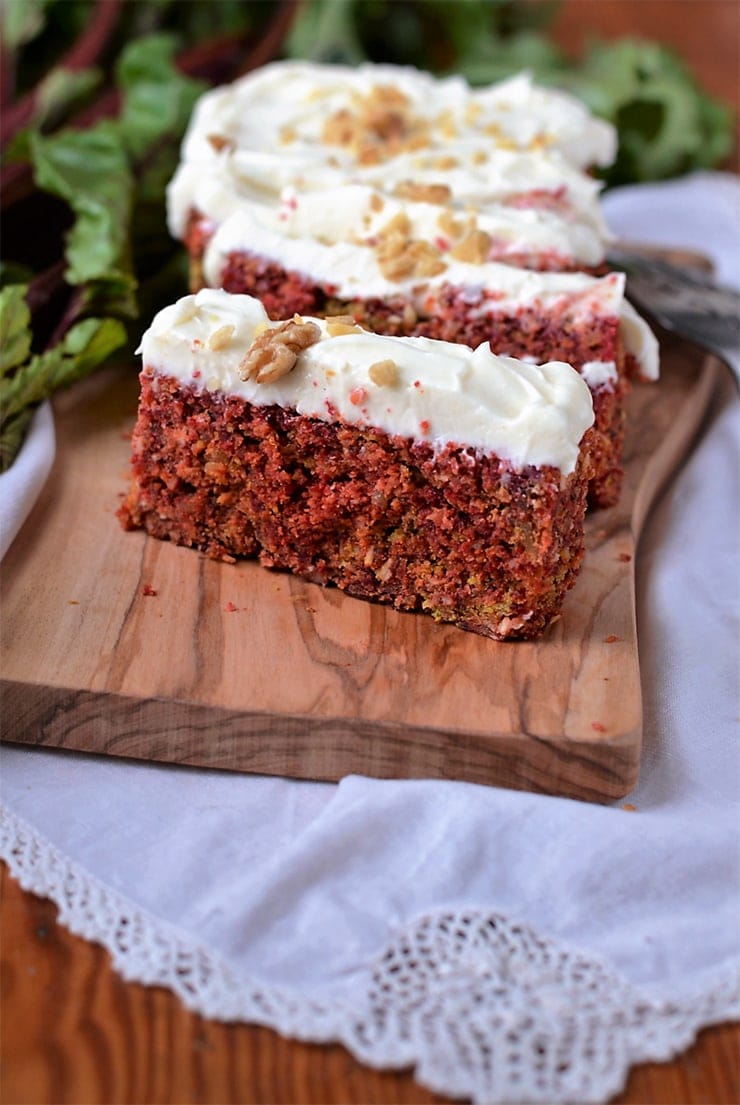 Okay interweb folks, Kevin here posting because even a "day without women" can't stop Vintage Kitty. Though it is truly a good thing that Kitty did all the hard work earlier in the week. What Kitty did to create this Rustic Beet Cake with Cream Cheese Icing was actually to start with her favorite carrot cake recipe, but with a vintage twist to give it a unique look and flavor.
Kitty and I were talking about red velvet cakes a while ago (because what couple doesn't discuss historic confectioneries in their free time?) and she mentioned that before all the crazy red food coloring was available, beets were used. While this isn't red velvet (no cocoa here), it is a take on it using the beets instead of carrots in this cake and boy is it a beautiful change.
There are a few pro tips with this recipe, earned through several test batches of this cake (its a sacrifice that I am willing to make for you, dear reader, to eat all the trial runs of Kitty's food). The most important one is to use a fine grater size for the beets and grate directly into a bowl. The beets get juicy when grating them and you want to save all that. The other pro tip is to make sure you wear an apron or clothes you don't care about and kitchen gloves if you have them, because that beet juice is no joke….it'll turn you magenta in no time.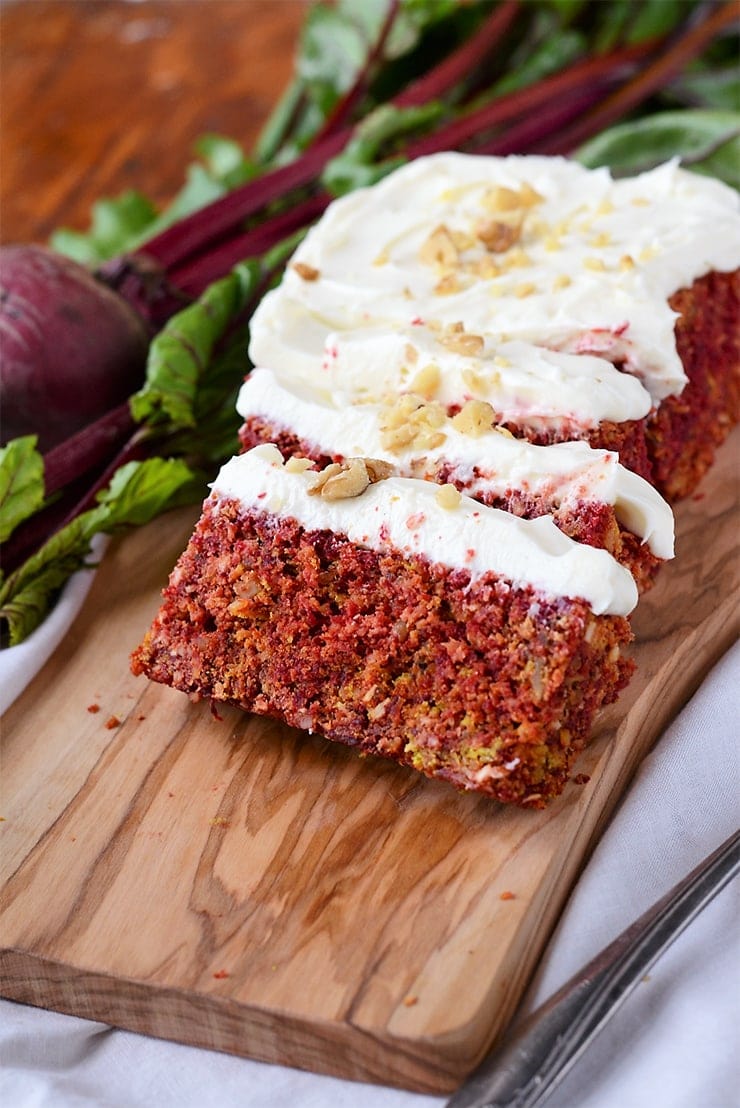 Another thing I learned that impressed me about this is that you can have this cake in the oven in about 20 minutes without even using an electric mixer. You can also make the icing when it bakes, saving time.
With the icing on top, it is absolutely beautiful and delicious and the Rustic Beet Cake with Cream Cheese Icing is an amazing dessert…..However, these beets are sweet enough without the icing that I like to bake it in a loaf pan you can cut a slice and toast it in the oven for a minute and have it for a sweet breakfast treat (its way more original than a donut or danish).
This Rustic Beet Cake with Cream Cheese Icing will make a splash where ever you bring it. Dress up your dessert and eat your veggies all at once, what else could you ask for?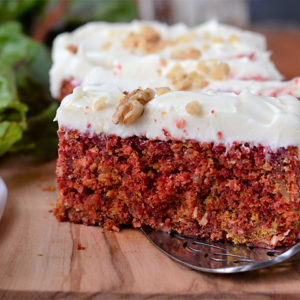 Ingredients
Dry
1

cup

AP flour - sifted

4.5 oz

1/2

tsp

baking soda

1/4

tsp

baking powder

1/2

tsp

salt

1/2

cup

coconut

1/2

cup

walnuts
Wet
1

large

egg

3/4

cup

sugar

1/4

cup

canola oil

1/4

cup

coconut oil

melted and cooled, but still liquid

1

tsp

vanilla extract

2

tbsp

lemon juice

1/2

lemon

zest

1/8

tsp

lemon extract

1

cup

beets finely grated

6 oz - weigh before grating
Icing
1

cup

confectioners sugar

sifted

6

oz

cream cheese

2

tbsp

whole milk

1/4

tsp

lemon extract

1

tsp

vanilla extract
Instructions
Prep
Preheat oven to 350 degrees

Grease and flour a standard loaf pan

Remove cream cheese from refrigerator to soften at room temperature
Cake
Mix all dry ingredients together

Whisk together all wet ingredients in separate bowl until well combined

Fold dry ingredients into wet mixing with a spatula or wooden spoon until just mixed (be careful not to over mix)

Pour batter into prepared pan

Bake for 40 - 50 minutes (until a toothpick inserted comes out clean)

Allow to cool for 10 minutes

Run a knife along the edge of the pan to help separate from the pan

Turn the cake out onto a cooling rack.
Icing
Whisk together sugar and cream cheese

Slowly add in milk and extracts and whisk until smooth
Ice the Cake
Apply the Icing to the top of the cooled cake



Nutrition
Calories:
375
kcal
|
Carbohydrates:
40
g
|
Protein:
4
g
|
Fat:
23
g
|
Saturated Fat:
10
g
|
Cholesterol:
38
mg
|
Sodium:
255
mg
|
Potassium:
145
mg
|
Fiber:
1
g
|
Sugar:
29
g
|
Vitamin A:
255
IU
|
Vitamin C:
2
mg
|
Calcium:
38
mg
|
Iron:
1
mg
Tried this recipe?
Let us know how it turned out for you! Scroll down to leave a comment below.
You might also like: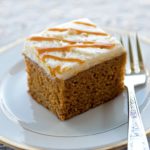 Pumpkin Spice Beer Cake
This cake takes the fuss out of making a cake from scratch. In about an hour you can put together this delicious dessert.
Chocolate Chip Cookie Cake
Layers of cookie flavored cake alternating with vanilla bean, browned-butter chocolate chip cookies and fluffy, vanilla buttercream!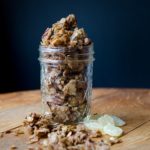 Gingerbread Granola
This Gingerbread Granola is super easy to make and great for snacking, yogurt parfaits or as a thoughtful homemade gift. Gingery, sweet, crunchy, nutty and so good, you'll want to eat this granola all year long!