These fun Easter basket ideas make use of vintage glassware and pottery too! From classic candies to small toys, create a beautiful DIY basket.
Being the Vintage Kitty, obviously, I have a love of old things. I'm inspired by the gracefulness and sophistication of antique furniture, linens, houses…. you name it! Well, vintage china and glassware top my list of favorite things!
Recently, I got to thinking about the vintage glass and ceramic baskets I've seen in antique stores. I guess they were originally used for floral displays or maybe candy dishes… but I thought, why not use them as Easter baskets?
It actually reminded me of an Easter post from my first blog, Sweet Charity's Chocolates. Quite the throw back! Gosh, the pictures were awful, but I was pretty adventurous in 2011, making pulled hard candies and peeps from scratch.
It was all inspired by a cute little ceramic basket at I found at Kohls and in my usual fashion, I made color coordinated treats to fill it.
Well, other than my photography, not much has changed. I still like to make homemade candy like apple marshmallows, strawberry jellies and chocolate patties. You'll also see that I still adore a color scheme! However, I have had no urge to make pulled sugar again! Ouch!
Who knew that such an old post would inspire me? It's what this blog is all about, making old things new again!
Antique and vintage glass baskets
The nice thing about these glass and pottery baskets is they are very easy to clean, sturdy and beautiful too! So, it's nice to reuse a vintage item rather than purchase something new.
Maybe you have an heirloom just like these baskets? If not, they are easy to find. These baskets come in a variety of colors and sizes and a quick search for "glass basket" will result in hundreds to choose from on Etsy or Ebay. They were made by many famous companies like Fenton, Westmoreland and McCoy, just to name a few.
If you shop online, be sure to check the dimensions as some baskets are itty bitty! Our baskets ranged from 6 to 11 inches in width.
Or you can shop at your local antique store! You won't have quite as many choices, but on recent outings I've seen plenty of pretty baskets in both clear glass and milk glass.
These baskets feature Easter eggs and store bought candy and toys. I found the candy sticks at Cracker Barrel and the little toys at the Dollar Tree and Target. The milk chocolate lamb and rabbit came from my local chocolate shop, Defluri's and I found the white chocolate sheep and the yellow duck at Wegman's.
Otherwise, I kept it pretty simple with classics like Jelly Belly jelly beans, orange slices, and candy coated almonds. The goal was to highlight the pretty glass and pottery baskets.
Easter basket tips
Keep it small! Good things come in small packages, plus you'd be amazed how much candy can fit in a small basket!
Choose a color scheme. Too many colors can look chaotic.
Use edible or recyclable grass because it's better for the environment. Other great choices are using natural rafia or using vintage linens.
I like to unwrap chocolates and candy because it looks better that way. If you want to make the baskets in advance, wrap the whole basket with cellophane and a bow to protect chocolate from moisture.
Easter gift ideas
Vintage candy such as candy sticks, rock candy, lemon drops and gummies make great basket stuffers.
Chocolate! You can find Easter bunny chocolates at Target, Walmart and your local grocery store. But also seek out your local chocolate shop. They will have the best vintage chocolate Easter molds!
Toys are a great choice! I found small toys at both the Dollar Tree and Target. Little stuffed rabbits, legos, card games and other party favors make great additions to your Easter basket.
Gift cards are perfect for all ages!
Make sure to check out all our Easter posts!
You might also like:
Easter Napkin Rings
Bring a touch of spring to your holiday with these adorable DIY Easter napkin rings. Our tutorial will help you hatch these chicks in time to decorate your table settings!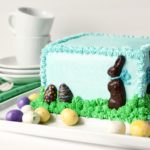 Easter Cake
Make this hippity-hoppity Chocolate Easter Bunny Cake from scratch for your Easter celebration!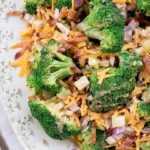 Classic Broccoli Salad
Homemade bacon and mayo dressing with a hint of cayenne kick renders this broccoli salad unforgettable! It makes ordinary steamed broccoli everyone's favorite vegetable!