Alas, my issue with southern sweet potato casserole is not the topping. It's that I find the find the filing to be butter laden and overly sweet.
So this is my lighted-up version. It's still got the crunchy pecan topping and of course marshmallows, but the filling is light and airy in comparison. Instead of whole eggs, I've used egg whites and whipped them to create that delicate texture.
I've also used Greek yogurt in place of some of the butter, which gives it a rich, creamy flavor. And there's so much less sugar in this filling. I've used just a touch of maple syrup instead of the 3/4 cup or more in the traditional recipe. And there's only a quarter cup of brown sugar in the topping, so it's much more side dish and less dessert.
It's still sweet, and crunchy with a hint of cinnamon, ginger and nutmeg. And of course there are marshmallows. Sometimes I'll make this with the standard store bought variety, but if you want to make this casserole more indulgent, our apple cider marshmallows are great too!
The down side is that this lightened-up sweet potato casserole cannot be made in advance due to the whipped egg whites. However, most of the casserole can be prepped a day ahead. See our tips below.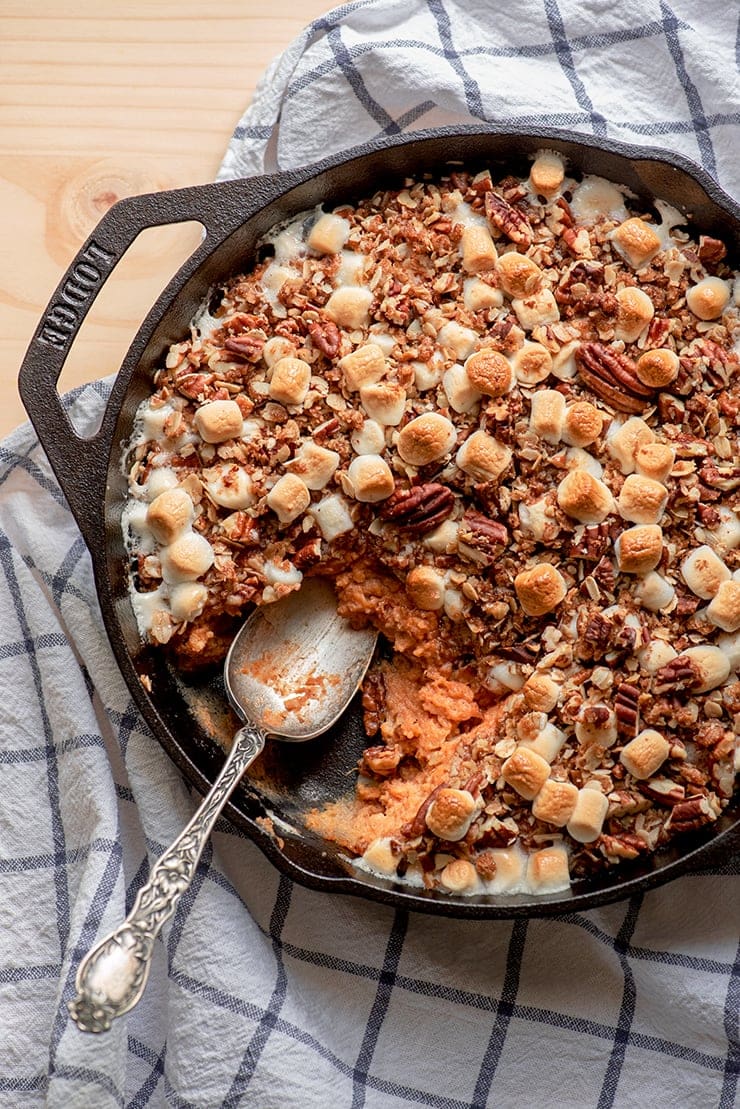 Tips for making Lightened-up Sweet Potato Casserole
We've used fresh sweet potatoes in this recipe. We bake them and then use an Oxo Ricer to make them super smooth before adding them to our filling.
To make your holiday dinner easier, steps 1-6 of the filling can be done 1-2 days in advance. Bring the mixture to room temperature and whip it up before adding the beaten egg whites.
The pecan stuesel can be prepped too. Make it as written, then place in an airtight container and refrigerate.
We used a 10″ Lodge cast iron pan, but you can also use a glass or ceramic dish too.
This recipe is gluten-free, but always check your ingredients if one of your guests is gluten intolerant.
For a vegetarian version make sure to use vegetarian marshmallows.
Now that you've made a healthier version of sweet potato casserole, you've earned a bite of this gorgeous Sweet Potato Cake with Marshmallow Frosting from Liv for Cake!
Looking for more sides? Check out all our great side dish recipes!