Our Stuffed Eggplant with Lemon Tahini Dressing starts with caramelized, roasted eggplant.
---
Eggplant becomes the vessel for warmly spiced chickpeas and carrots in this lavish vegan recipe. It's drizzled with a sweet lemon tahini dressing and topped with fresh parsley and pine nuts.

I've been perfecting this stuffed eggplant recipe for months and I'm happy to say it's now fantastic!
You know, people often say to me "where do you get your recipes" and I'm always amused at the puzzled looks when I tell them that I make my own recipes. Yes, sometimes I use a recipe as a starting point, but by the time I've made and remade a dish, adjusting ingredients and perfecting the method, it always evolves into something new.
Something will spark my imagination like a dish I had in a restaurant, a picture or just a beautiful ingredient. Then other times it's fueled by hunger and the need to put dinner on the table. That's how this recipe started.
I had picked up a bag of small eggplants at the store. They were these little orbs of deliciousness with shiny aubergine skin and not a blemish to be found. They were calling to me! So, I bought them without a plan…because I like to live on the edge!
Then, one night that week the sun was setting and it was go time for these dainty eggplants. What to make? I had tahini and chickpeas on hand and this Creamy Kale Salad with Chickpeas from Minimalist Baker came to mind. We made it for Thanksgiving and I LOVED the flavors. So I used that as a guidepost… spices, chickpeas and tahini stuffed in an eggplant. Sounds great, right?
But, I'm a recipe perfectionist. It might taste good the first or second time, but can it be great?
The first go around I used what I had on hand and thought the roasted eggplant was okay. But, it needed to be sweeter without adding a ton of sugar. So, I added carrots on the second recipe test and swapped the pine nut garnish for almonds and finished it with a bit of parsley …getting there.
Third try, I tested this roasted eggplant recipe on my friends Justin and Beth. They ate it politely, said they liked it, but I was still thinking something was missing. Indeed, I didn't have any parsley on hand. Big mistake! But there was still something I couldn't put my finger on. By the fourth test, I doubled the spices and cooked the eggplant longer so that it was more caramelized and topped it with lots of parsley. I also went back to pine nuts. They are more pricey, but they are add more fatty flavor to the recipe. This time I struck GOLD!
Which takes us to the 5th making of this recipe where Mrs. Stuffed Eggplant get's her photoshoot. Time consuming, painstaking and totally worth it to get it right!
No, it doesn't taste this good if it's halfway homemade or if the ingredient list is shortened to save time. This is the "worth the calories", "please give me the recipe" version. It's aromatic, piquant, garlicky, sweet, lemony, and filling but most importantly it's balanced. To my palate, all the flavors are in perfect harmony.
So yeah, the Sistine Chapel wasn't painted in a night. It takes time to make a glorious dinner worthy of your beautiful taste buds. So take the time, because you're worth it.

Stuffed Eggplant with Lemon Tahini Dressing
Eggplant becomes the vessel for warmly spiced chickpeas and carrots in this lavish vegan recipe. Roasted eggplant gets drizzled with a sweet lemon tahini dressing and topped with fresh parsley and pinenuts.
Print
Rate
Servings:
8
eggplant halves
Ingredients
Stuffed Eggplant
3

TB

olive oil

4

cloves

garlic

minced

2

tsp

cumin

2

tsp

smoked paprika

1

tsp

turmeric

1

tsp

coriander

sea salt

4

small eggplants

1

medium red onion

2

carrots

diced

1

15oz can

chickpeas

, drained
Lemon Tahini Dressing
2

lemons

juiced and zested

2

cloves

garlic

1/3

cup

tahini

3

TB

honey or agave
Garnish
1

bunch parsley

¼

cup

pine nuts
Instructions
Roast eggplant
Line a baking sheet with parchment paper

Combine the olive oil, garlic and spices.

Sliced eggplants lengthwise and scrape out some of the eggplant flesh with a spoon, reserving it for the filling

Using a basting brush, oil the eggplant on all sides.

Place eggplant halves on baking sheet, sprinkle with sea salt and bake for 20 minutes
Make filling
Chop the reserved eggplant into small pieces.

Dice the carrots and onion.

Heat the remaining oil mixture in a skillet over medium heat for a minute

Add the onions, carrots and eggplant and sauté until the onions are translucent

Add the chickpeas and cook a few more minutes.
Bake stuffed eggplant
Scoop filling into eggplant halves.

Bake until the eggplant is soft, about 30-35 minutes
Make lemon tahini dressing
While eggplant is baking whisk the lemon juice, zest, garlic, tahini and honey in a bowl.

Thin the dressing with water and season with salt to taste. (Alternately, pulse in a small food processor or blender for a smoother dressing)
Garnish
Chop the parsley and toast the pine nuts

When the eggplant is soft and caramelized, pull it from the oven and garnish with lemon tahini dressing, pine nuts and parsley.
Notes
You won't need all of the Lemon Tahini Dressing. It's great on salads, grilled meats and veggies, so I'm pretty sure it won't go to waste.
Nutrition
Serving:
380
g
|
Calories:
301
kcal
|
Carbohydrates:
37
g
|
Protein:
9
g
|
Fat:
15
g
|
Saturated Fat:
2
g
|
Sodium:
23
mg
|
Potassium:
623
mg
|
Fiber:
10
g
|
Sugar:
15
g
|
Vitamin A:
2858
IU
|
Vitamin C:
21
mg
|
Calcium:
74
mg
|
Iron:
3
mg
Tried this recipe?
Let us know how it turned out for you! Scroll down to leave a comment below.
You might also like:
Orange Turmeric Margaritas
Orange Turmeric Margaritas are a sweet and smoky take on the classic cocktail.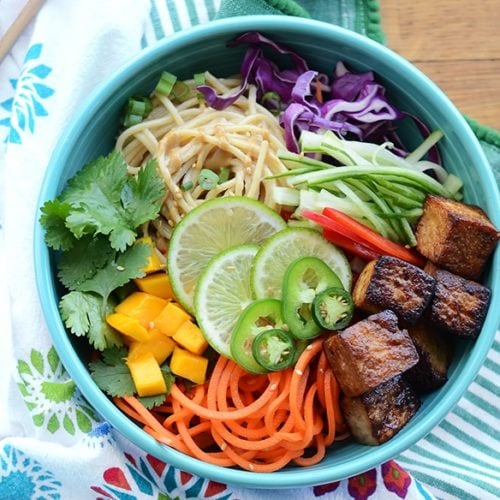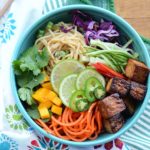 Sesame Cashew Noodle Salad Bowls
Sesame Cashew Noodle Salad Bowls are just the thing for hot summer mealtimes. They are loaded with a rainbow of colorful fruits and vegetables.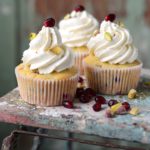 Pomegranate Pistachio Cupcakes
Pomegranate Pistachio Cupcakes with Greek Yogurt Buttercream are a sweet and tangy spin on the classic yellow cake.