Rosemary and lemon make this vodka fizz cocktail extra refreshing. It's herbal, foamy and such a sweet way to enjoy happy hour at home!

When life gives you lemons, make a cocktail! We may be sheltering in place, but happy hour is not cancelled!
Lots of my Facebook friends are meeting online for cocktail hour, so no pandemic is going to stop our favorite alcohol infused social gathering! It's a really smart way to make a "stay-at-home-order" easier. We're all doing our part but you don't have to be lonely when you have the internet.
I've been doing this whole social distancing thing since before it was the "it" thing to do. I work from home and don't get out much, especially during flu season. However, I am really missing that occasional night out to the movies or a favorite restaurant.
Now with both of us working from home we need a reason to stop working and enjoy the small things! Happy hour it is! With the idea of a virtual happy hour in mind, I created this lovely cocktail!
When it comes to drinks, I usually rely on what I already have on hand. Luckily, the herb garden and my stash of fresh lemons inspired this take on the classic vodka fizz.
Seriously, if I can give you any advice, it would be to ALWAYS have a bag of citrus on hand. Lemons (limes, oranges and grapefruit too!) keep well and they are so useful. From lemon vinaigrette to lemon pie, you are never out of options!
Add in a little rosemary and vodka and your cocktail game is on point!
In my recent article on how to stretch food, I mentioned how much money gardening can save. You don't need to have a green thumb. Some herbs like rosemary will provide for you all winter, others literally Spring to life. We've got mint, oregano and lemon balm emerging now.
Pair lemon and rosemary with a little McClintock Distillery vodka and a cocktail is born! Someday (when we're all traveling again) you should really put McClintock on your bucket list. They make my favorite gin which you may have read about in my Halloween cocktail post. Their liquors are top notch and we often make a point to stop by when we're walking the dog in Frederick because they always have something new to try!
How to make a vodka fizz
Making this vodka fizz is easy. Muddle fresh rosemary with sugar and then lemons. As I've said before, you need to use a strong glass (like a restaurant style pint glass) or better yet a cocktail shaker.
What I used for the photos is a vintage Noritake shaker but any metal shaker will do the trick. Just like with a mint julep, the goal is to bruise the rosemary until it starts to release it's fragrant oils. It's very important to start with just the rosemary and sugar.
Then add the lemon and muddle again. The friction that the muddling creates with the coarse sugar and woody rosemary makes quick work of the lemons. Next comes the vodka. Pour it in, stir it up and wait about 5 minutes for the sugar to dissolve.
The "fizz" here comes from an egg white. Pour it into the cocktail shaker and shake…then shake some more…then shake 5 minutes past the point of utter pain! I'm not kidding!
Then add ice and you guessed it….shake some more!
Finally it's time to get your home speakeasy vibes flowing with a fancy coupe glass. Strain the vodka fizz into the glass. At first it will look very milky but eventually the foam will rise and the liquids will fall to the bottom.
It's so delicious and just as fabulous as a cocktail at your favorite bespoke bar. But it comes without the high end price!
Ingredients and Substitutions
I realize that ingredients are hard to find right now so I've listed possible substitutions below. Feel free to skip ingredients and swap them as necessary.
Rosemary → fresh mint or thyme would be great. But this drink would be yummy with just lemon too!
Sugar → we used white sugar but organic would be fine too… but don't skip this ingredient! The cocktail would be quite sour without it.
Lemon → lime, orange or grapefruit would be nice!
Vodka → white rum or a mild gin
Egg white → 2 tablespoons aquafaba or use splash of seltzer
Rosemary Lemon Vodka Fizz Recipe
This delicious little number is our current fave! Rosemary and lemon make this vodka fizz savory but it still has that classic appeal!
Print
Rate
Ingredients
1

6 inch sprig

rosemary

2

tablespoons

sugar

1/4

lemon

2

ounces

vodka

1

egg white
Instructions
Strip the bottom 2/3rds of rosemary sprig and place in a cocktail shaker with sugar then muddle until rosemary is very fragrant.

Cut the quarter lemon into small pieces then muddle with rosemary and sugar.

Add the vodka, stir and let sit for about 5 minutes until the sugar dissolves.

Pour the egg white into the cocktail shaker then shake until your arm wants to fall off. Then shake some more!

Add ice and then shake more.

Pour cocktail into a coupe or small rocks glass

Garnish with lemon and remaining rosemary.
Notes
A cheaters way to get the best foam is to strain the cocktail into a blender and process until foamy.
For a vegan cocktail, substitute two tablespoons aquafaba for the egg white.
If using raw egg whites worries you, you can purchase pasteurized eggs for this recipe.
Nutrition
Calories:
251
kcal
|
Carbohydrates:
27
g
|
Protein:
4
g
|
Fat:
1
g
|
Saturated Fat:
1
g
|
Sodium:
52
mg
|
Potassium:
86
mg
|
Fiber:
1
g
|
Sugar:
25
g
|
Vitamin C:
14
mg
|
Calcium:
13
mg
|
Iron:
1
mg
Tried this recipe?
Let us know how it turned out for you! Scroll down to leave a comment below.
Love a great drink? Make sure to check out all our cocktail recipes!
You might also like: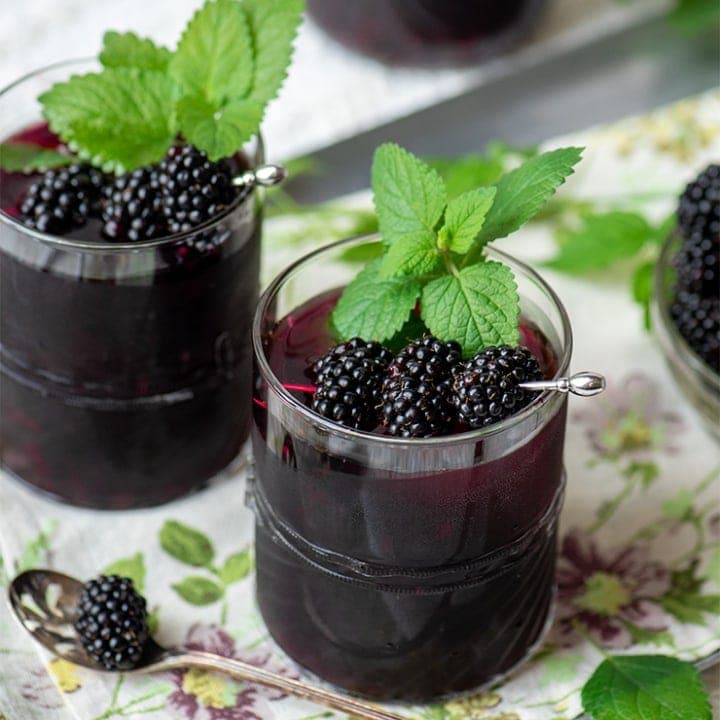 Blackberry Sangria
This easy recipe for blackberry sangria mingles red wine and orange brandy for a sweet and charming summer cocktail. Make one glass or a pitcher!
Wine Spritzer

Need a light and refreshing cocktail? This white wine spritzer pairs grapefruit with sweet Moscato for easy drinking any time of year!
Prosecco Pineapple Sorbet Floats
Prosecco Pineapple Sorbet Floats are the ultimate light and refreshing brunch cocktail or dessert.