You're going to love our flavorful Rice Cooker Quinoa Salad with Dried Cherries and Feta! Fresh herbs, a zesty lime dressing and protein packed quinoa make this salad pop. Perfect for potlucks as a side dish or serve it for as a main course with grilled chicken or tofu. Delicious!

Last year for Mother's Day, I created this recipe. There were twelve of us, so I knew we'd need sides to serve a large crowd. Among the group were 6 moms, one who was vegetarian and two with nut allergies. Plus we had a few picky eaters- so no tomatoes, olives, avocado or fuzzy fruit. Now what does that leave?
I landed on a quinoa salad because I've never heard of someone who doesn't like it. Mediterranean seemed like a go to idea, but considering the crowd I had to make some fun twists. I stuck with feta and cucumber and added dried cherries in place of tomatoes and then topped it in a lime dressing- and boy was it a hit! Everyone asked for the recipe and I'm a little embarrassed that I've made them all wait this long. The taste of the quinoa salad was spot on- but who knew it could be so hard to cook a bulk quantity of quinoa?
Have you ever noticed that all the recipes online only call for cooking one cup of quinoa? Well I learned the hard way that you cannot simply multiply the recipe! The first time time we tried, the quinoa was water logged and we had to wring it out in cheesecloth. Disaster!
So one year later, trying several times, I finally got to the right amount of water and the PERFECT method! Hello trusty rice cooker!
See those perfect little grains of quinoa? Not waterlogged and mushy! Here's how:
How to cook a large portion of quinoa in a rice cooker:
Measure out 3 cups of dried quinoa.
If your package does not say the quinoa was pre-rinsed, place the quinoa in a fine mesh sieve and rinse under cold water.
Put the quinoa and 4 cups of water into the bowl of a rice cooker.
Set to the brown rice setting (or just rice if you don't have one).
Press start.
About halfway through cooking stir the quinoa (this helps it to cook evenly because it's more dense than rice).
When the quinoa is cooked, unplug the rice cooker and let it rest for five minutes.
Fluff the quinoa and store in an airtight container if not serving immediately.
So EASY! Who knew? This is a total life saver because quinoa is a healthy grain that makes great leftovers. You can cook one large batch and have it as the base of a salad for lunch or in a burrito bowl for dinner (we totally did this for dinner tonight). Besides being prepared for lunches and dinners, how often do you need to feed a crowd? Picnics, church dinners, potlucks, holidays…
Which is why this Rice Cooker Quinoa Salad recipe is fabulous! It's a side dish that feeds 12+ but it's also great for dinner. I had this quinoa salad topped with a thai chicken recipe I'm testing and oh my was it a filling (and delicious)! Plus I ate the leftovers for SO MANY lunches because its just so darn good! The cherries are sweet, the cucumbers have that needed crunch and the herbs and lime dressing give it zing. And then there's the tang of the feta. Mmmmmm!!!!

Rice Cooker Quinoa Salad with Dried Cherries and Feta
Bold flavors make this quinoa salad a welcome side dish to any meal. Fresh mint and cilantro, crisp cucumber and a lime dressing accompany tangy feta and tart dried cherries.
Print
Rate
Ingredients
Quinoa Salad
3

cups

quinoa

4

cups

water

2

cups

cucumbers,

peeled, seeded and diced

1

cup

dried cherries

3/4

cup

crumbled feta

1

bunch

cilantro,

chopped

1/4

cup

mint,

chopped
Lime Dressing
2

limes,

juice and zested

6

tablespoons

extra virgin olive oil

1

tablespoon

honey

salt and pepper to taste
Instructions
Combine quinoa and water in the bowl of a rice cooker and add a generous pinch of salt.

Once the quinoa is cooked, remove the bowl from the rice cooker and fluff the quinoa with a fork.

Chill quinoa in the fridge.

Meanwhile, make the lime dressing by combining the juice, zest, olive oil and honey.

Season dressing to taste with salt and pepper.

Once the quinoa is cooled, add the cherries, cucumber, feta, mint and cilantro and toss.

When ready to serve add the dressing and mix thoroughly.
Notes
If you don't have a rice cooker or Instant Pot, cook according to package directions.
Nutrition
Calories:
287
kcal
|
Carbohydrates:
38
g
|
Protein:
8
g
|
Fat:
12
g
|
Saturated Fat:
3
g
|
Cholesterol:
8
mg
|
Sodium:
114
mg
|
Potassium:
295
mg
|
Fiber:
4
g
|
Sugar:
8
g
|
Vitamin A:
510
IU
|
Vitamin C:
4
mg
|
Calcium:
87
mg
|
Iron:
2
mg
Tried this recipe?
Let us know how it turned out for you! Scroll down to leave a comment below.

Ah the joy here of discovering an easy way to prep quinoa for a week of meals! You're going to love this quinoa method so much you'll be eating quinoa all the time. So here are more recipes to try:
---
You might also like: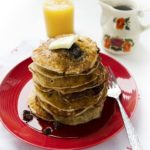 Chocolate Cherry Pancakes
Take your breakfast from ordinary to sweet with these from scratch Chocolate Cherry Pancakes.
Spicy Thai Basil Cucumber Cocktail
With hot peppers and savory Thai basil, this drink is cool and refreshing, with a nice, slow jalapeno burn at the finish.
Colorful Potato Salad
Take your picnic from boring to wow with this Colorful Potato Salad recipe. Fresh veggies, herbs and spices make this salad pop.