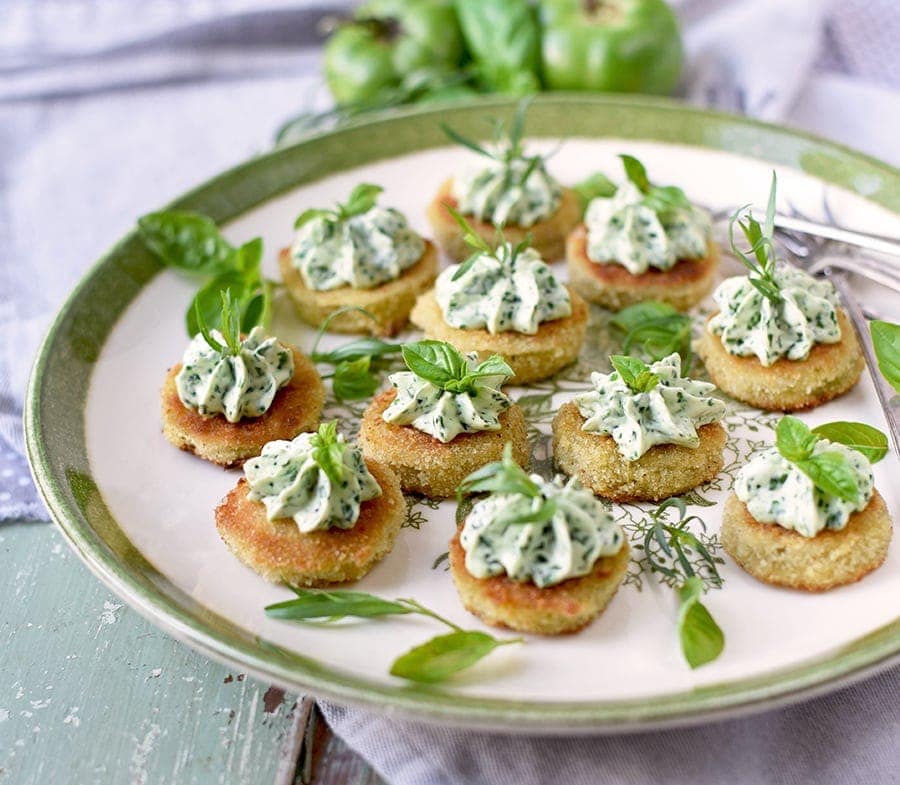 Avid gardeners and foodies will love our fusion twist on fried green tomatoes. It's a great finger food!
---
We're bringing the farm to the table with our fried green tomato hors d'oeuvres. These Silver dollar sized nuggets are topped with a whipped chèvre flavored with fresh basil, tarragon and chives.

I've spent most of my life in the mid-Atlantic. In fact, when people ask where I'm from, I hesitate. No one state holds my heart. Just mark a 150 mile radius on a map between Chambersburg, PA and Fredericksburg, VA and you'll get a sense of where I belong. The same goes for food. You can't hold me to to any one style of cuisine.
That's because in the Mid-Atlantic, there are many regional specialities all jumbled together. Follow the I-81 corridor north to just above the above the Mason-Dixon and you'll quickly find Amish, Mennonite and Pennsylvania Dutch foods. It's a region where a noodle dish is served on top of mashed potatoes, sweet corn is dried, not fresh, and most importantly, pot pie is a soup, not pie.
Go just about an hour south and you're in the Eastern Panhandle of West Virginia where many folks still consider themselves Appalachians. The accents can be thick and more often than not, hunting is a sacred pastime. People here enjoy wild game, forage for an onion called a ramp and drink moonshine. But West Virginians also eat many traditionally southern foods too, like sweet tea, fried chicken and pecan pie.
Sounds like a interesting mix so far, right? Now travel about an hour northeast you land in Baltimore. Here, seated near the top of the Chesapeake Bay, the blue crab is king. Crabcakes are on nearly every menu and everything is covered in Old Bay seasoning.
And for the cherry on top of all this regional melting pot of food, take a short drive (or long drive if there's traffic) and you're in the nation's capitol. Washington DC 's food claim to fame is said to be the "half smoke." It's a type of sausage that's a split of pork and beef but I can tell you that in all my years in the DC region, I've never had one. If you ask me, DC's culinary claim to fame is its multiculturalism. Where there are international dignitaries, there will be ethnic cuisines. Ethiopian, Indian, Afghan, West African…just about any country that you can think of…you can probably find a restaurant in DC serving authentic food from its motherland.
Bottom line is that I'm lucky to have access to so many foods and cuisines.
Of all these food influences, surprisingly, fried green tomatoes are pretty new to me. In my family, tomatoes were ripe and never fried. But somehow my sister got turned on to them, and she in turn got me hooked. I still feel guilty pulling a tomato off the vine before it's ripe, but in the fall it makes sense. It would be ashame to let them freeze!
Normally this time of year I'm scrambling to pick and preserve everything I can from our vegetable garden. However this year, my tomatoes died off during a dry spell in September. To be honest, I couldn't be bothered to keep watering them when the season was ending anyway. But Mother Nature fooled me. Despite an early cold snap, it's been exceedingly warm, so I missed out on an extra month of homegrown 'maters. I really like the satisfaction of walking out to the yard to decide what's for dinner but even if it's bare, it's not a problem since we have our pick of local farms.
About a month ago I went to one of my regular farm stands and saw green tomatoes out. They were a granny smith apple type of green with shiny skin and I couldn't resist them!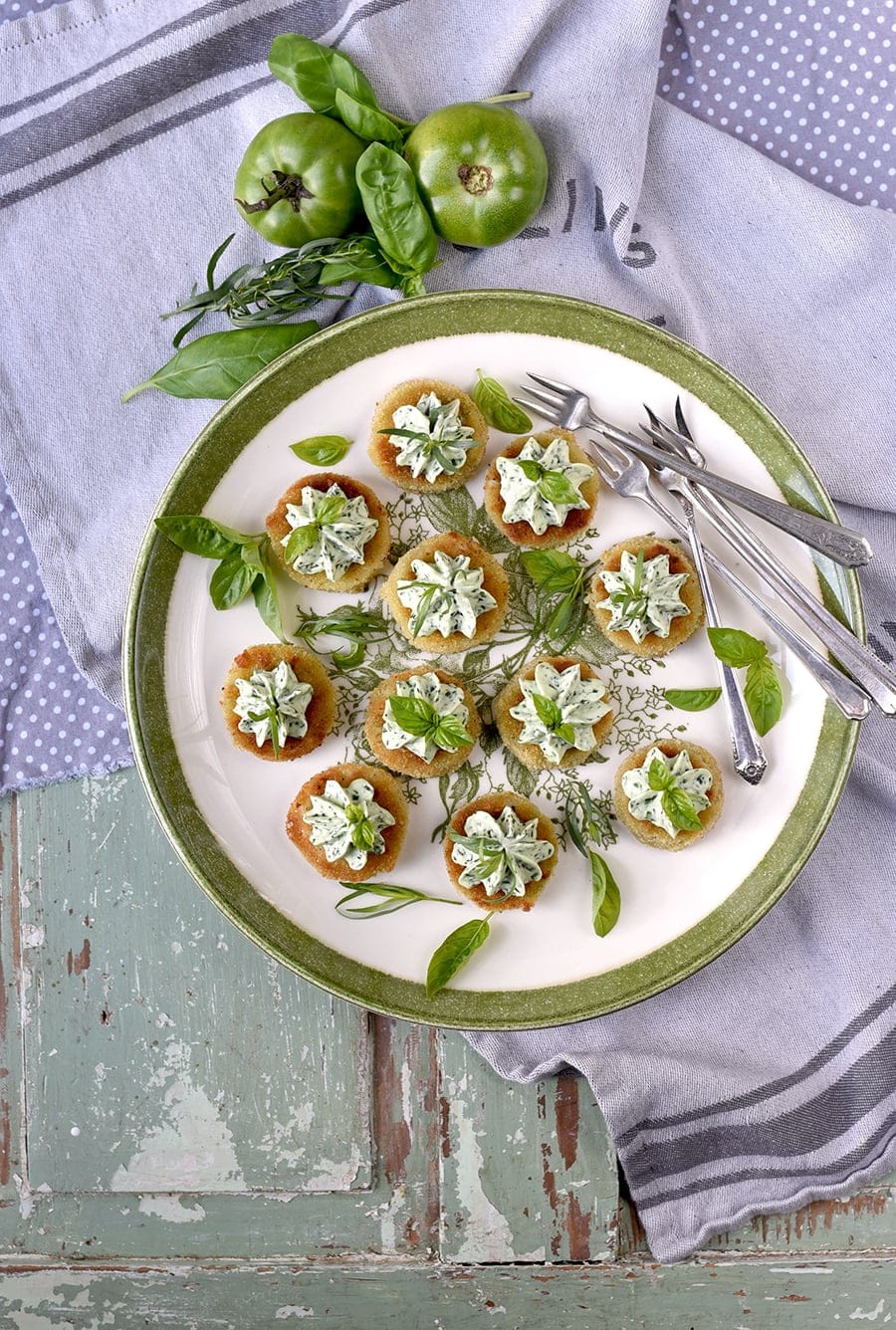 For some reason chevre also popped into my mind at the same time. Sounds weird by I decided to go down that rabbit hole. Traditionally southern fried green tomatoes topped with French cheese? Sounds a bit weird, but in my world, fusion is a way of life.
Then I thought about my herb garden and knew that would be the bridge between the ingredients in this recipe. Plus, I feel just as bad letting perfectly good herbs freeze. So I whipped up an herby cheese mixture and piped it onto pan-fried green tomatoes.
It was insanely good but I had a size problem. The tomatoes were quite large and my little dollops of cheese looked puny sitting in the center. So I set out to find small green tomatoes. After quite a bit of looking, my friend Lorrie told me that Wysong Farms still had tomatoes. They were so nice! They picked me a bunch of small green tomatoes and I went out to the farm to pick them up.
Holy Moly! They still had tons of tomatoes on the vine, both green and red. Eureka! Hors d'oeuvres sized tomatoes made my idea come to life!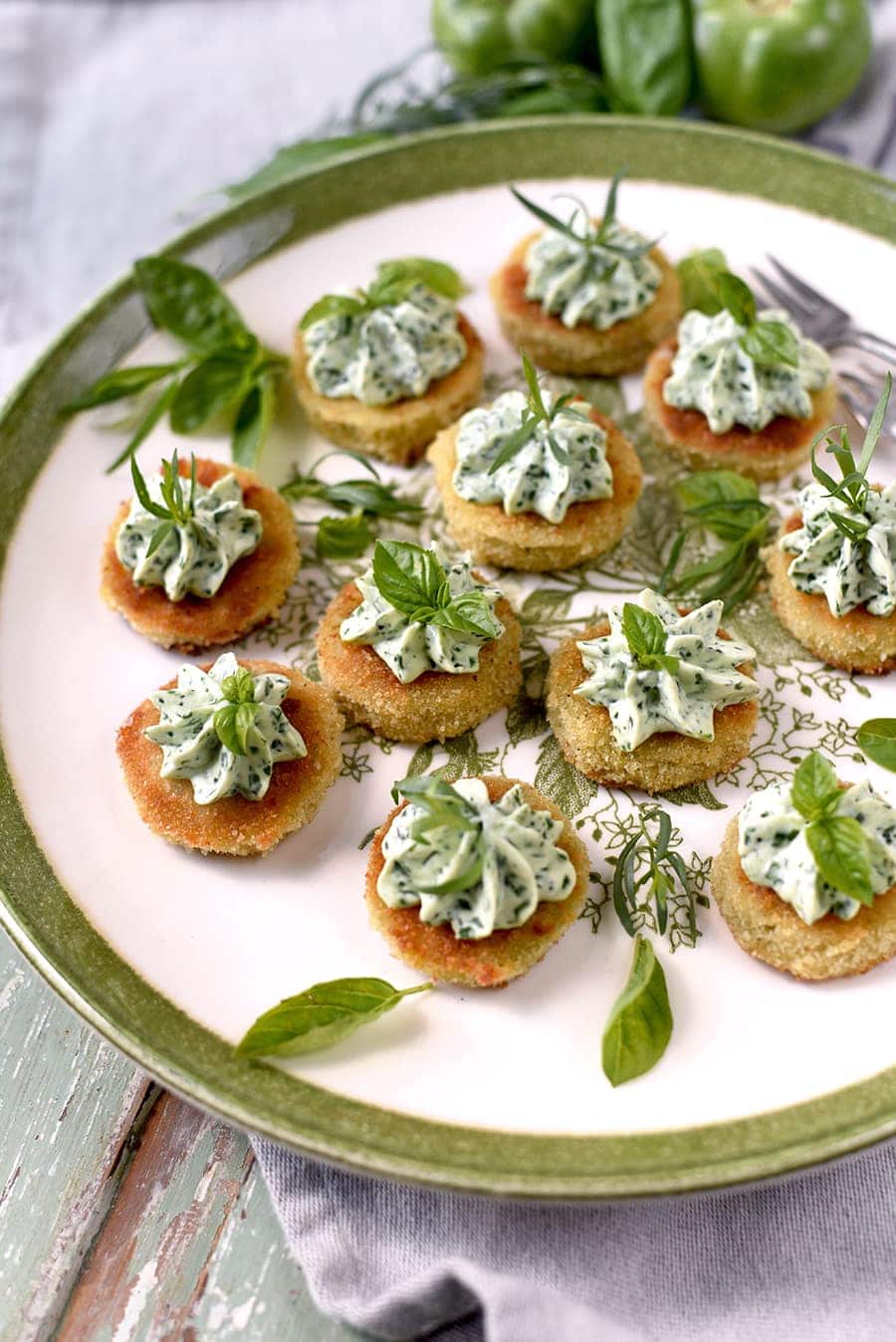 I can't tell you how happy these silver dollar sized fried green tomatoes made me! They're perfect, bite-sized appetizers that are crunchy on the outside and gooey on the inside. The chevre adds extra tang to the unripe tomatoes creating a flavor powerhouse that is pushed over the edge of ordinary to extraordinary with a trio of fresh herbs. I went with basil, tarragon and chives because they are the most likely to be ruined by a hard freeze but also because they complement tomatoes so well.
If you're an avid gardener, this fried green tomatoes recipe is bound to be a new favorite. But if you're a foodie without a garden, you might have to do what I did and get a little creative to find the right ingredients. I suggest calling your local farm markets or stop by a farmers' co-op grocery store. You'll be surprised what you can get your hands on if you ask around!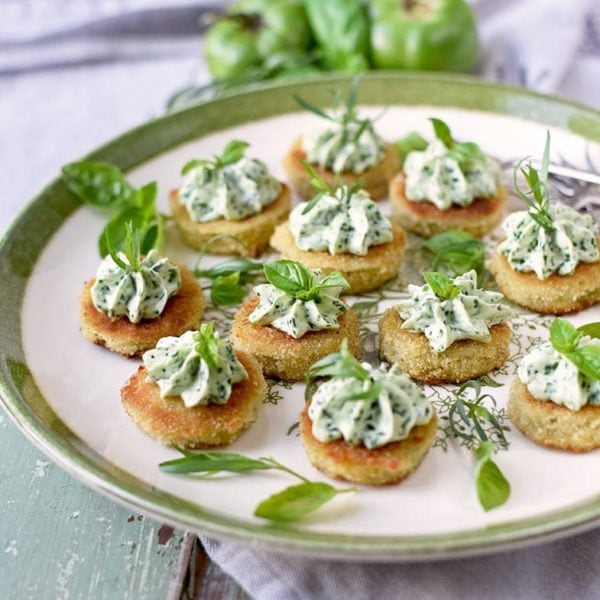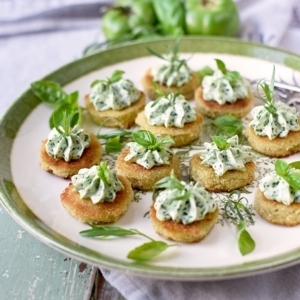 Fried Green Tomatoes with Whipped Herb Chevre
If you can find them, choose small, unripe tomatoes for this delicious appetizer. They are a perfect finger food for parties.
Print
Rate
Servings:
32
bite-sized hors d'oeuvres
Ingredients
Tomatoes
1-1/2

lbs

green tomatoes

, about 1-1/2-2 inches in diameter

1

cup

all purpose flour

pinch

black pepper

2

eggs

beaten

1/4

cup

milk

2

cups

bread crumbs

(I used panko, but any will do)

1

teaspoon

salt

oil for frying
Chevre Topping
4

ounces

chevre,

room temperature

4

ounces

cream cheese,

room temperature

2

teaspoons

heavy cream

2

tablespoons

fresh chives,

chopped fine

2

tablespoons

fresh tarragon,

chopped fine

2

tablespoons

fresh basil,

chopped fine

salt and pepper to taste
Instructions
Fried Green Tomatoes
Set up your assembly line by placing three wide bowls or dishes with sides high enough to hold the flour in one, the eggs in another and the bread crumbs in the last and a plate.

In the first bowl add the flour.

In the second bowl, combine the eggs and milk.

In the third bowl mix together the breadcrumbs, salt and pepper.

At the end of the assembly line, place a cookie sheet for the breaded green tomatoes.
Dredge the Tomatoes
Turn on the oven to a keep warm setting and cover a cookie sheet in paper towels.

Slice your green tomatoes about a quarter of an inch thick and place them next to your flour bowl. Typically, I discard the tops and bottoms because they don't make nice slices.

Working through your assembly line, dredge your tomatoes in the flour to give it a thin coating. Shake off any excess.

Next, dip your tomato slice in the egg/milk mixture to coat it completely.

Move the tomato to the breadcrumbs and fully coat by pressing the tomato to help the breadcrumbs stick.

Move the breaded tomato to the cookie sheet at the end of the line.

Repeat the last four steps for all your tomato slices.
Pan Fry Tomatoes
In a medium skillet add enough oil to coat the bottom of the pan with about an 1/8th inch of oil and heat over a medium burner.

When the pan is hot add tomatoes and pan fry.

Fry each side until golden brown and then flip.

When the first batch of tomatoes is done, place them on the cookie sheet with paper towels and place in the oven to keep warm.

If the oil gets mucky with breadcrumbs and flour, wipe it out with a paper towel (it will be hot...be careful) and add more oil. (Make sure you wait for the oil to heat back up before starting frying again.)
Make Whipped Chevre
Add the chevre and cream cheese to the bowl of a stand mixer. (If you don't have a stand mixer this can be mixed by hand with a wooden spoon, but will give your forearms a workout).

Beat the cheeses until it is soft and fluffy.

Add the chopped chives, tarragon and basil.

Mix in the bowl until blended. As it mixes some of the color of the herbs will bleed into the cheese. Its a good thing.

On low speed on your mixer, slowly add in the cream and then turn it up to high to whip.

Season with salt and pepper to taste.

Spoon the cheese mixture into a piping bag with a large star tip.

When you're ready to serve the tomatoes, pipe a dollop of the cheese on top of each tomato and top with a fresh herbs.
Nutrition
Calories:
72
kcal
|
Carbohydrates:
9
g
|
Protein:
3
g
|
Fat:
3
g
|
Saturated Fat:
1
g
|
Cholesterol:
16
mg
|
Sodium:
153
mg
|
Potassium:
56
mg
|
Fiber:
1
g
|
Sugar:
1
g
|
Vitamin A:
185
IU
|
Vitamin C:
2
mg
|
Calcium:
31
mg
|
Iron:
1
mg
Tried this recipe?
Let us know how it turned out for you! Scroll down to leave a comment below.
You might also like: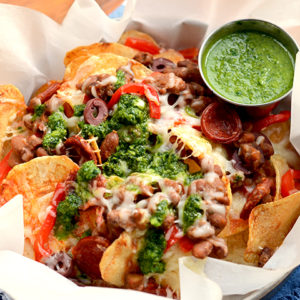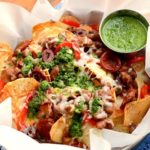 Spanish Potato Nachos
Far from ordinary, these nachos are topped with Manchego cheese, Chorizo sausage and served with a fresh, zesty Chimichurri.

Zucchini Bread
This easy recipe for Zucchini Bread has a tender crumb and loads of home baked flavor. It tastes just like mom pulled it out of the oven!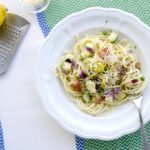 Easy Summer Garden Pasta
This is the perfect late summer, weeknight dinner. It's fresh, bright, savory and filling without being heavy.