These delicious mini fig pizzas are a casual appetizer with tons of foodie appeal! Dried figs make this pizza recipe a winter staple. Prosciutto, caramelized onions and arugula top fresh mozzarella for a sweet and savory pie that's hard to resist!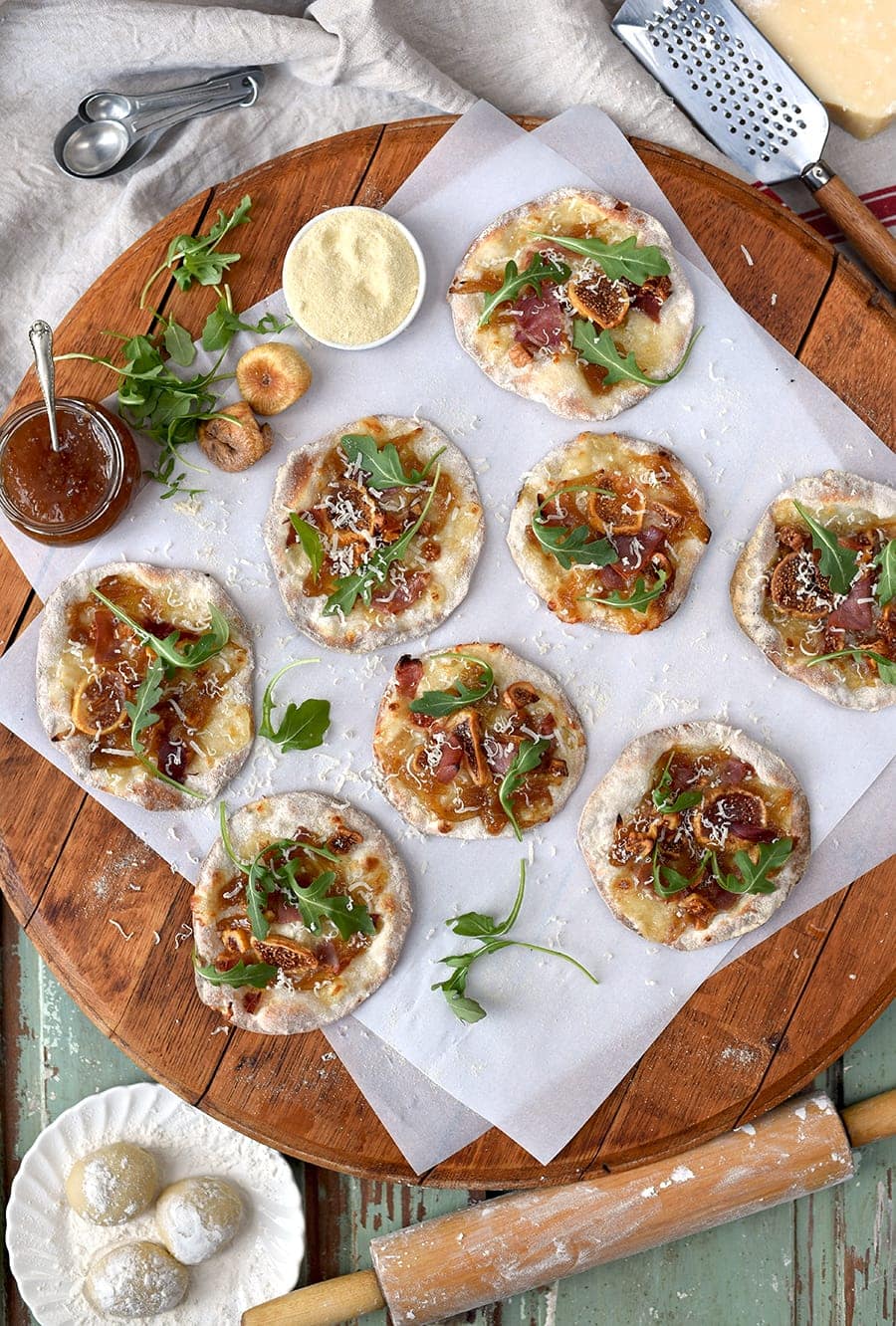 Last month, Kevin and I stopped into one of our favorite pizza restaurants before a long round of Christmas shopping. Pistarro's is located in downtown Frederick, Maryland and has this cool, vintage warehouse vibe, but in a family-friendly, neighborhood hangout kind of way. The wine is reasonably priced and the brick oven pizzas are delicious but my favorite part is that the bar is deep enough to share a pizza or two with room to spare.
So of course Kevin and I shared some pizzas and vino at the bar. I vaguely remember starting with fried mozz, and I know there was another pizza, but what inspired me this trip was a fig pizza on the specials menu. It was topped with prosciutto, caramelized onions and a peppery topping of arugula. But the most interesting part were the dried figs.
Fresh figs are so hard to come by here in the exurbs of DC. You basically have to grow them to find them fresh. When I have found them, they are always turning soft and rotten on the store shelves. Very disappointing and yes, planting a fig tree is on my to do list! But I digress!
The idea of a dried fig on a pizza blew my mind!!!! It was so yummy and the combo of ingredients was perfecto! More importantly, it's the time of year that many fruits and veggies get more expensive, if they can be found at all, so dried fruit is a great choice if you want to eat seasonally. Thanks Pistarro's for reminding me how great dried fruit can be!!!!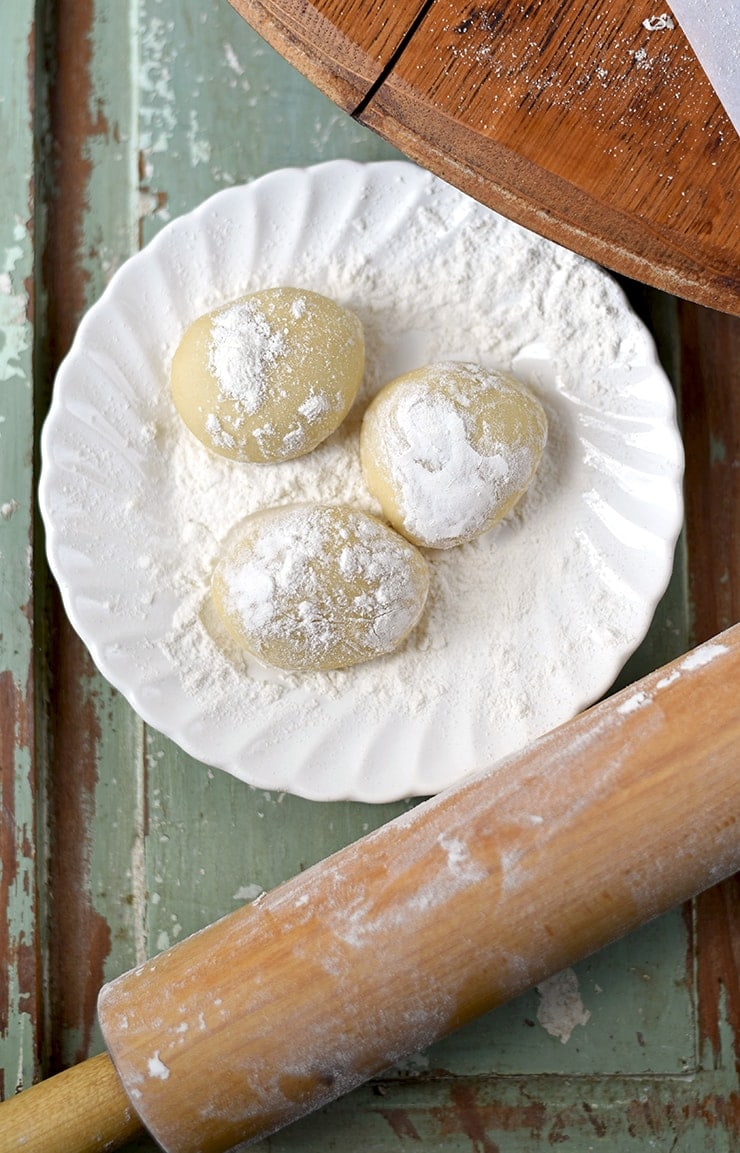 How to make fig pizza
Today, I'm bringing you our version of this fig pizza! We started with our favorite plain pizza crust which if you've read our chocolate dessert pizza post, you'll know we got at a Sur la Table cooking class. It's super easy to make and has that authentic pizzeria flavor and texture.

To add more figgy flavor we mixed fig preserves into our caramelized onions. Together, they make the sauce for our mini fig pizzas which of course get topped with prosciutto, chopped dried figs and fresh mozzarella.
We baked them in the oven on a pizza stone and the result was awesome! Crunchy crust, ooey-gooey caramelized onions and the sweetness of figs punctuated by the saltiness of prosciutto…mmmmmmmm good!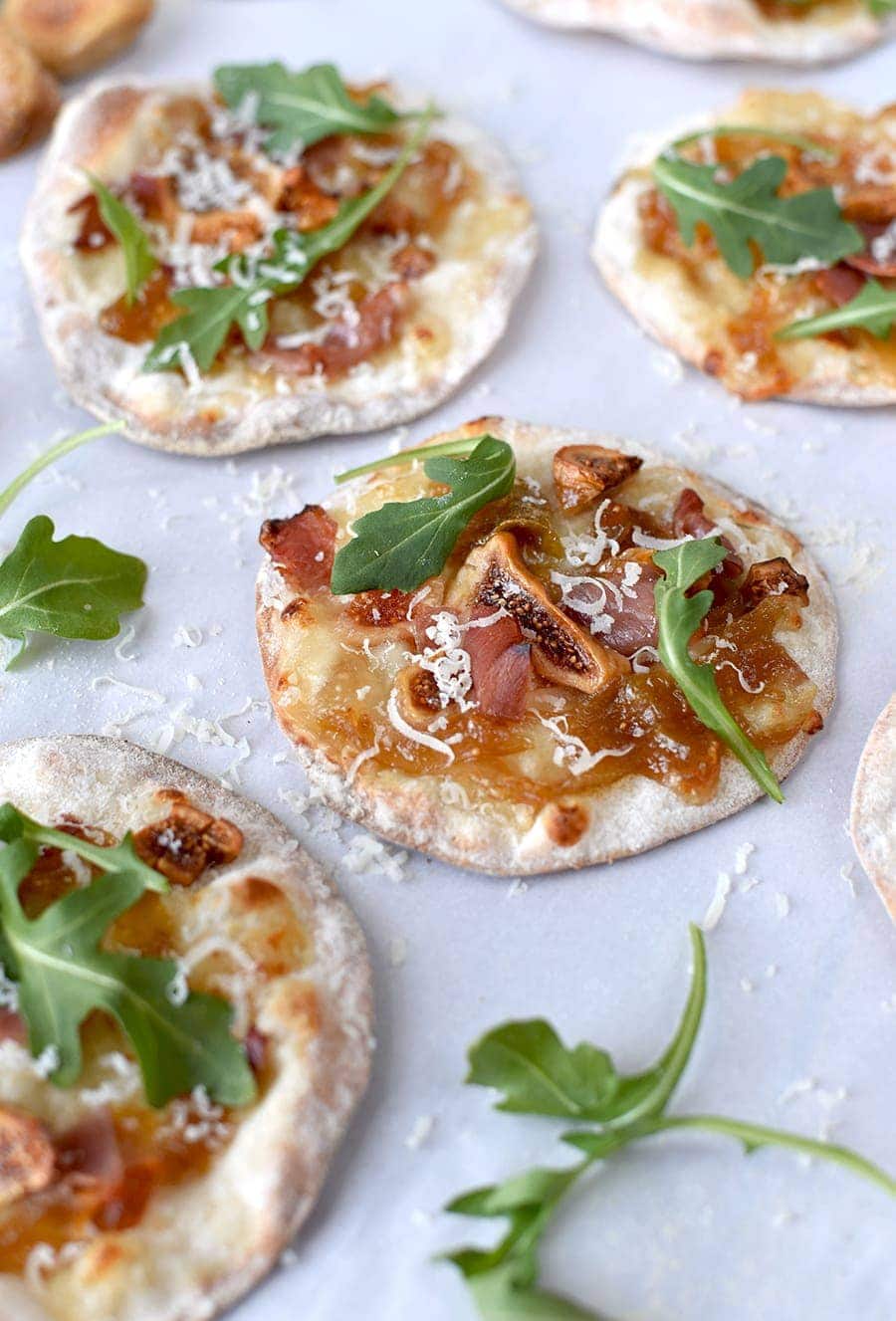 It's like bringing a gourmet pizzeria home! We had to share the fig pizza recipe ASAP because it's the perfect time of year to warm up the house with a hot oven, invite friends over to watch the game and share some appetizers! That's why we made mini pizzas, but if you're looking for a dinner recipe, divide the dough into four portions instead of 27…. it will taste delicious either way!

Fig Prosciutto Pizza Recipe
Kevin and I were inspired to make these mini pizzas after eating a fig pizza at Pistarro's in Frederick, Maryland. We were surprised that they used dried figs instead of fresh on their specialty pie. A great solution for when figs are out of season! Our version also includes fig preserves for even more figgy flavor!
Print
Rate
Ingredients
3/4

cup

caramelized onions

6

tablespoons

fig preserves

1

cup

dried figs

, diced

3

ounces

sliced prosciutto

1-1/4

cup

fresh mozzarella

, grated or chopped

fresh arugula

flour

semolina

(optional)
Instructions
Place a pizza stone in the bottom of the oven and preheat it to 500F

In a small bowl combine the fig preserves and caramelized onions

Divide your pizza dough into one ounce balls

Roll out about 3 to 4 pizza crusts at a time, sprinkle a wooden pizza peel with semolina and place the crusts onto it.

For each pizza top with 2 teaspoons of fresh mozzarella, 2 teaspoons of caramelized onion/ jam mixture, 1.5 teaspoons of diced figs and about 1/3 of a slice of prosciutto.

Once the oven and pizza stone are very hot, carefully slide the pizzas onto the stone.

Using tongs or a metal pizza peel, transfer the pizzas to a platter.

Top with fresh arugula and serve.
Notes
We've linked to our favorite pizza dough recipe. It takes about 1-2 hours to make from scratch depending on hot it is. You can proof the dough in a warm oven to speed up the time a little. When made fresh the crust is the perfect balance of crispy and soft. It can be made in advance and frozen but this way it usually over-proofs and results in an extra crispy crust reminiscent of flatbread. The recipe states it makes 1 lb of dough but we were able to make 27 one-ounce portions. No need to measure though, just cut the dough into evenly sized portions.
To caramelize onions, slice 2-3 large yellow or white onions. Saute them in 2-3 tablespoons of olive oil (not evoo) with a generous pinch of salt. Stir the pan often adding more oil if the pan gets dry. It will take about 40-60 minutes. Onions can be made in advance and refrigerated in an airtight container until ready to serve.
If you'd like to make this recipe as dinner pizzas, divide the dough into 4 portions. Pizzas will take longer to bake.
Nutrition
Calories:
110
kcal
|
Carbohydrates:
6
g
|
Fat:
1
g
|
Cholesterol:
2
mg
|
Sodium:
29
mg
|
Potassium:
55
mg
|
Sugar:
4
g
|
Vitamin A:
5
IU
|
Vitamin C:
0.8
mg
|
Calcium:
16
mg
|
Iron:
0.2
mg
Tried this recipe?
Let us know how it turned out for you! Scroll down to leave a comment below.
Love party foods? Check out all our appetizer recipes!
You might also like:
Ratatouille Pizza

This delicious ratatouille flatbread pizza is loaded with grilled summer vegetables, whipped goat cheese and topped with a drizzle of basil oil. Perfect as an appetizer or a casual dinner.
Fig Cocktail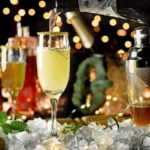 Whether you are celebrating New Years or a golden anniversary, this bubbly cocktail oozes elegance and class! Fig liqueur, amaretto and mint give prosecco exotic appeal.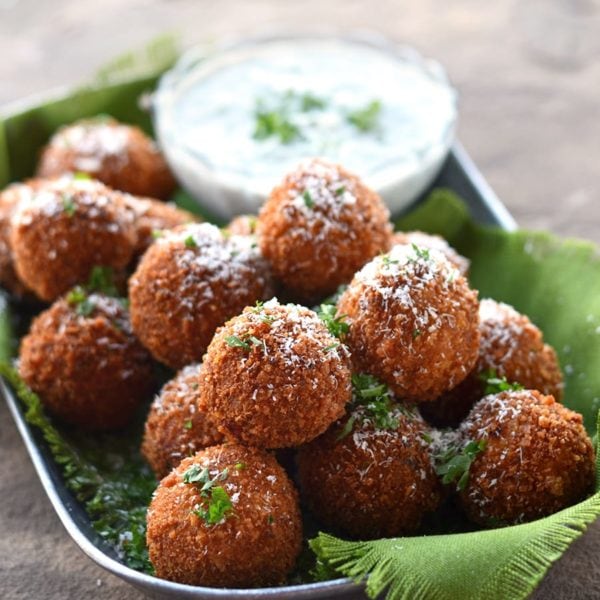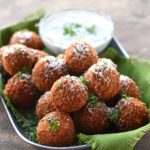 Fried Mozzarella Balls with Pumpkin, Sage and Caramelized Onions
Take your party to the next level with these Fried Mozzarella Balls. They are crunchy on the outside, gooey on the inside and served with Yogurt Herb Dip.