Fresh cucumber juice gives this summertime lemonade a tasty twist. It's a great way to cool down when cool weather is in short supply.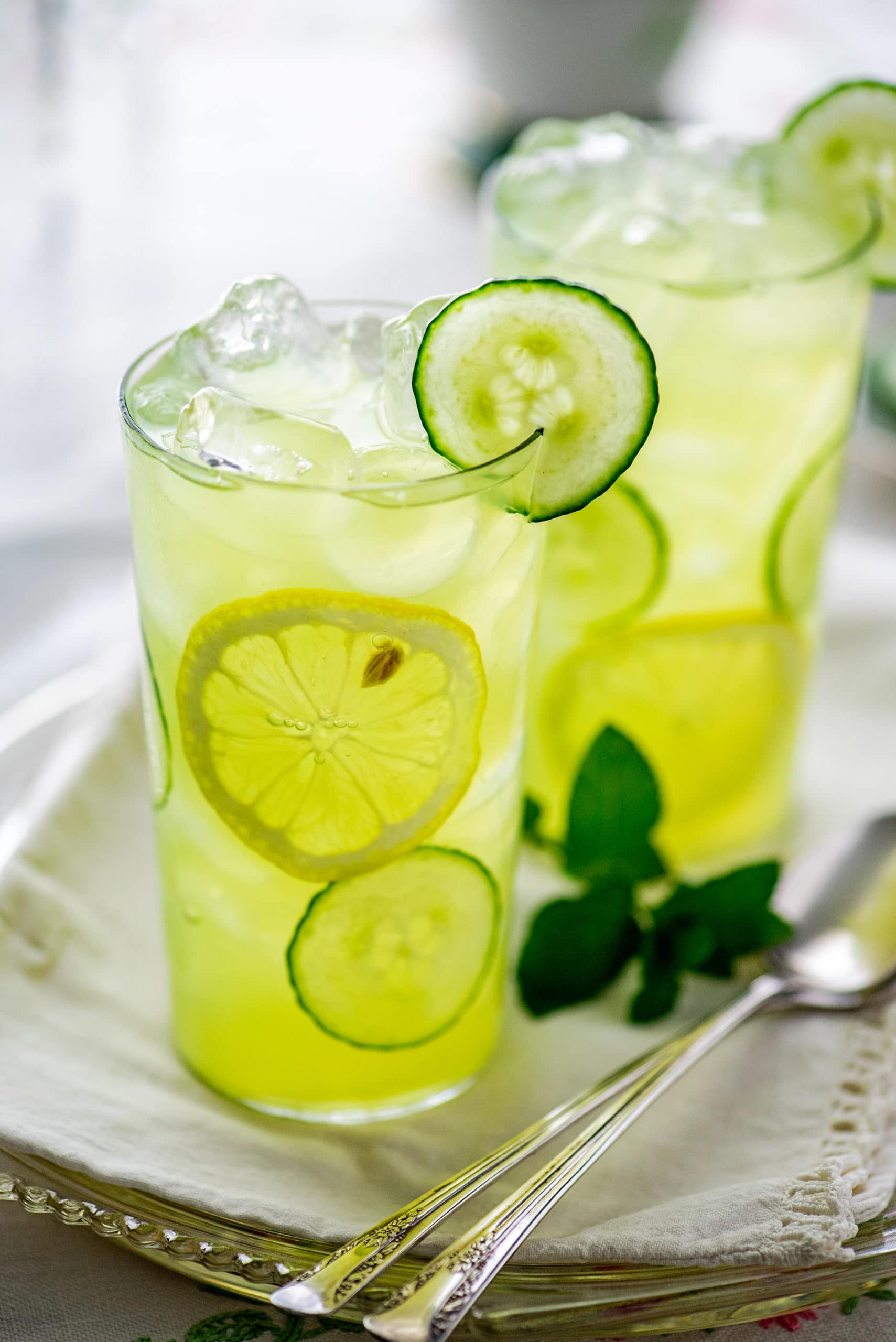 Summer is in full swing here in West Virginia. The thermometer is soaring and doesn't want to budge! I'd love to have time to rest by a fan, but summer days here are not lazy days!
With more time at home we've taken on projects like painting the front porch floor and cleaning the porch roofs. The vegetable garden we planted is starting to pay off but it requires daily watering and maintenance. And my border collie Pixel still wants her walks and frisbee time despite the heat.
Staying hydrated is key, especially if you're like us and spend a lot of time outdoors. When we do get a chance to sit down, we like to enjoy a glass of lemonade on the porch. It's a great way to cool off during the hottest, most humid months of the year.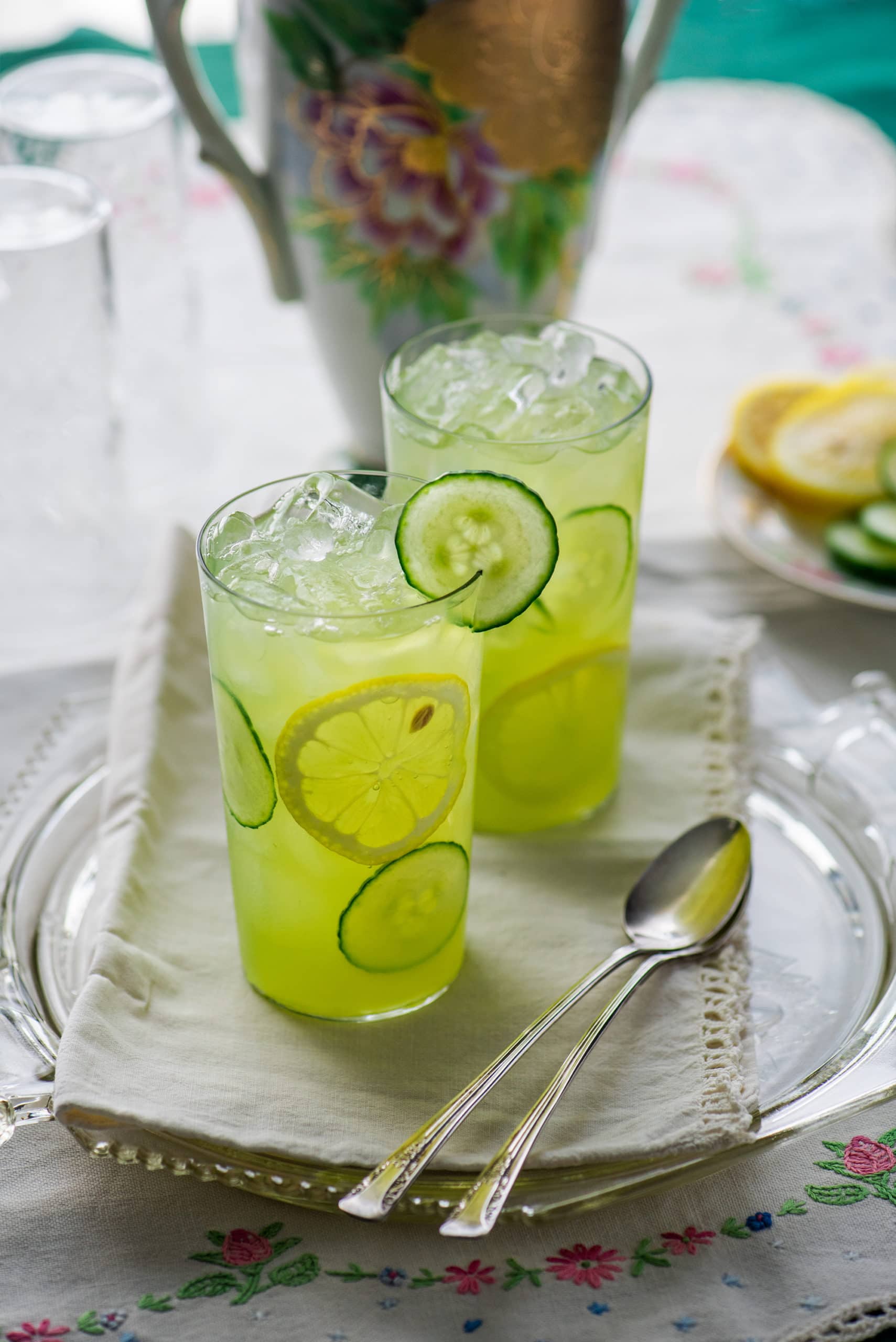 Fresh cucumber recipes
This cucumber drink is fun twist on the classic lemonade. It's also great because it's cucumber season, so I know many of you garden enthusiasts are looking for ways to use up an abundance of cucumbers.

I love cucumbers and feature them in many recipes, like our Thai basil cucumber cocktail, quinoa salad, and bulgogi tacos. Cucumber is an easy ingredient to work with because it's tasty in everything from Indian to Mexican.
It's as great as a crunchy topping as it is in old fashioned dishes like pickles and cucumber salad. In drinks it has a refreshing and slightly bitter flavor that adds complexity and a gorgeous green hue.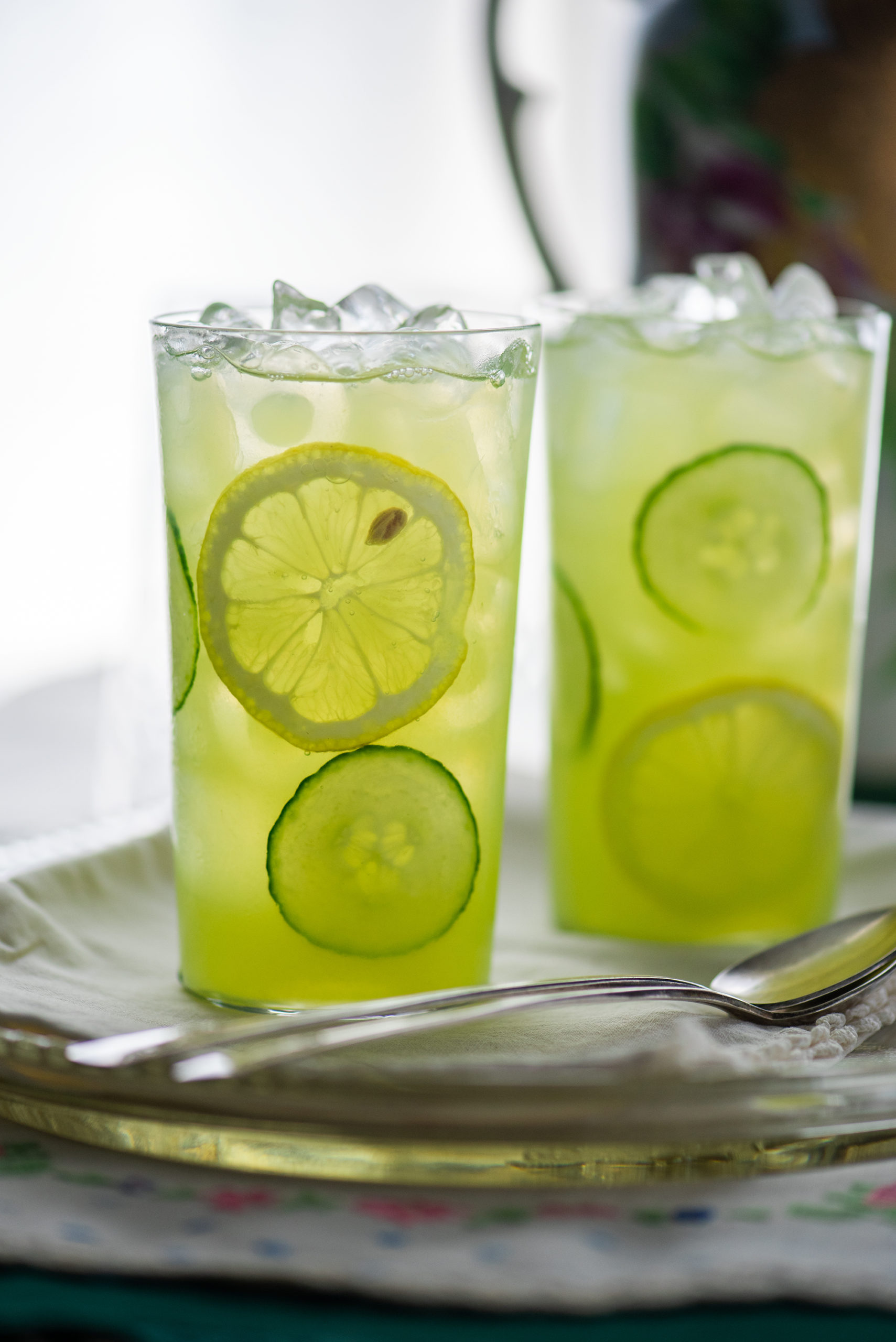 How to make cucumber juice
Cucumber juice is easy to make. And you don't need a fancy vegetable juicer! A blender, a vegetable peeler and a fine mesh sieve are the only equipment required to make a refreshing glass of cucumber juice.
It starts with fresh cucumbers. There are many varieties to choose from, but I like to use a "burpless" one such as an English cucumber because they are sweeter and less bitter.
To reduce the burp factor even more, I start by peeling the cucumbers. Then I slice them in half and scoop out the seeds.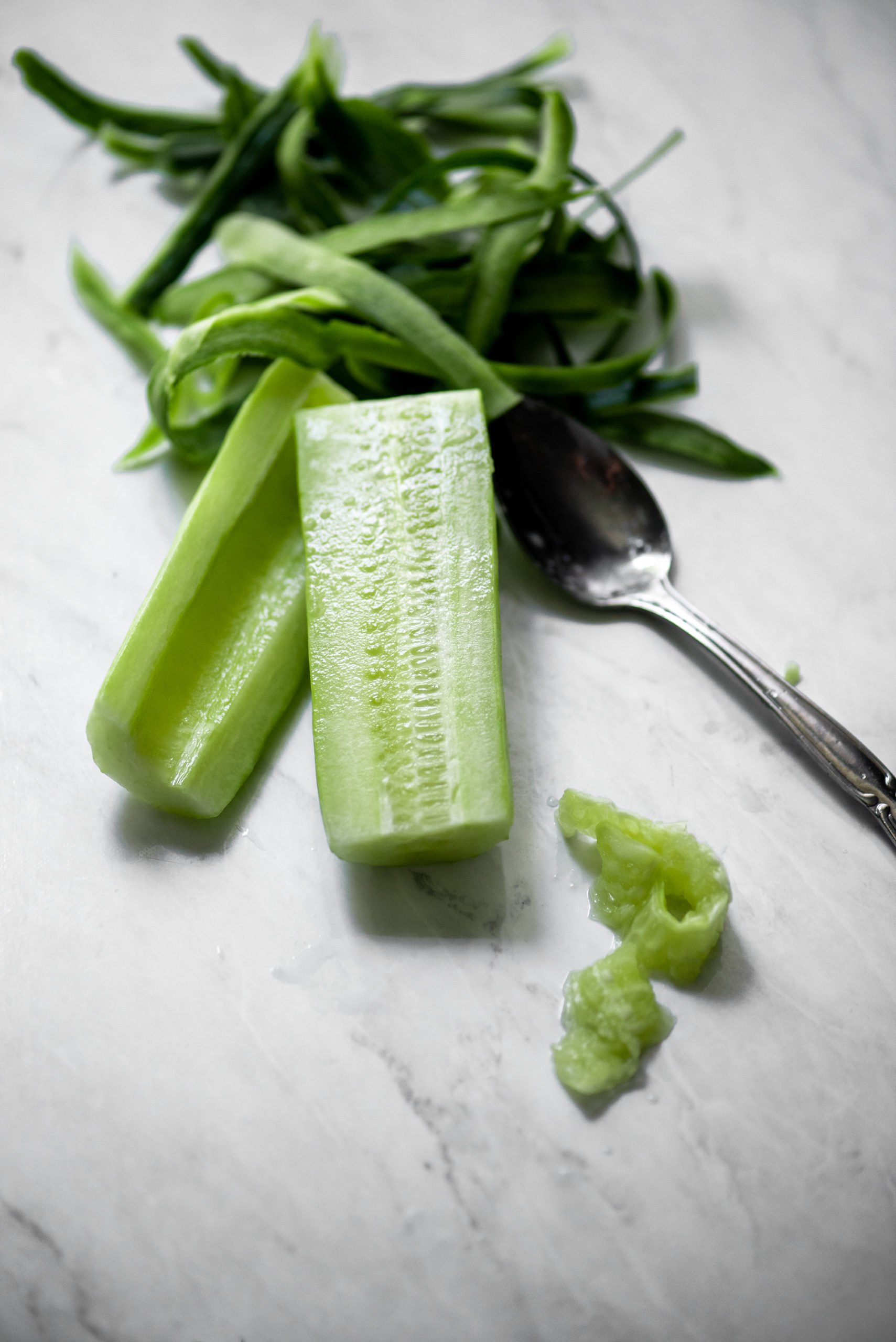 Chop up the cucumber and puree it in a blender. Most blenders should be able to easily liquefy the cucumber since they are mostly water. That being said, you do need to blend about 2-4 cucumbers to fill the blender enough to make it work.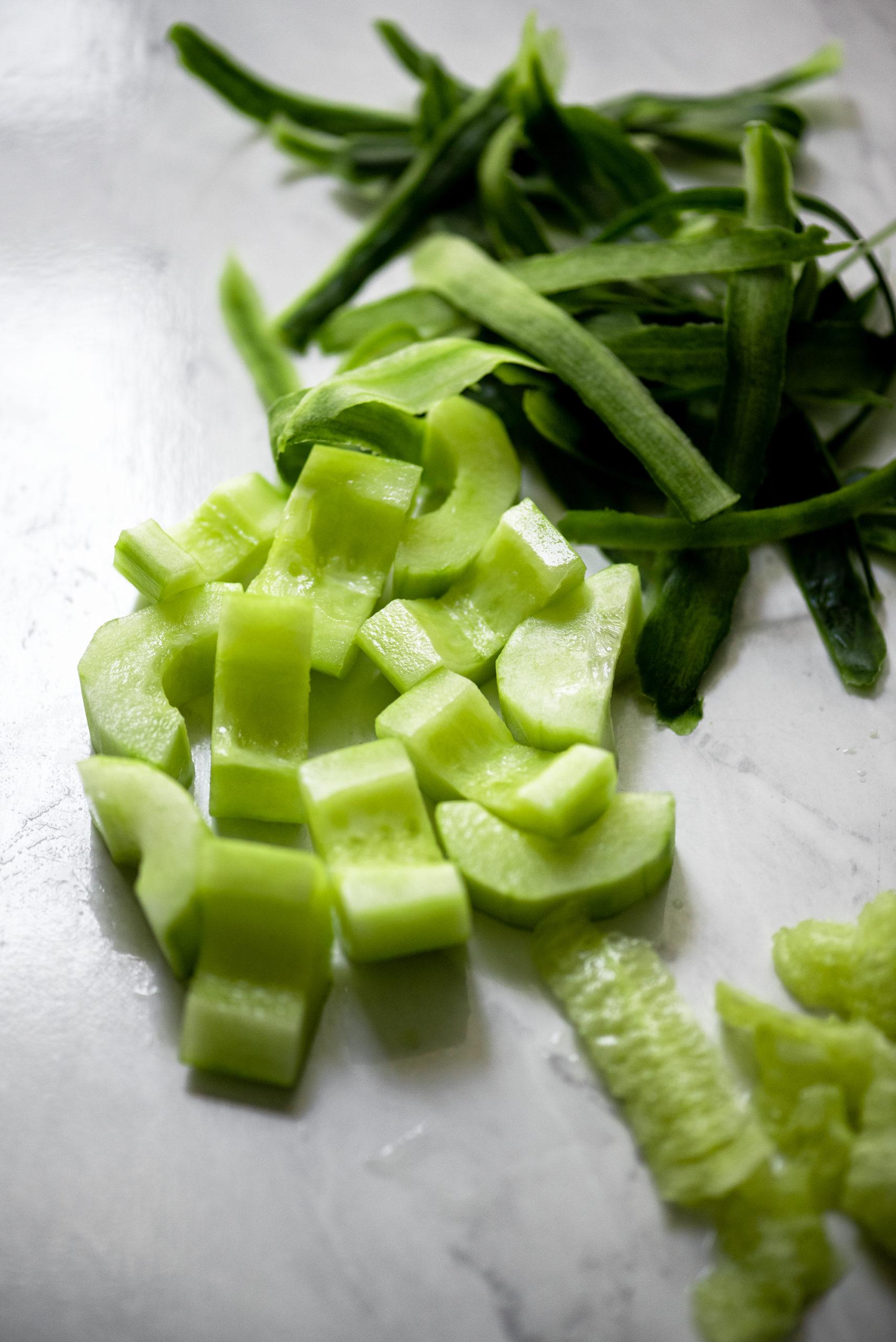 The final step is straining the cucumber juice through a fine mesh sieve. It will separate the pulp and the juice so the cucumber lemonade is clear.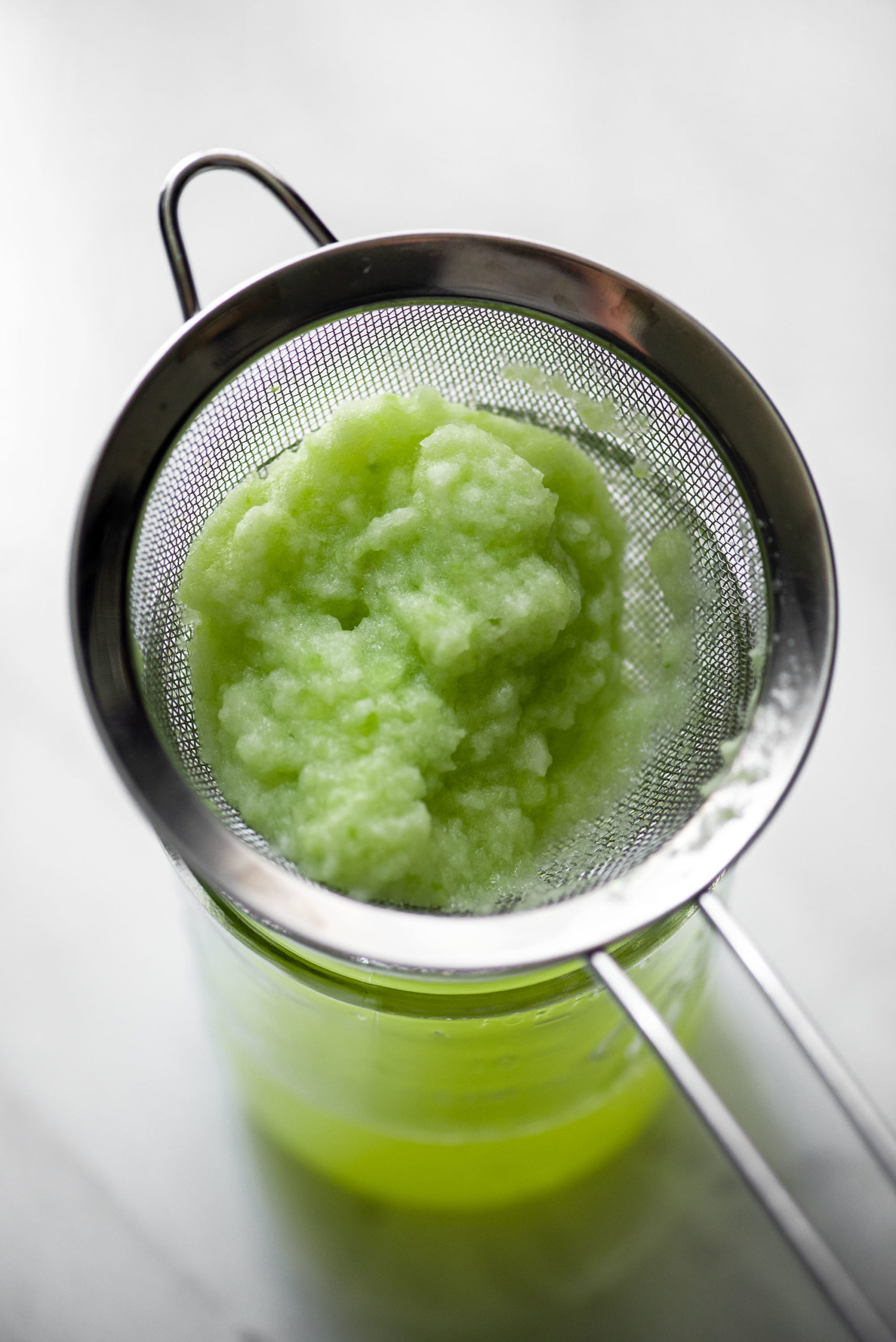 Lemonade from scratch
While using a frozen bottle of lemon juice is perfectly acceptable for this recipe, I like to squeeze my own juice. It's not that I relish squeezing lemons! That part is a bit of a pain.

However, lemons are one of my favorite ingredients, so I always keep them on hand. I love the zest as much as the juice, so this lemonade was made with lemons I peeled for lemon vinegar.
When making lemonade from scratch, you can freeze the lemon zest for later uses! It's a really great trick that comes in handy for baking earl grey cupcakes or making compound butter!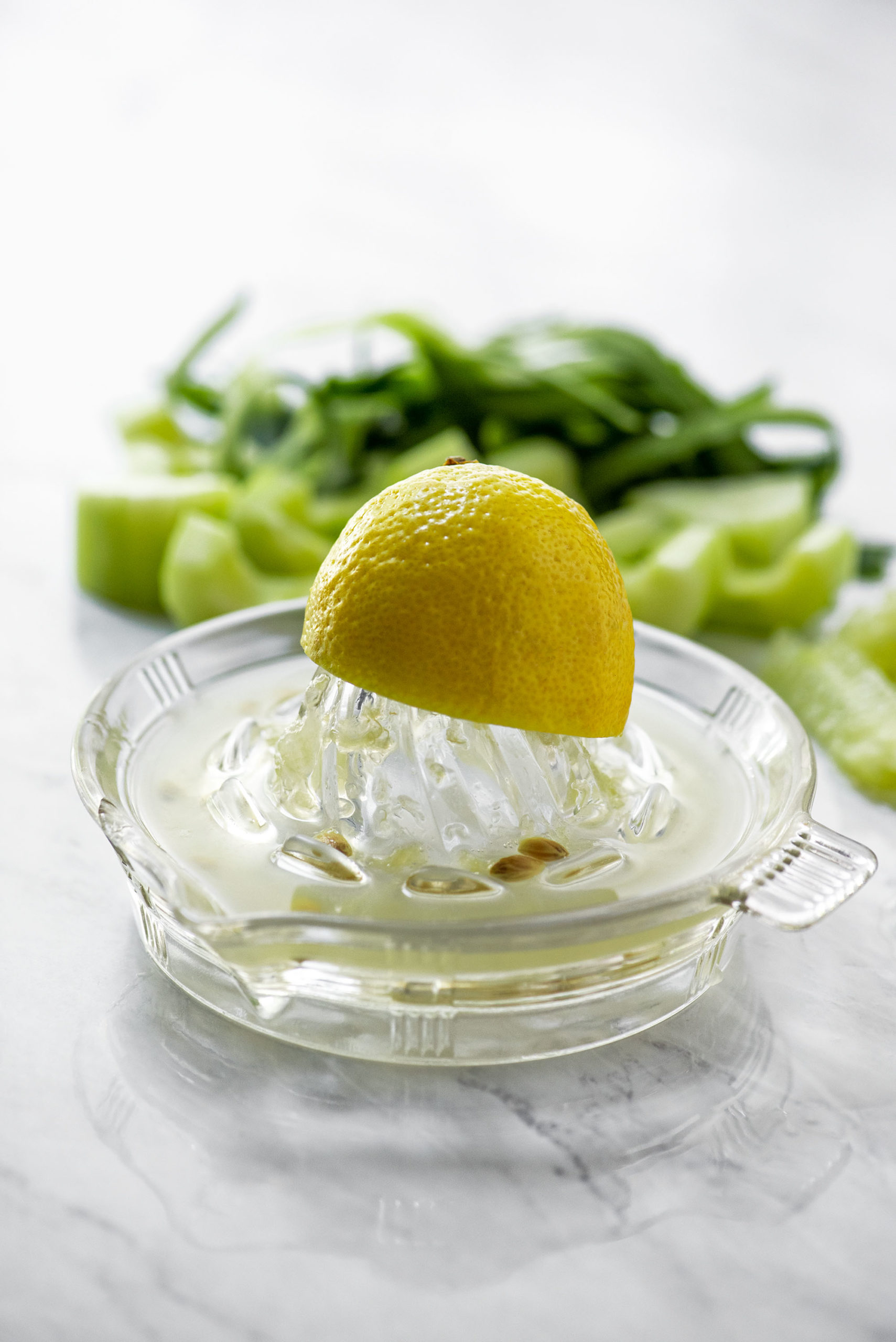 How to dress up your cucumber lemonade
Your drink should look as good as it tastes! It just takes a little bit of garnish to gussy up this beverage. We used thinly sliced lemons and cucumbers, but fresh mint would be a great addition to this drink too!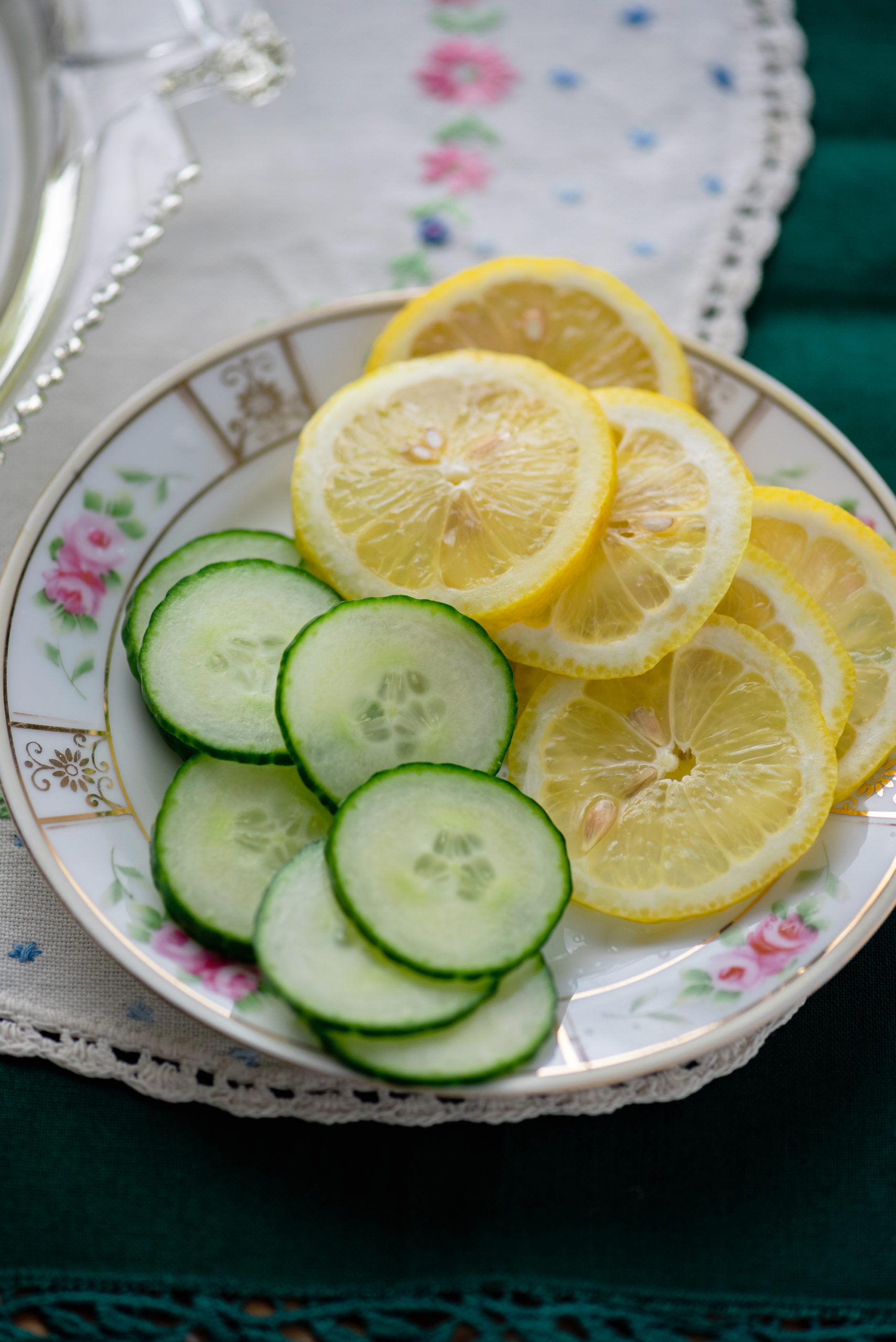 To get the look of our cucumber lemonade, stick the sliced lemons and cucumbers to the inside of the glass first, then add ice.
Pour in the lemonade and garnish with a slice of cucumber. It's super simple and elegant.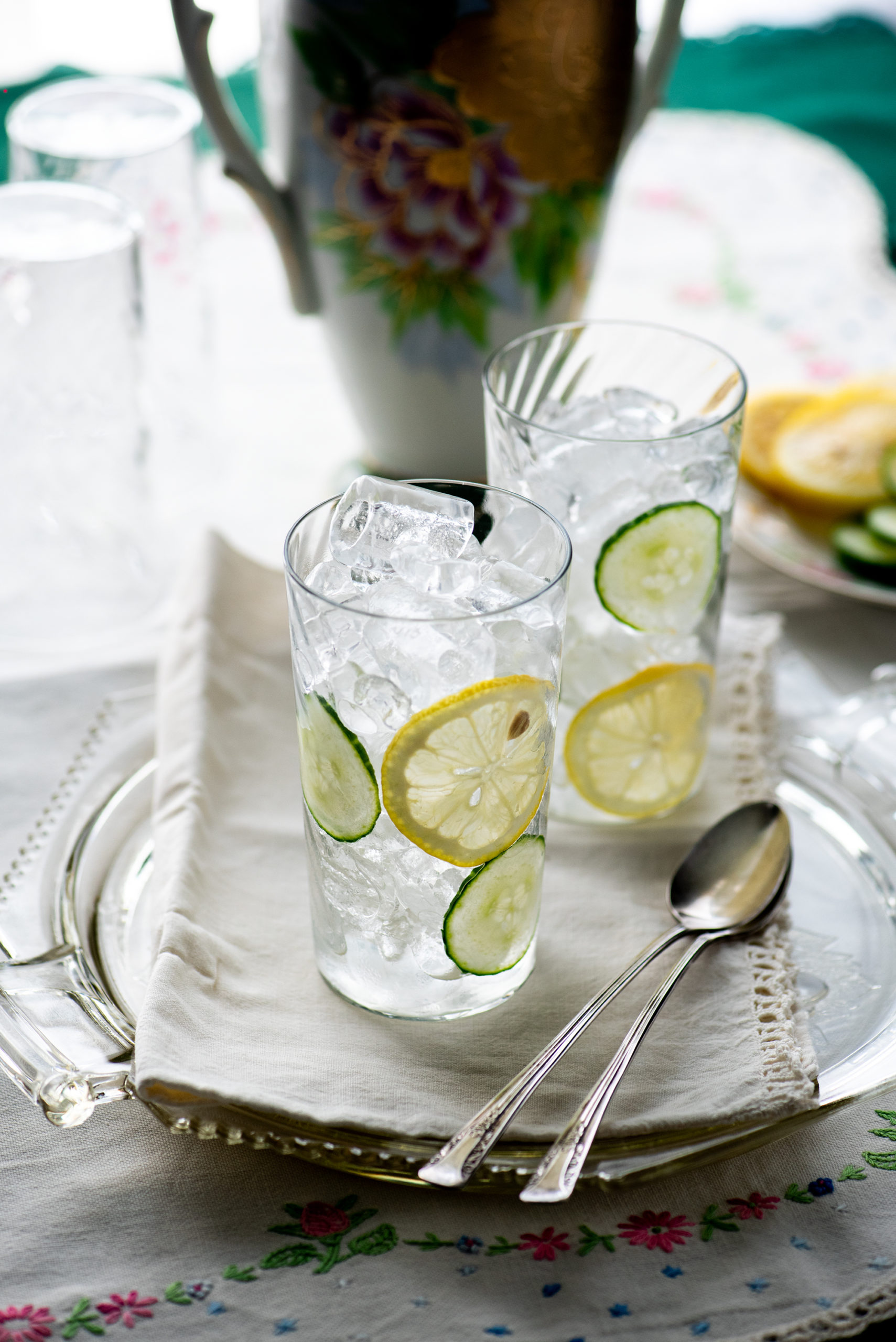 I love this cucumber lemonade recipe because it's fresh, sweet and little savory. It's a perfect drink to make in advance for parties or a casual evening on the porch. Plus it's easy to make, so you can get out of the hot kitchen and find a cool summer breeze to enjoy!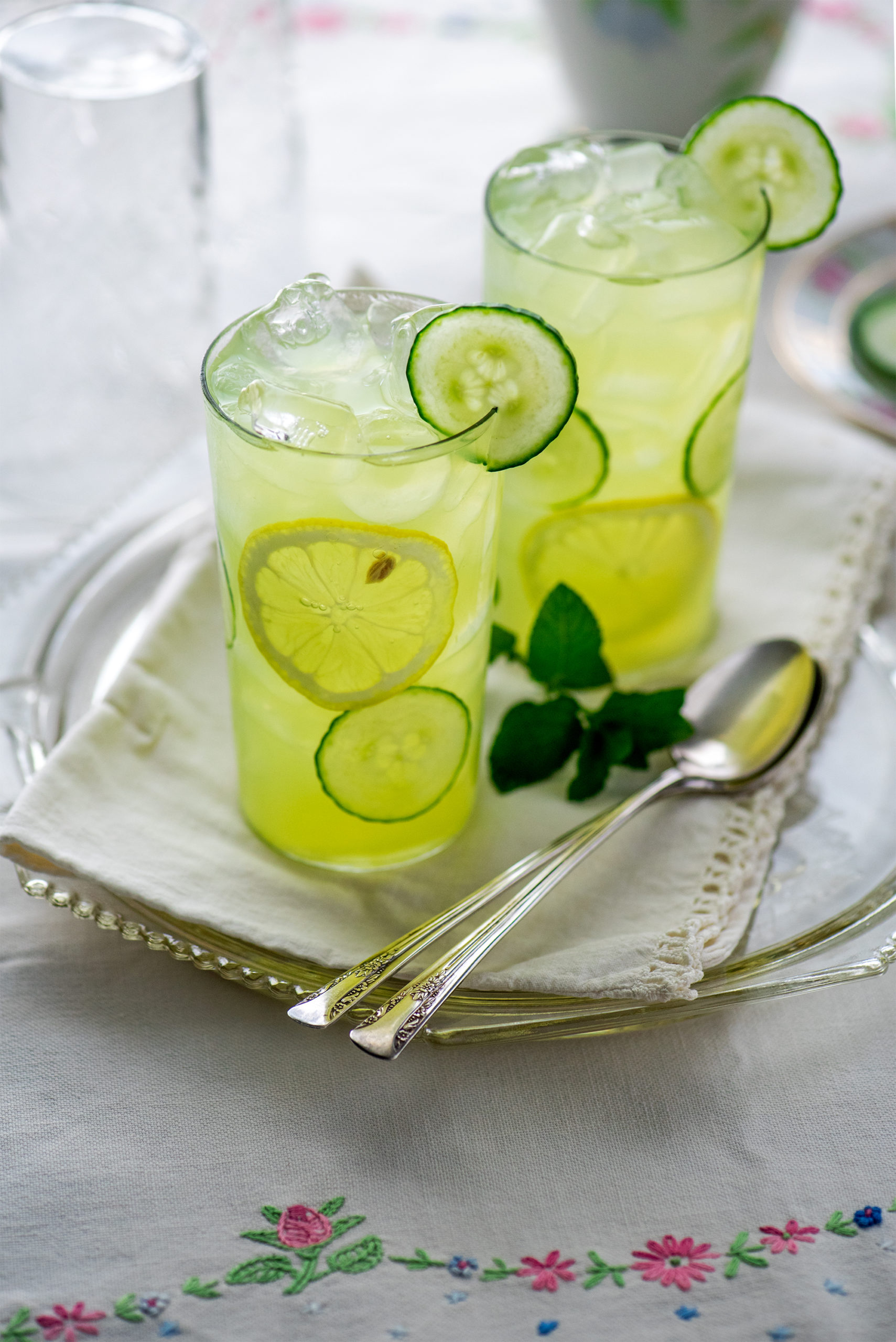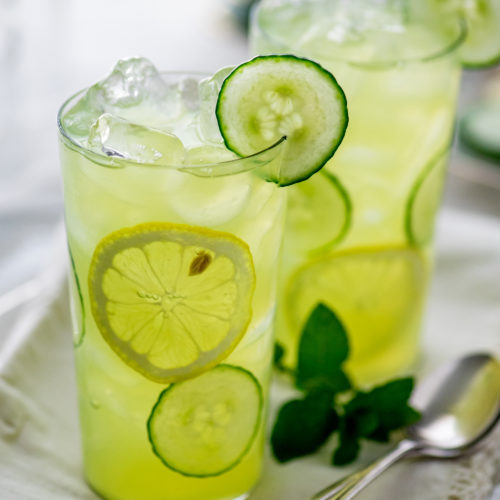 Cucumber Lemonade Recipe
This refreshing twist on lemonade is perfect for cucumber season. It's refreshing and makes the most of an abundant cucumber crop!
Print
Pin
Rate
Ingredients
Cucumber Lemonade
¾

cup

sugar

2

cups

water

2

cups

cucumber juice

*see notes below

¾

cup

lemon juice
Instructions
Making simple syrup. Combine water and sugar in a pot and place over medium heat. Cook until sugar has dissolved then let cool.

Combine simple syrup, cucumber juice and lemon juice then refrigerate until cold.

Serve over ice with lemon and cucumber slices.
Notes
To make cucumber juice, peel about four regular or two English cucumbers, then cut it in half a scoop out the seeds. Coarsely chop the cucumber and puree in a blender. Strain the puree through a fine mesh sieve. Keep refrigerated until ready to use.
If you're like me and like to use vintage pitchers, always be careful to not put hot simple syrup into the pitcher. It may crack!
I like my lemonade strong because I like a lot of ice in my drinks. If the flavor is too strong, add more water to taste.
Mint is a great addition to this recipe!
Nutrition
Calories:
178
kcal
|
Carbohydrates:
46
g
|
Protein:
1
g
|
Fat:
1
g
|
Saturated Fat:
1
g
|
Sodium:
10
mg
|
Potassium:
268
mg
|
Fiber:
1
g
|
Sugar:
41
g
|
Vitamin A:
158
IU
|
Vitamin C:
22
mg
|
Calcium:
30
mg
|
Iron:
1
mg
Tried this recipe?
Let us know how it turned out for you! Scroll down to leave a comment below.
Love this twist on lemonade? Check out all our drink recipes!
This blueberry lavender soda is a refreshing beverage you can make at home. Perfect for summer barbecues or cooling off after working in the garden!
Orange Chai Iced Tea will make your summer cool and sweet. There isn't a more classic way to relax with friends on a hot day.
Summer is filled with scorching days, so, this mouthwatering lemon icebox pie hits the spot when that thermometer soars!