Chorizo Pinto Beans are excellent as a meal, side dish or topping for nachos. Made with real chorizo, these slow cooked beans are packed with flavor and great for a crowd!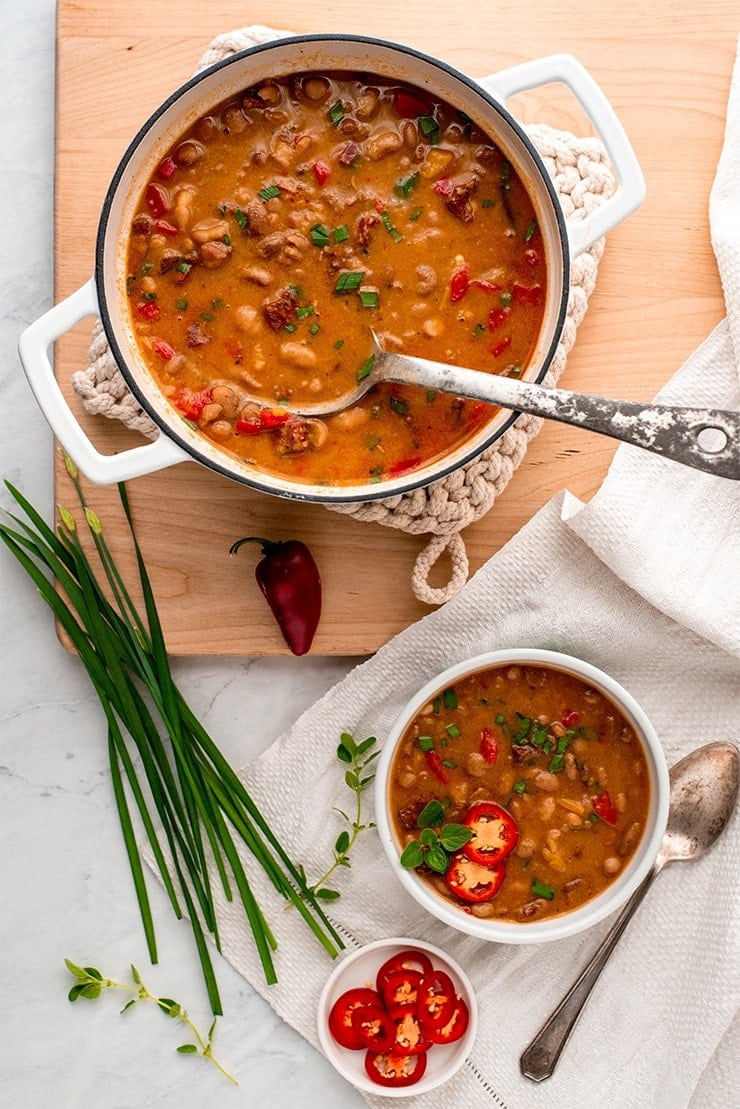 Beans made from scratch take time, but the reward is beans that are flavored with aromatics like onions, garlic, and oregano. This recipe makes pinto beans so yummy that they can be served as a main course over rice, an especially welcome dish for cool fall nights. But this dish is also great as a side to any meal. The recipe makes a whole dutch oven full, so you can also freeze some for later to serve on nachos on game day!

This post was originally published on Oct. 26, 2015. It was updated with new photos on August 15, 2019 but it's still the same awesome recipe!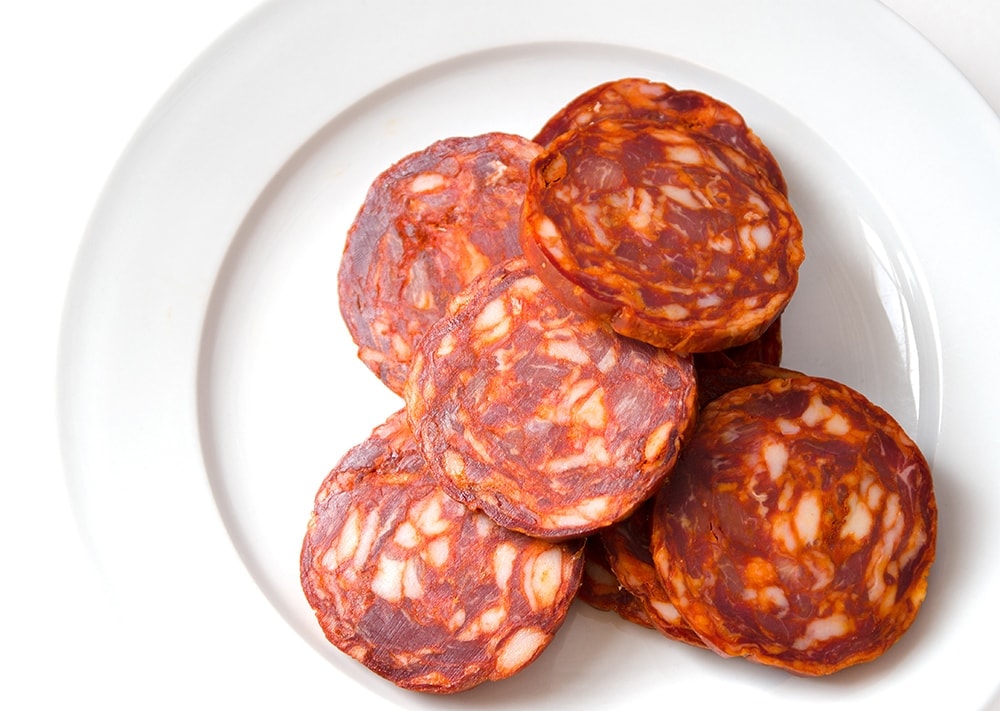 This recipe starts with cured chorizo, a sausage from Spain and Portugal made of pork and seasoned with paprika. Although many stores carry carry fresh sausage called chorizo, it's not what you want for this recipe. You need to find Spanish chorizo… the hard dried stuff you get at the deli counter. If you live in the country like me, you may have to call around to find authentic chorizo, which isn't cheap at $10 a pound, but I promise you that the $5 is worth it. This is no ordinary pot of beans!
Or you can buy authentic chorizo from Amazon! It's a little pricier but very convenient!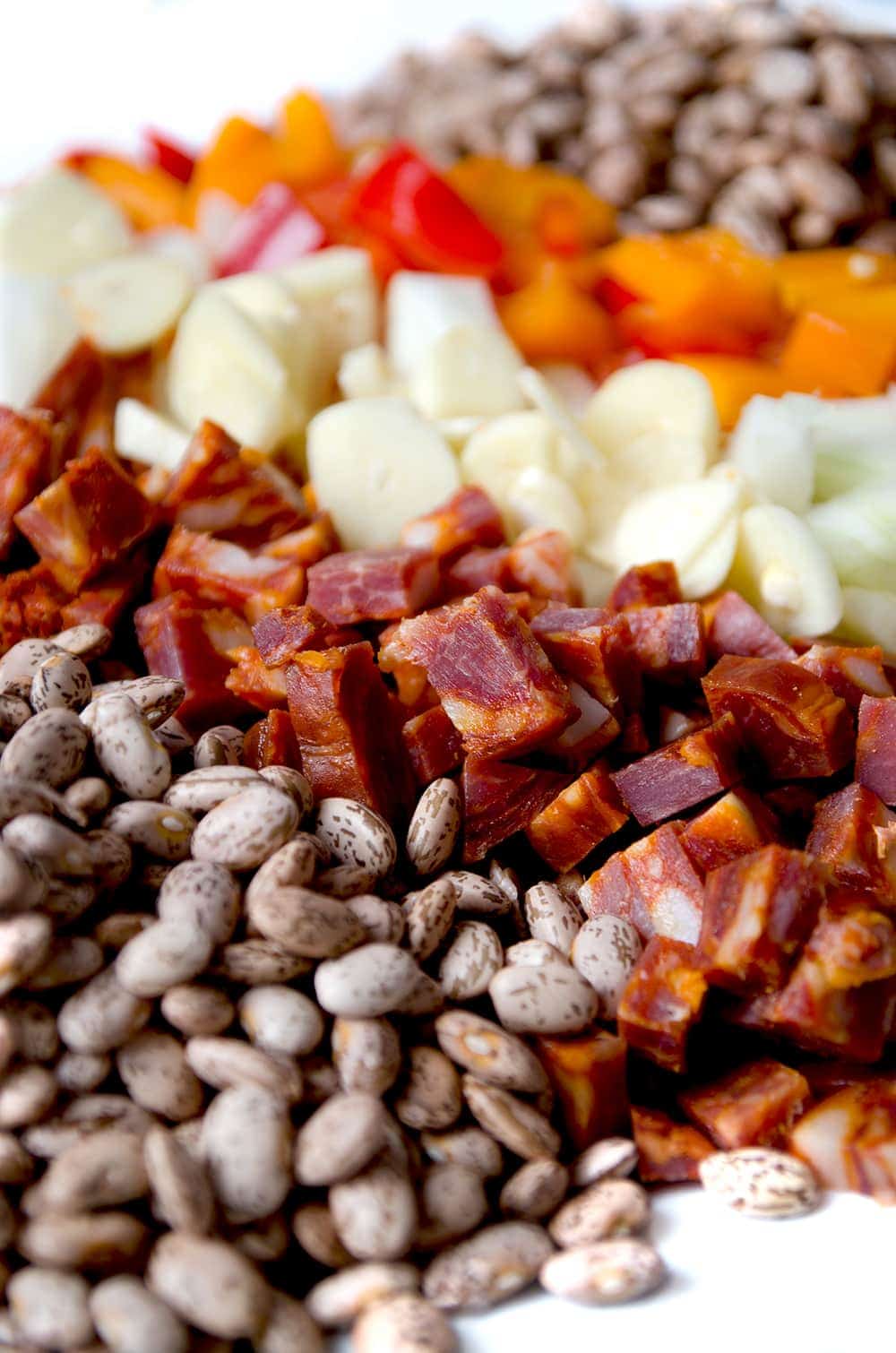 I know you're thinking "how much time does this recipe take"? Slow and steady wins the race, right? But you won't be laboring for hours, the prep is fast but it cooks on low heat in the oven for 2-3 hours.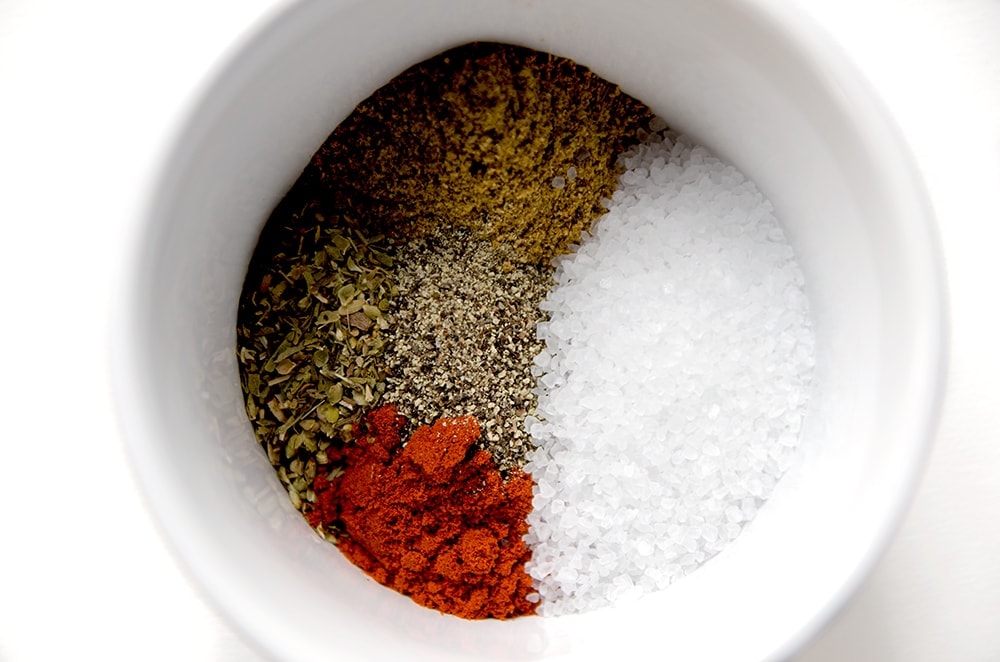 There is no shortcut to intensely flavorful beans. That's because dried beans have very little flavor on their own, so they need to be re-hydrated with yummy ingredients like onions, garlic, sweet peppers and fragrant spices like cumin, smoked paprika and oregano.
But the secret to these Chorizo Pinto Beans is really the chorizo, which makes the dish extra hearty. You saute all the veggies and sausage in a dutch oven until the onions are soft and starting to caramelize, then add the spices, beans and stock and hours later you have magic beans that Jack would covet.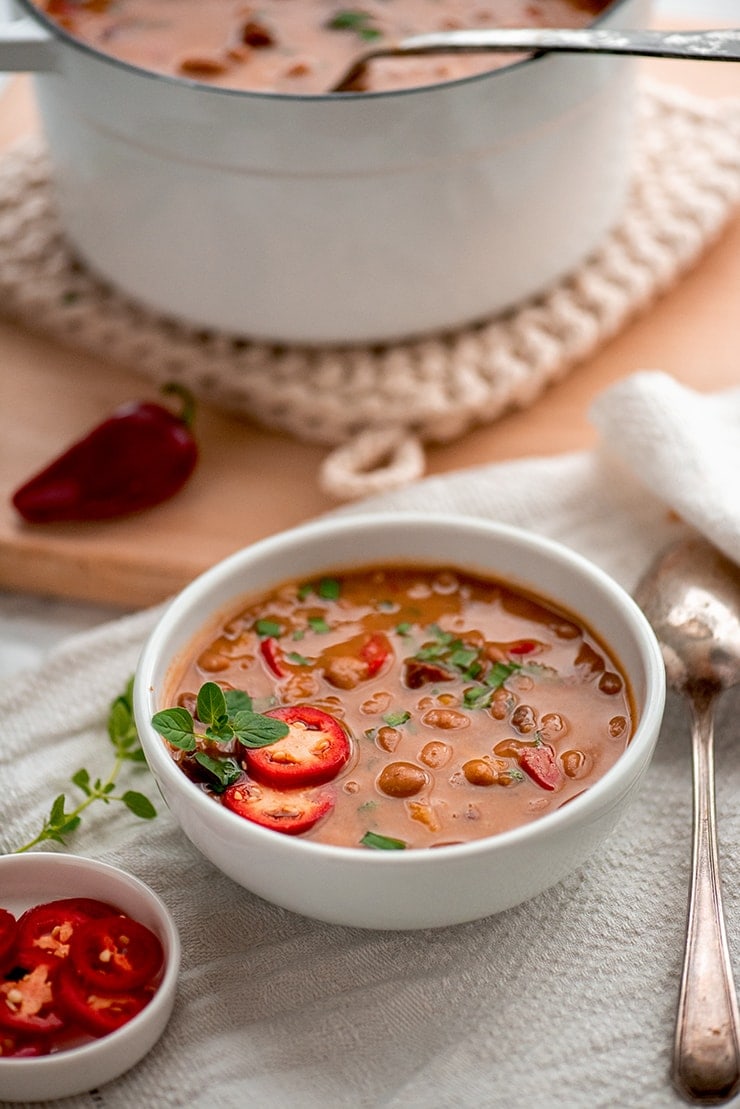 Now, I know many of you readers are extremely busy, so slow food doesn't seem accessible. Because I love you all so much, I tested a batch in the crock-pot, which is a secret weapon for those who don't have time to babysit the oven for hours on end.
I have good news and bad news for you. We blind-taste-tested our stove/oven and crock-pot batches and the stove version was the hands-down winner for flavor and texture. I found the crock-pot batch to be slightly bitter and Kevin had issues with the texture of the beans. For a time comparison, the stove version took 3-1/2 hours (1/2 hour active time) and the crock pot version took about 8 hours., but I think it could have used an extra hour. I believe the difference in flavor was due to the onions and garlic being thrown in raw rather than being sauteed first. So, my suggestion for anyone wanting to fix it and forget it, saute your veggies first and then add them to the crock-pot and I believe they will be nearly identical to the stove version.
Whew! That's a long paragraph. Are you still with me?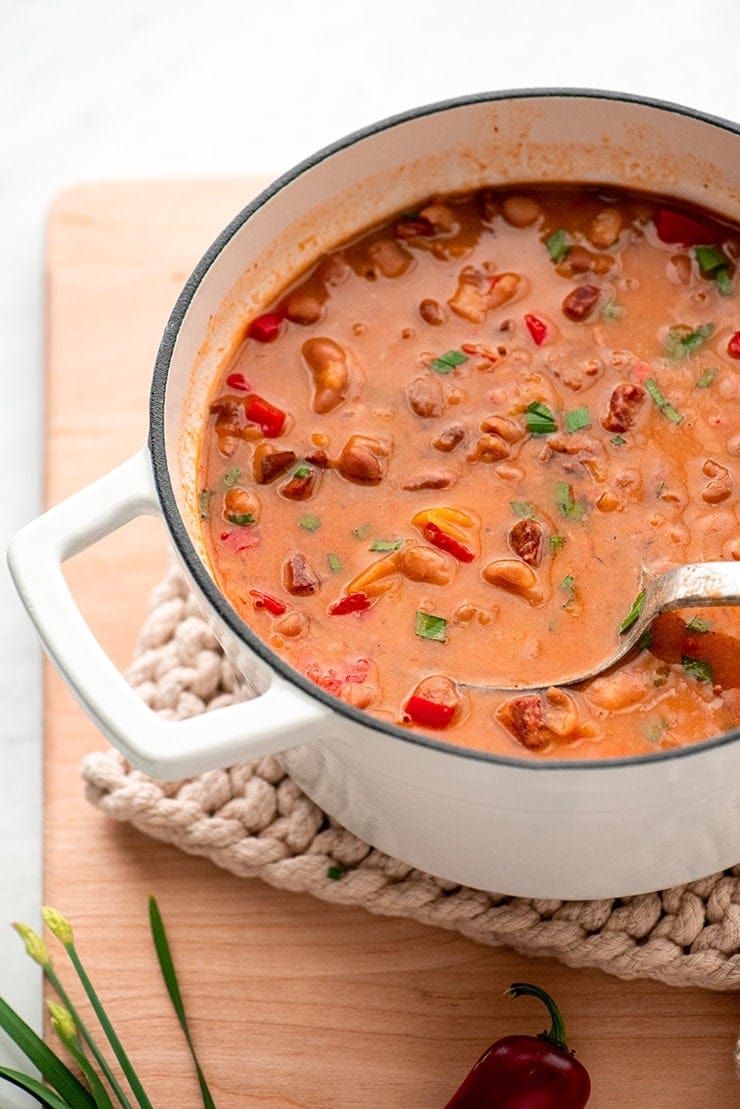 I hope so, because doesn't this look good? I'm super excited because the chives are homegrown! We picked them last week before the freeze and they've been in a jar of water waiting for me. Perennial herbs are the gift that just keeps giving, so I'm hopeful that the fall won't be too cold and we'll get a second harvest for Thanksgiving!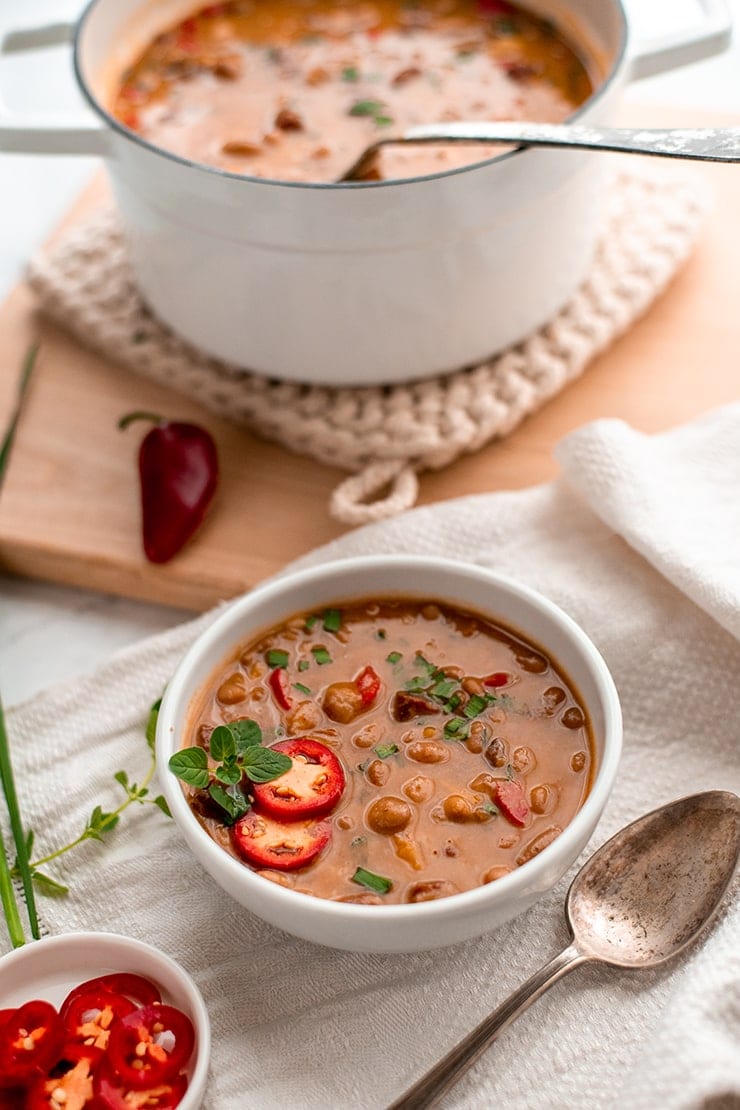 Speaking of the holidays, beans are great to serve to a crowd. They are filling, go with a variety of foods and are inexpensive. But my favorite part is the smell of the peppers and oregano as these Chorizo Pinto Beans are cooking. Nothing is as inviting as the savory smell of a stew.
But if you're not the beans and rice type, they are great on nachos, in a burrito bowl or as a side to latin style dinners. In fact, we freeze these pinto beans in mason jars so we always have homemade pinto beans to serve with our favorite recipes!
Hope you enjoy this recipe as much as we have over the years! xoxo Kitty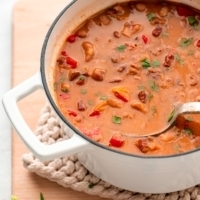 Chorizo Pinto Beans
This recipe is done in a dutch oven on the stove and then transferred to the oven. If you wish to make it in a crock-pot, read the notes below. ** Make sure to use authentic cured Chorizo and not the fresh sausage variety. Chorizo can be found in many supermarkets in the deli section.
Print
Rate
Ingredients
2

medium onions

diced

2

red bell peppers

diced

2

small hot chiles

diced fine

5

cloves

garlic

sliced thin

2

teaspoons

cumin

1

teaspoon

oregano

1

teaspoon

smoked paprika

½

teaspoon

black pepper

1

tablespoon

coarse sea salt

½

pound

chorizo

, diced*

2

tablespoon

canola oil

1

tablespoon

white wine or white wine vinegar

2

pounds

pinto beans

rinsed, stones removed

8

cups

chicken stock

or water

Parsley or chives for garnish
Instructions
In a large 4-5 quart dutch oven, heat canola oil over medium heat.

Add in peppers, onions, garlic, chorizo and spices, stirring often with a wooden spoon.

Sauté until onions are translucent and the chorizo has started to release its oils.

Deglaze the pan by adding the white wine and scraping the bottom of the pan with spoon.

Add in beans and water (or stiock) and turn up heat to high.

Bring to a boil.

Once boiling, give the beans a stir, cover and reduce to a very low simmer, or transfer to an oven on 250°.

Cook for about 2½-3 hours, stirring and checking the doneness of the beans every half hour.

Do not let the beans dry out. If all the water is absorbed before the beans are done cooking, add more water a cup at a time.

Once the beans are tender, the liquid should be thickened like a gravy.

Serve garnished with parsley.
Notes
For this recipe, you need cured chorizo, not the uncooked sausage variety. Please see post for more info.
If you would like to make the beans in a crock-pot, saute the vegetables with the chorizo and spices before adding the ingredients to the crock pot. Cook beans on low for about 8-9 hours, until tender. Keep in mind that crock-pot times will vary.
Nutrition
Calories:
306
kcal
|
Carbohydrates:
36
g
|
Protein:
16
g
|
Fat:
11
g
|
Saturated Fat:
3
g
|
Cholesterol:
18
mg
|
Sodium:
1217
mg
|
Potassium:
656
mg
|
Fiber:
12
g
|
Sugar:
3
g
|
Vitamin A:
1269
IU
|
Vitamin C:
58
mg
|
Calcium:
72
mg
|
Iron:
4
mg
Tried this recipe?
Let us know how it turned out for you! Scroll down to leave a comment below.
Looking for more inspiration? Check out all of our side dish recipes!
You might also like: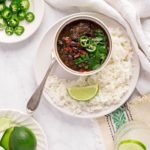 Cuban Black Beans
Making these slow cooker black beans from scratch is so easy, and so flavorful, canned beans will be a thing of the past!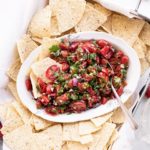 Pico de Gallo
Nothing is as awesome as a sweet, juicy, summer tomato! But you don't have to wait for summer to make this fresh cherry tomato pico de gallo.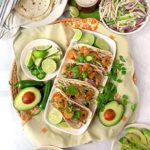 Shrimp Tacos
Brighten up your dinner routine with these easy, 30-minute Tequila Shrimp Tacos!