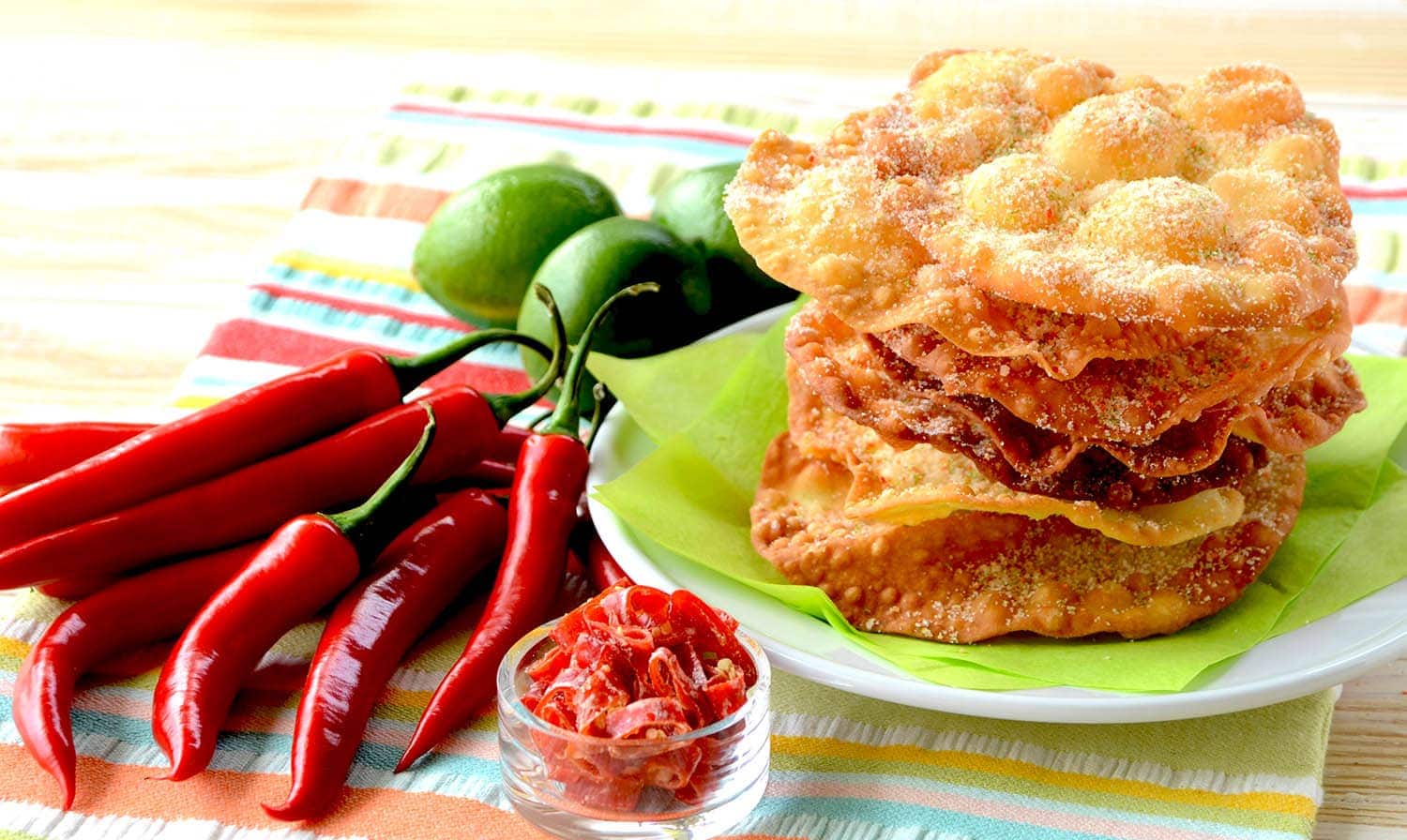 Spice up Taco Tuesday! These crispy, sweet and spicy candied chile and lime Mexican bunuelos are the perfect complement to your Cinco de Mayo dinner or any Mexican themed dinner.
---
Cinco de Mayo is right around the corner, so here is a treat that is sure to spice up Taco Tuesday! These crispy, sweet bunuelos are a traditional dessert throughout Spain and Latin America. In many countries they are shaped like doughnut holes, but in most of Mexico they are rolled flat. They can be dusted with cinnamon and sugar or covered in a syrup made with various flavors like guava, orange, anise or piloncillo.

I've been dreaming up some spicy chocolate cupcakes for a while now, but unfortunately they are still in the development phase. I planned to use these candied peppers for that recipe, but have been too busy to make it happen. Luckily, more ideas came to mind. It's good, because these candied finger hot peppers are so yummy. The combination of sweet and hot is very addictive, making it hard to eat just one. It took a mega ton of will power to not to devour them all before they made it into a recipe.
The great part of the candying process is that some of the heat from the peppers leaches out into the syrup, so they have a bit of bite but they lose a lot of their savory quality. What the peppers lose in heat, they gain in texture. The candies are crumbly and crystalline like sugar. The transformation is nothing short of magical. And the syrup byproduct is super tasty too. I'm thinking spicy margaritas!
Making the candied peppers is easy peasy. Sugar, water, peppers and voila! Vegetable versatility! But it takes a little time. Okay maybe a lot of time, but not much of it is hands on, so don't fret. The good news is that the peppers store well, so you can make them in advance.
But what to do with them?
One of my favorite kitchen tricks is to infuse sugar for cocktail rims, cookies or to imbue flavor into almost any recipe that calls for granulated sugar. In my pantry I have a jar of lavender sugar and in my freezer there's a bag of lime sugar for margaritas. So, once I tried a bite of these candied peppers, it wasn't a great leap towards chile sugar inspiration. But why stop there? Lime and hot pepper are perfect together.
So, then my brain started doing excited somersaults looking for a way to use this awesome chile lime sugar. On a margarita rim? Too boring. It had to be something special. Then sopapillas dredged in cinnamon sugar came to mind. I followed my hunch, did a bit of research and landed on the bunuelo. Crunchy, fired dough with chile lime sugar? Winner, winner, taco dinner!
These Chile Lime Mexican Bunuelos take some time too, but the result is worth the effort. They are crunchy, sweet and spicy and the perfect complement to your Cinco de Mayo celebration. Viva Mexico!


Chile Lime Mexican Bunuelos
We've spiced these crispy bunuelos with candied hot peppers! So delicious!
Print
Rate
Ingredients
Candied Peppers
1/2

pound

red finger hot peppers

1

cup

granulated sugar

1

cup

water
Bunuelos
2

cups

flour plus more for rolling

1/2

tsp

baking powder

1/2

tsp

salt

1/4

cup

sugar

1

egg

1/2

cup

milk

2

TB

butter

melted

Vegetable oil for frying
Chile Lime Sugar
4

TB

candied peppers

6

TB

granulated sugar

Zest of 6 limes
Instructions
Candied Peppers:
Wash peppers and cut them into thick rounds, discarding pointy ends and tops.

Combine peppers, sugar and water in a medium sauce pan and bring to a gentle boil,

Cook peppers until semi=translucent, about 20-30 minutes.

Strain peppers, reserving syrup for another use.

Place peppers on a parchment lined cookie sheet and place in a warm oven to dry. Alternatively, the peppers can be dried in a dehydrator.

The peppers are done when they are dry and no longer sticky.

Stirring the peppers occasionally can help expose wet areas, speeding the drying process.

Time to dry varies based on humidity levels and the temperature of the oven or dehydrator. It can take anywhere from 2 hours to overnight.

Store candied peppers in an airtight container until ready to use.
Bunuelos:
Combine flour, baking powder, salt and sugar in a mixing bowl.

In a separate bowl, whisk together egg and milk.

Add liquid mixture to flour and mix until combined.

Add butter and mix.

Kneed dough on a floured surface until no longer sticky.

Place dough in a bowl covered with a damp towel and let it rest for 30 minutes. While dough rests make chile lime sugar.
Chile Lime Sugar
Place candied peppers and granulated sugar into a small food processor and grind until fine.

Sift mixture through a fine mesh sieve to remove seeds and larger pieces.

Add zest and stir until mixed thoroughly.

Place sugar on a plate and set aside.
Finishing the Bunuelos
Roll dough into quarter sized balls.

Cover balls with damp towel and roll each piece until very thin.

Heat oil to 360F

Place rolled disks on a plate, separated by wax paper so they don't stick together.

Fry each bunuelo individually, flipping it halfway through cooking.

They are done when they are a light golden brown and no longer flexible.

Using a spider or tongs, carefully remove the bunuelo, shaking off excess oil.

Immediately dust with chile lime sugar.
Notes
Finger hots can be substituted for other hot thick-walled peppers
Save the chile syrup for spicy margaritas
Bunuelo dough can be rolled a few hours in advance. Wrap it tightly in plastic wrap and refrigerate it until ready to use.
Nutrition
Calories:
136
kcal
|
Carbohydrates:
29
g
|
Protein:
2
g
|
Fat:
2
g
|
Saturated Fat:
1
g
|
Cholesterol:
12
mg
|
Sodium:
77
mg
|
Potassium:
94
mg
|
Fiber:
1
g
|
Sugar:
17
g
|
Vitamin A:
175
IU
|
Vitamin C:
22
mg
|
Calcium:
24
mg
|
Iron:
1
mg
Tried this recipe?
Let us know how it turned out for you! Scroll down to leave a comment below.
You might also like: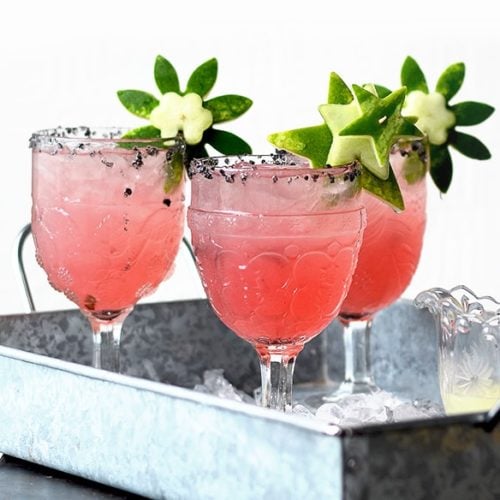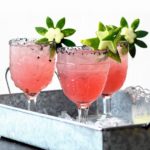 Watermelon Margaritas
When it's crazy hot outside, fresh watermelon makes the sweetest, most cooling margaritas.
Easy Roasted Red Pepper Enchilada Sauce
Get the joy of delicious, roasted red pepper enchilada sauce in less time. Our recipe is a snap to make but you'd never know it from the gourmet taste!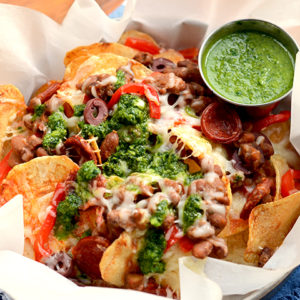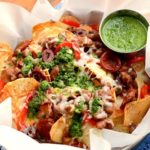 Spanish Potato Nachos
Homemade potato chips get loaded with savory Spanish ingredients in this fusion recipe. Far from ordinary, these nachos are topped with Manchego cheese, Chorizo sausage and served with a fresh, zesty Chimichurri.