Celery Root and White Bean Soup is a hearty, pureed soup perfect for a chilly winter meal. Hot soup that's rich and creamy? Sounds like a great way to beat old man winter at his game!
---
When many vegetables are out of season, that's when root veggies get to shine. They are so versatile…roast. mash, fry 'em….but I think that they are superb in soups. So recently I made this Celery Root and White Bean Soup with some of my favorite winter staples.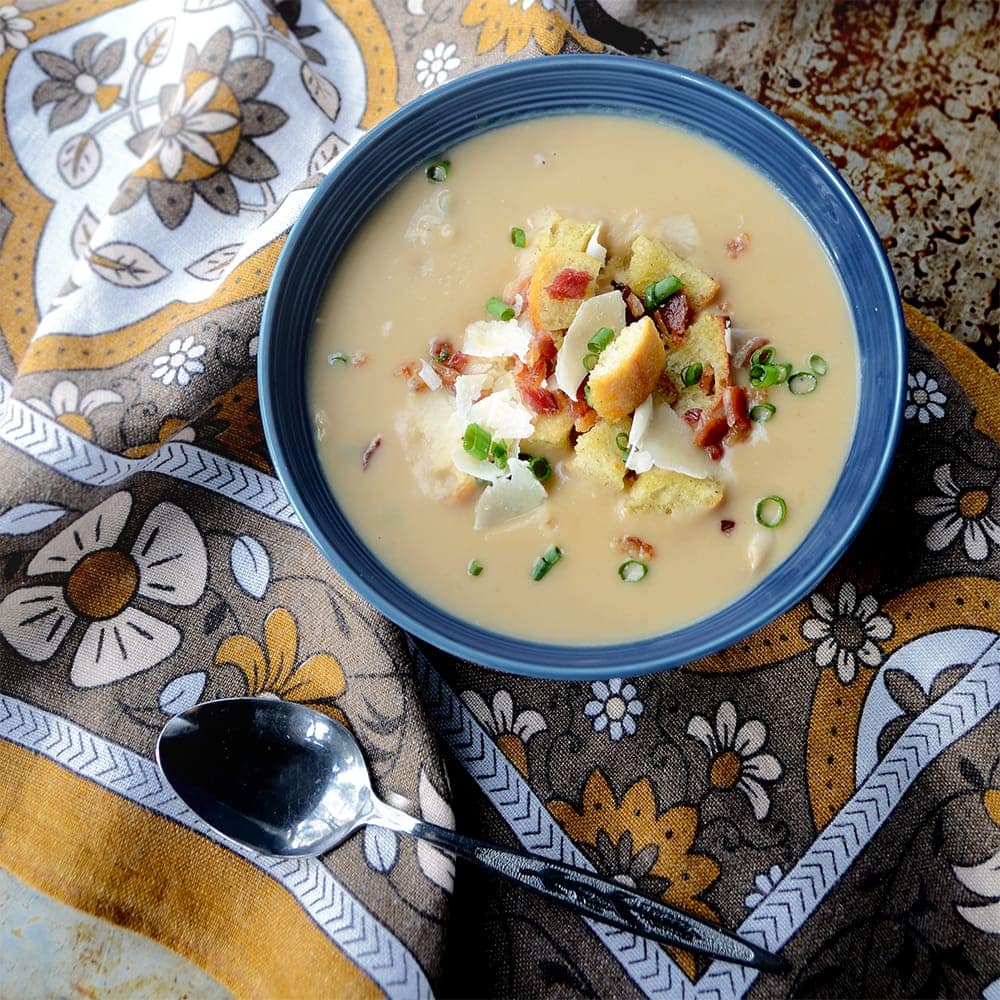 I get the winter blues. I'm not a fan of the cold, and ironically, even though I'm a total night owl, I really miss that sun….but put on a simmering pot of soup and the kitchen gets all steamy and suddenly winter doesn't feel so bad. Stirring the pot, tasting for flavor… its a welcome ritual when the weather turns. Especially when it comes time to eat that hot soup! It warms you up from the inside.
This winter white soup is made with celery root, parsnips, onions and white beans making it sweet and savory. Since its all white, for visual appeal it's all about the garnish. I topped it with Parmesan, bacon, garlic croutons and scallions, but there are so many options. Drizzle it with herb oil, top it with roasted vegetables or maybe some grilled kielbasa. So good!
Time to cuddle up with a warm blanket and a hot bowl of soup! It may be dark and cold, but staying indoors is a great excuse to read a book, watch an old Christmas movie or do some last minute shopping online. Maybe winter is not so bad after all…

Ingredients
1

cup

dried white beans

soaked for 8 hours or overnight (or two cups canned beans)

1 1/2

TB

salted butter

2

cups

white onion

diced

3

cloves

garlic

sliced

1 1/4

parsnips

diced

1

large celery root

1/4

cups

white wine

5

cups

chicken stock

3 1/2

cups

water

1/2

cup

heavy cream

Salt and white pepper to taste
Instructions
In a large soup pot, melt butter over medium heat.

Saute onions and garlic until golden.

Add parsnips and celery root and saute about 5 minutes more.

Add white wine, stock, water and beans and bring to a boil.

Reduce to a simmer and cook until veggies and beans are very soft.

Turn off heat and puree soup carefully in small batches.

Return soup to pot, add in cream and season with salt and white pepper to taste.

Garnish and serve!
Notes
The time it takes for the soup to cook depends mostly on the dried beans. Smaller beans cook faster, so I'm a big fan of Bob's Red Mill Small White Beans. However if you are short on time, use canned white beans and rinse them very well.
Tried this recipe?
Let us know how it turned out for you! Scroll down to leave a comment below.
You might also like: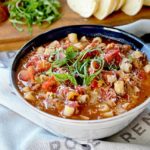 Pizza Soup with Peppers, Italian Sausage and Spices
Pizza Soup is a hearty, robust tomato soup filled with Italian flavors and ingredients. It's supremely delicious and can be served as an appetizer or as an entree with a side salad or grilled cheese sandwich.
Cream of Mushroom Soup from Scratch
Ditch the can this holiday season by making Cream of Mushroom Soup from scratch for all your casserole needs.
Thai Pumpkin Corn Soup
This creamy and satisfying Thai Pumpkin Corn Soup recipe combines a bounty of fresh vegetables and can be adjusted to accommodate omnivore, vegetarian and vegan diets.