These baked buffalo cauliflower wings are crispy on the outside and filled with spicy flavor on the inside. Make this appetizer extra special with our cooling cilantro lime yogurt dip. Great for game day!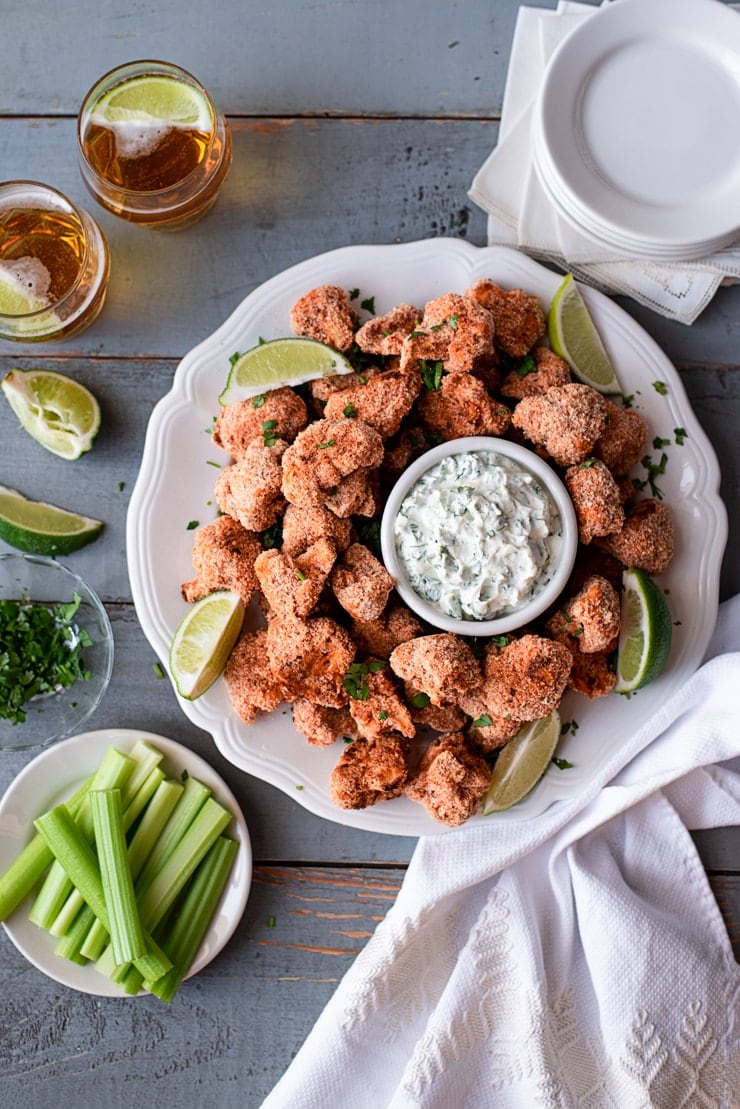 I cannot tell you how much I love this recipe! It's got all the fun elements of the buffalo cauliflower wings you get at restaurant, but they're baked not fried! These cauliflower wings are spicy, easy to make and better for you than traditional wings.
I have to admit, I've never been a fan of chicken wings. It's weird because I'm a huge fan of bar food. Fried mozzarella, nachos, and soft pretzels with beer cheese are my jam! But when Kevin orders wings, I just eat the celery.
I'm super happy that cauliflower has become so trendy! Cauliflower is the best! I love it in aloo gobi, roasted vegetable soup and in my take on Cajun cheesy grits. I've even used it to make vegetarian gravy! In short, cauliflower is a chameleon vegetable. I cannot imagine a savory flavor that would not compliment it.
It was no surprise that I fell in love with cauliflower wings! They're soft on the inside, crispy on the outside and take on spicy and sweet flavors so well!
Creating my own recipe for buffalo cauliflower wings was a must. I wanted to eat this flavorful, spicy appetizer without going to a restaurant. I also wanted to cut some calories by making it baked instead of fried.
Luckily, it was easier than I thought it would be. I started by breading cauliflower and then adding Buffalo sauce after baking. This resulted in soggy wings.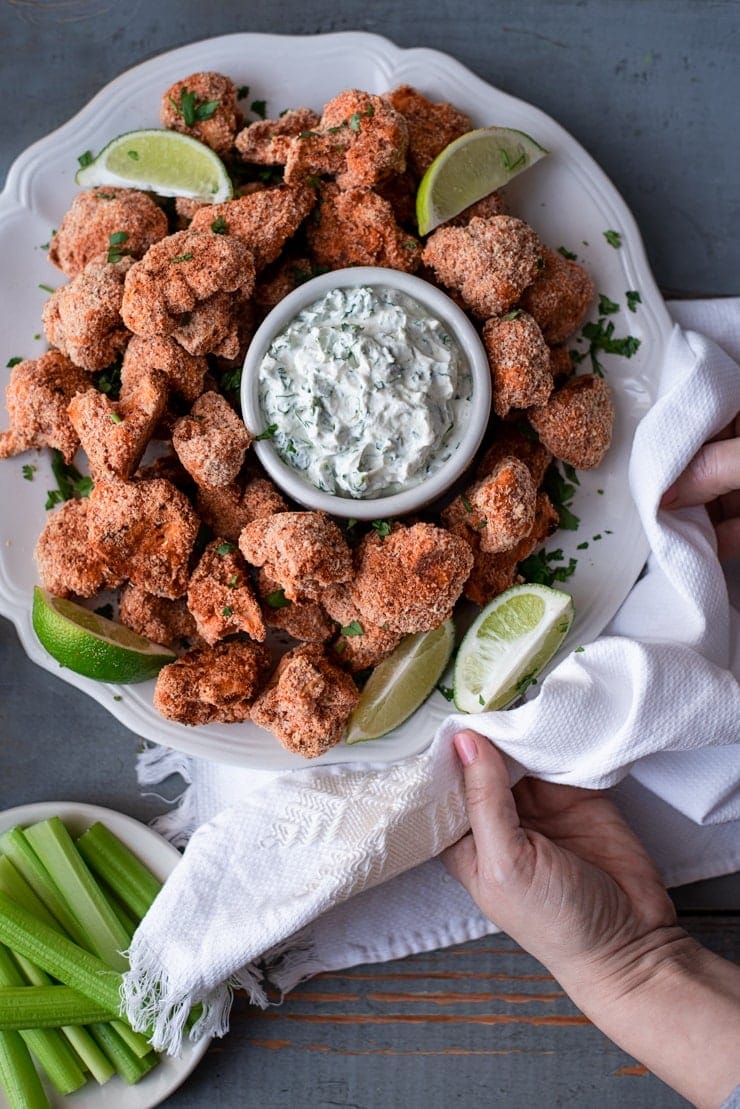 Then I had the bright idea to mix the buffalo sauce with the egg for breading. It worked like a dream. It holds on the bread crumbs and still has all that spicy flavor. It's like these wings are wearing their clothes inside out!
As much as I love the cauliflower wings, this easy recipe for cilantro lime yogurt dip is just as amazing! It's cooling, vibrant and so fresh next to the piquant buffalo sauce. It's perfect for dipping because it's thick and creamy, but just like the wings, better for you than blue cheese or ranch dressing.
How to make buffalo cauliflower wings
Great news! You only need five ingredients to make these buffalo cauliflower wings! My simple recipe uses buffalo sauce, bread crumbs, cauliflower, egg whites and salt. That's it!
The recipe calls for two heads of cauliflower because its designed for sharing. I like to buy the whole head because it keeps better than the precut florets. Once you get the hang of cutting it up, it's very easy.
First, cut off the leaves, then cut large florets by working from the underside of the cauliflower head. You want to follow the natural shape of the cauliflower.
Then to make smaller florets slice down the stem of a large floret. The trick to not making a cauliflower rice mess is by breaking the floret the rest of the way by pulling it apart.
The breading process is simple. Buffalo sauce is whisked together with egg whites. That's the sticky "glue" that holds on the bread crumbs.
When Kevin is around, we work together to do the breading, It's certainly the most hands on part of this recipe. I'll dip, he'll bread. If you're working by yourself, it's best to dip with one hand and bread with the other, That way, you won't bread your fingers in the process!
The breaded florets are then placed on baking sheets lined with parchment paper. Don't miss this step because there's no oil in the recipe to keep it from sticking to the pan.
Once the florets are in the oven, you can make the cilantro lime dipping sauce.
The sauce is super simple! It starts with very thick Greek yogurt. Freshly zest a lime, chop a bunch of cilantro and stir it together with a bit of honey. Then salt to taste. This part is very important! You always want to taste!
Since our yogurt was super thick we also squeezed a bit of lime juice into the sauce to thin it out.
Another thing to note is always mix your dip in a different bowl than you plan to serve it in. The mixing bowl always ends up a mess like this!
Once the wings are crispy on the outside and tender on the inside, serve them up!
I like to pair my buffalo cauliflower wings with celery since that's traditional. The celery is also yummy dipped into with the cilantro lime yogurt. Both help to cool down the heat of the cauliflower wings.
Super simple and delicious! It's the perfect appetizer for watching the big game or as a starter for a barbecue! Whatever the occasion, I hope you love them as much as we do!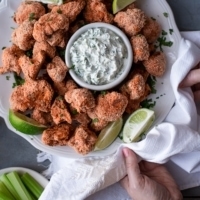 Baked Buffalo Cauliflower Wings Recipe
These baked cauliflower have all the flavor but less guilt!
Print
Rate
Ingredients
Buffalo Cauliflower Wings
1

cup

buffalo sauce

2

egg whites

1.5

cups

bread crumbs

3/4

teaspoon

sea salt

2

heads

cauliflower
Cilantro Lime Yogurt Dip
1

bunch

cilantro

, divided

1

lime

(plus more for garnish)

1

teaspoon

honey

1.25

cups

thick Greek yogurt

Salt to taste
Instructions
Buffalo Cauliflower Wings
Preheat oven to 400F and line 2-3 sheet pans with parchment paper.

In one bowl, whisk together the egg whites and buffalo sauce.

In another bowl, mix together the bread crumbs and sea salt.

Cut the cauliflower into florets, wash and dry thoroughly.

Dip each floret in the egg/sauce mixture, making sure the sauce gets into all the nooks and crannies of the cauliflower. Then gently shake off any excess.

Dredge the floret in the breadcrumbs then place on baking sheet. Repeat with the rest of the cauliflower.

Bake 40-45 minutes, flipping halfway through baking. Wings are done when they are slightly tender inside and crispy on the outside.
Cilantro Lime Yogurt Dip
Wash and dry cilantro then finely chop 1/3 cup for the dip. Coarsely chop the remaining cilantro for garnish.

Zest the lime then mix together the zest, cilantro, yogurt and honey.

Season to taste with salt then thin the sauce with lime juice if desired.

Garnish buffalo cauliflower wings with remaining cilantro and lime wedges and serve immediately!
Notes
We used two Greek yogurts, Fage Total and Chobani Savor Whole Milk Plain Squeezable in our taste tests. Both were yummy and thick.
Always use a sharp knife. Dull knives are dangerous because they can slip instead of cut. I use a small chefs knife to cut up cauliflower, but a paring knife might be more comfortable for some. To keep my knives extra sharp I use this Zulay sharpener.
Nutrition
Calories:
144
kcal
|
Carbohydrates:
25
g
|
Protein:
10
g
|
Fat:
2
g
|
Saturated Fat:
1
g
|
Cholesterol:
2
mg
|
Sodium:
1354
mg
|
Potassium:
540
mg
|
Fiber:
4
g
|
Sugar:
6
g
|
Vitamin A:
67
IU
|
Vitamin C:
72
mg
|
Calcium:
106
mg
|
Iron:
2
mg
Tried this recipe?
Let us know how it turned out for you! Scroll down to leave a comment below.
Love this recipe? Check out all our appetizer recipes!
You might also like:
Hot Crab Dip
This hot crab dip is cheesy, creamy and full of sweet crab flavor. It's exceptionally easy to make and just so delicious!
Grilled Pineapple Salsa
Spice up your salsa routine with this grilled pineapple salsa recipe! It's a fresh, tropical way to dress up everything from tacos to tortilla chips!
Beef and Potato Empanadas
Beef and potato empanadas are the perfect two bite-sized snack! They are made from scratch with flavorful Latin-American spices and served with a tomato chipotle sauce for dipping.