This blueberry lavender soda is a refreshing beverage you can make at home. Perfect for summer barbecues or cooling off after working in the garden!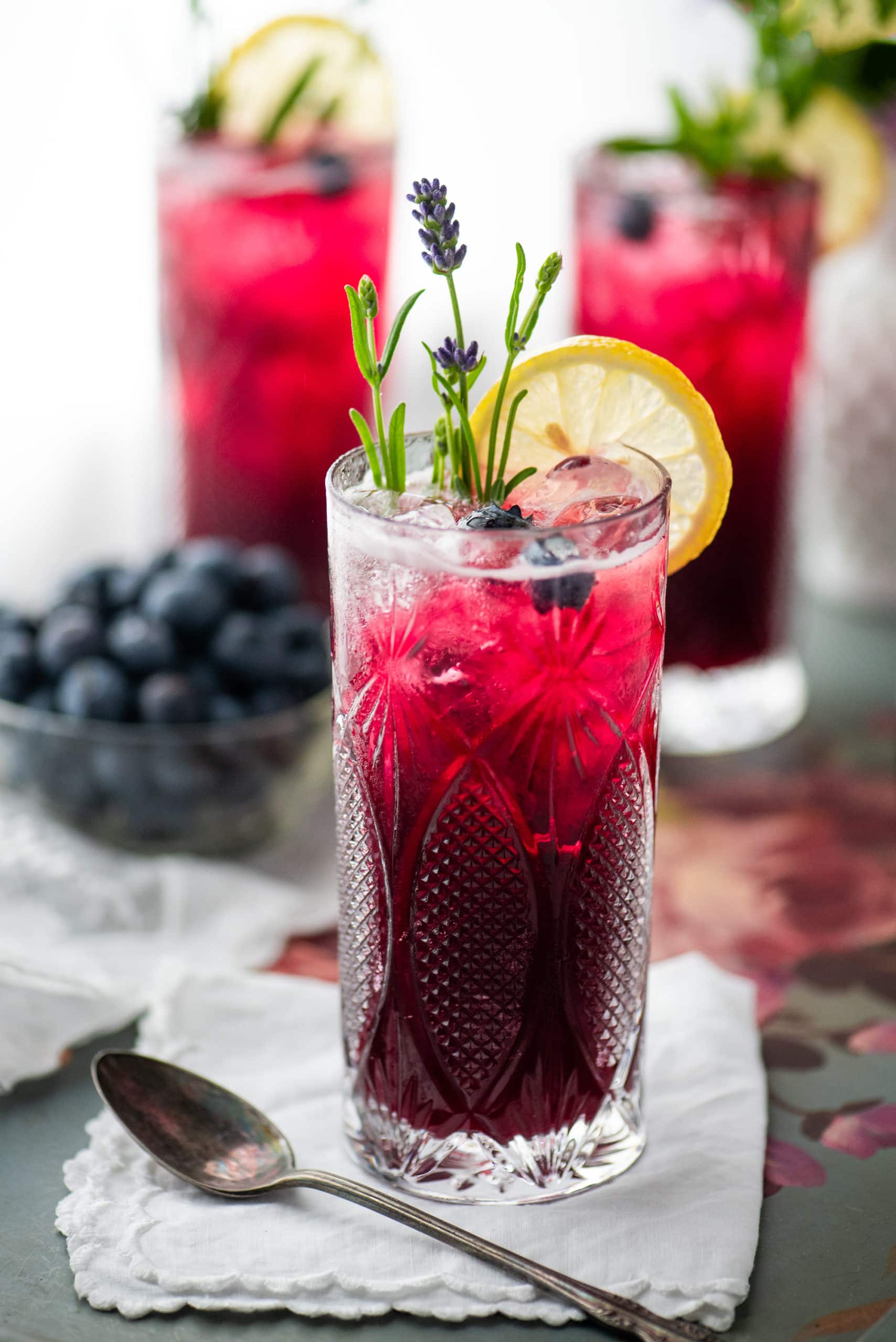 There's something about summer that makes you crave sweet, plump blueberries. I love them in grapefruit bars and in lemon cake but they are also lovely in this homemade soda.
A number of months ago, I went to Cava for dinner while Kevin was away on business… seems like forever ago in pandemic time. Remember eating in restaurants? Man, those were the days!
Anyway, Cava is a Mediterranean fast casual restaurant chain that serves bowls similar to Chipotle. The food's awesome, but one of the things I love most is their juice drinks. They are inventive mixes like beet lemonade, blood orange ginger, and watermelon mint.
Well, this particular stop I tried the blueberry lavender flavor and LOVED IT! It was sweet and herbal and I could have downed a gallon of it because it was so tasty.
It inspired me to make this homemade blueberry lavender soda recipe, which is perfect for summer porch sipping!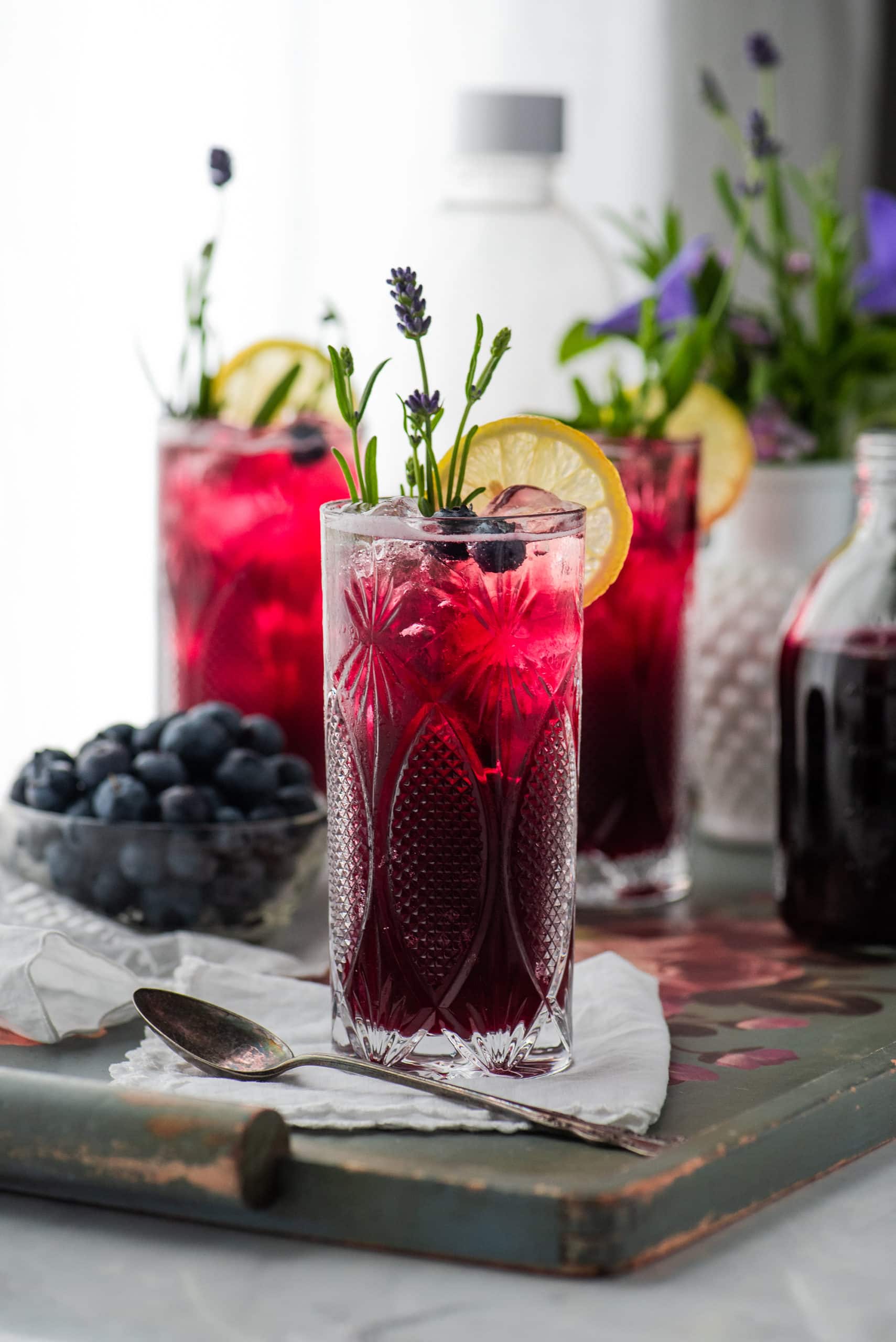 Homemade Soda
There are two ways to make your own fizzy soda. The first (and most old fashioned) is to ferment a soda using using a starter culture such as yeast or whey. The second is to combine a flavored syrup with carbonated water.
I've made fermented soda before and although the results were tasty, I found it to be an inexact science. Maybe it's the temperature of my house, but it took so long to ferment I was concerned that my culture wasn't active. And it's the fermentation that creates the natural fizz. My soda eventually got there, but it took patience!
For this recipe, I used the latter technique. I made a homemade blueberry syrup to mix with seltzer water. This method is super easy, especially if you have a Soda Stream…
Well… easy if you read the instructions! We just use our Soda Stream for sparkling water and don't buy the syrups. So, the first time I made this recipe I added the blueberry syrup to still water then attempted to add the carbonation. BIG MISTAKE! It foamed up and spurted all over the kitchen. Little sticky magenta droplets on the cabinets, the walls, the floor! But it gave us a good laugh!
If you don't make my mistake it really is easy. It's simply a matter of making syrup by cooking the blueberries in water with the lavender and sugar then adding lemon juice.
Culinary Lavender
Lavender is an herb very similar to rosemary. Both have long woody stems with short needle like green leaves. In the herb garden, both prefer humid air, well drained soil and a sunny location. From a distance they can be hard to tell apart…that is until the lavender produces it's distinctive light purple blooms.
Take a closer look and you'll notice the lavender plant is just a shade lighter in color and if you rub the leaves, you'll notice the difference in fragrance. Rosemary has a woodsy smell with notes of mint and pine while lavender is much more floral.
Just like rosemary, lavender can be used in cooking, although English lavender is the most common variety used for culinary purposes. Both the leaves and the flowers are edible, but the dried flower buds tend to be the most popular to use in recipes.
Lavender can be found in the savory spice mix Herbs de Provence but most often lavender is included in sweet desserts and beverages. I love it because it can take food from ordinary to gourmet with very little effort!
For this blueberry soda recipe, the lavender helps to break up the sweetness of the blueberry, giving the drink a complex, herbal flavor.
Ingredients and Substitutions
I realize that ingredients are hard to find right now so I've listed possible substitutions below. Feel free to skip ingredients and swap them as necessary.
Blueberries → Although this drink is perfect for summer barbecues, this drink would be great any time of year. Because of the pandemic, I had to be flexible with my recipe testing. I've used fresh and frozen blueberries and also wild blueberries. All worked great, so use what you can find.
Lavender →You will need lavender flower buds to make this recipe. I started out with lavender from Williams Sonoma. When I ran out, I bought lavender on Etsy from Norwood Farm. It was very fresh and I highly recommend it. Of course, when it's in season you can also go to a lavender farm and pick your own.
Sugar → I used granulated sugar. I also think a mild honey would be nice, but you wouldn't need as much as honey is sweeter than sugar.
Lemon juice → I used fresh lemon juice but frozen would be fine too. I haven't tried it, but lime juice would probably be good in this recipe too.
Soda water → we made our own using the Soda Stream. We love it because it's environmentally friendly, but you can also purchase bottles or cans. It goes by lots of names like seltzer, club soda and sparkling water.
Tips for serving blueberry soda
Chill your soda water and syrup so the drink doesn't get watered down by ice.
We mix our syrup and soda water immediately before serving. If you'd like to make it in advance, pour it into swing top bottles so it's doesn't loose it's fizz.
When it's in season, fresh lavender sprigs are a perfect garnish.
This homemade soda is a great, non-alcoholic option for cocktail parties.
Make it ahead! The syrup can be refrigerated up to 3 days or frozen up to a month. Great for party prep!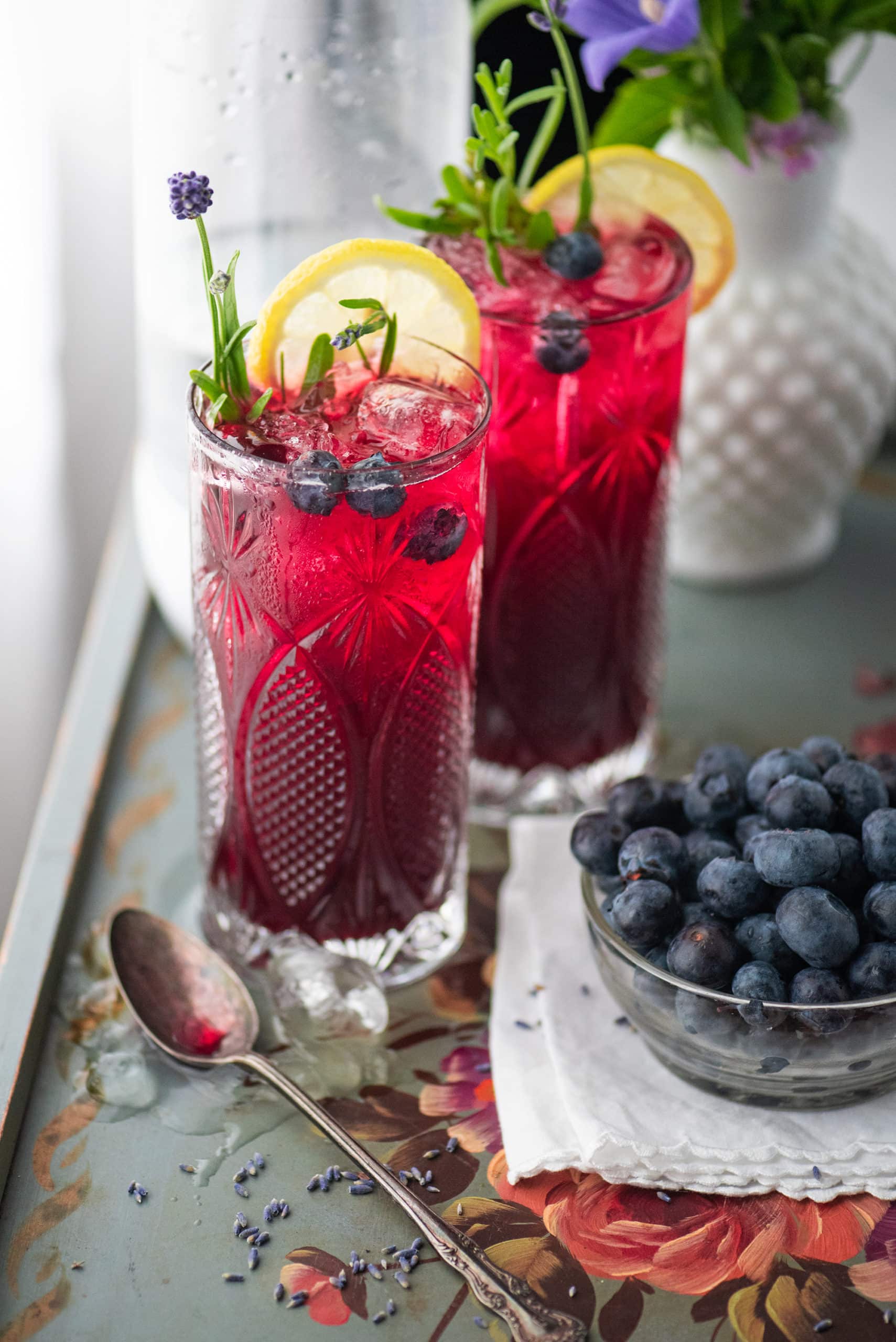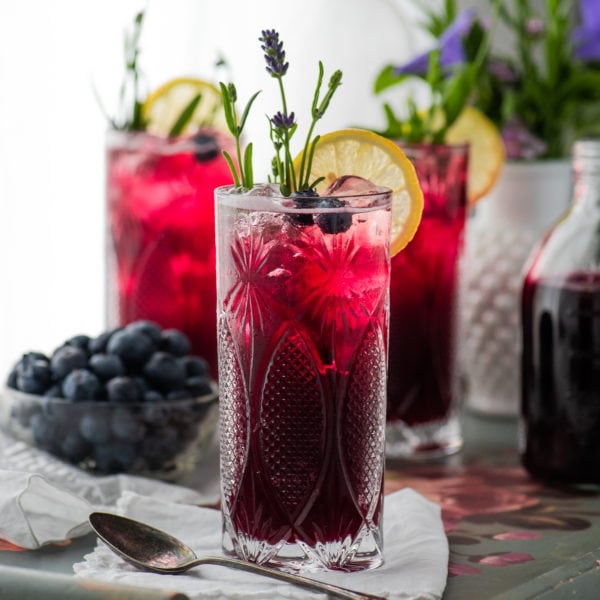 Blueberry Lavender Soda Recipe
Homemade soda is a sweet little luxury in our home. This blueberry version benefits from the addition of dried lavender blossoms and lemon juice which keep the soda from being overly sweet.
Print
Pin
Rate
Servings:
12
6 ounce servings
Ingredients
4

cups

blueberries

2

tablespoons

lavender flower buds

4

cups

water

2

cups

sugar

4

large

lemons

, juiced

4

cups

soda water
Instructions
In a medium sized pot, combine blueberries, lavender and 4 cups of water. Place on the stove on medium high heat and bring to a boil.

Once the mixture reaches a boil, turn down heat to low and let simmer for 25 minutes.

Add sugar and stir until it dissolves, then strain the syrup through a fine mesh sieve into a mason jar.

Squeeze the lemons and strain the juice and add it to the jar then refrigerate the syrup until it's cold. It's also a good idea to chill your soda water as well.

When ready to serve, place the syrup in a large pitcher and add 4 cups of carbonated water. Serve immediately over ice.

If desired, garnish with fresh lavender sprigs, a slice of lemon and fresh blueberries.
Notes
A single recipe makes 72 ounces or about 2 liters of soda.
To make a single glass of soda, the ratio of blueberry syrup to water is 5 parts syrup to 4 parts soda water. For a 6 ounce portion, it's easiest to use metric, so the recipe would be 100ml syrup and 80ml soda water.
This beverage is quite rich and sweet so it doesn't lose it's punch when served over ice. If you'd like to serve it straight you may want to add additional soda water.
I haven't tried it yet, but I think the syrup would be great for snow cones!
Make it ahead! The syrup can be refrigerated up to 3 days or frozen up to a month.
Nutrition
Calories:
169
kcal
|
Carbohydrates:
44
g
|
Protein:
1
g
|
Fat:
1
g
|
Saturated Fat:
1
g
|
Sodium:
22
mg
|
Potassium:
88
mg
|
Fiber:
2
g
|
Sugar:
39
g
|
Vitamin A:
42
IU
|
Vitamin C:
24
mg
|
Calcium:
24
mg
|
Iron:
1
mg
Tried this recipe?
Let us know how it turned out for you! Scroll down to leave a comment below.
Thirsty for more? Check out all our drink recipes!
This cocktail recipe is made with just a handful of simple ingredients, so say hello to your new favorite cocktail for impromptu parties!
Orange Chai Iced Tea will make your summer cool and sweet. There isn't a more classic way to relax with friends on a hot day.
These earl grey cupcakes with lemon buttercream are the perfect dessert for small accomplishments, special occasions or everyday cravings.