You'll love this homemade beet ravioli in brown butter! It's a stunning dish that's suitable for weeknights or your holiday dinner table.
---
So many flavors in this beet ravioli dish! A simple brown butter orange sauce, fennel, walnuts and beet greens combine to make a meal you won't forget!
I hope you've read Kevin's awesome post on homemade Golden Beet Ravioli. There aren't any "and then the power went out and we made pasta" stories in my family so I'm glad he got to share his memory! If you haven't read it, go do that now and then come back here.
We decided to break this dish into two pages because we feel that ravioli is best made in bulk! If you're a baker, you know that flour is messy stuff, so once you get out that pasta roller and you're stamping ravioli, you don't want to make all that mess for a few measly ravioli. So the recipe makes 60, enough for a dinner party or to freeze for multiple easy dinners.
As delicious as they are, eating ravioli by themselves is not the Vintage Kitty way, so today I'm bringing you a stunningly easy dish to feature your homemade beet pasta. It's a dish that's perfect for two but also so special you'll want to make a large dish of it to serve for special occasions.
You might be surprised to learn that ravioli stamps come in lots of shapes and sizes. In fact, I started creating this recipe with red beets and a heart stamp thinking it would be a great Valentines dish. But the recipe wasn't ready in time. Now fast forward to December. In my mind I know that February is just around the editorial corner, but was also thinking that red is a great Christmas color too.
But guess what? The store I went to only had golden beets! Luckily I had purchased the star ravioli stamp at Homegoods for a mere $3 and that seemed like a perfect fit your the yellow beets. So keep in mind that you can use any color beets or any type of ravioli maker you like. I've got a crimper, which is great if you don't have a lot of storage space, a large mold that makes 12 at once and many ravioli stamps. They all make lovely ravioli.
Now on to this dish! Because making ravioli takes so much time, we've paired it with a dish that is super fast. Like less than 30 minutes fast, so you can also put this on your weeknight meal list.
First, kids are on to something with all those buttered noodles! We've taken it to an adult level by browning the butter (hello nutty flavor!) and pairing it with freshly squeezed orange juice. Just a bit of salt and pepper to make this sauce seriously yummy! Doesn't get much easier than that!
We went vegetarian for this dish, so we opted for walnuts to give bulk to the recipe. Not only do they add to the nuttiness of the brown butter, they add in protein. I also find that visually, they look like meat, so it's a great way to trick your meat-eating husband into eating more plant based (when IRL he would eat steak and potatoes with a side of nachos every day if he could! Not knocking steak and potatoes, but variety is a good thing).
To round out this dish there's fennel for savory flavor; more beets, because they're so sweet; and beet greens because the phrase "waste not, want not" is etched in my mind thanks to my stepfather, Barry. My child-self did not relish this lesson, but my adult-self loves the scrappiness. The greens were just the bitter element the dish needed to balance the sweet, rich notes of the other ingredients.
If you want to go all out, add some shaved parmesan and fennel fronds for garnish, and viola!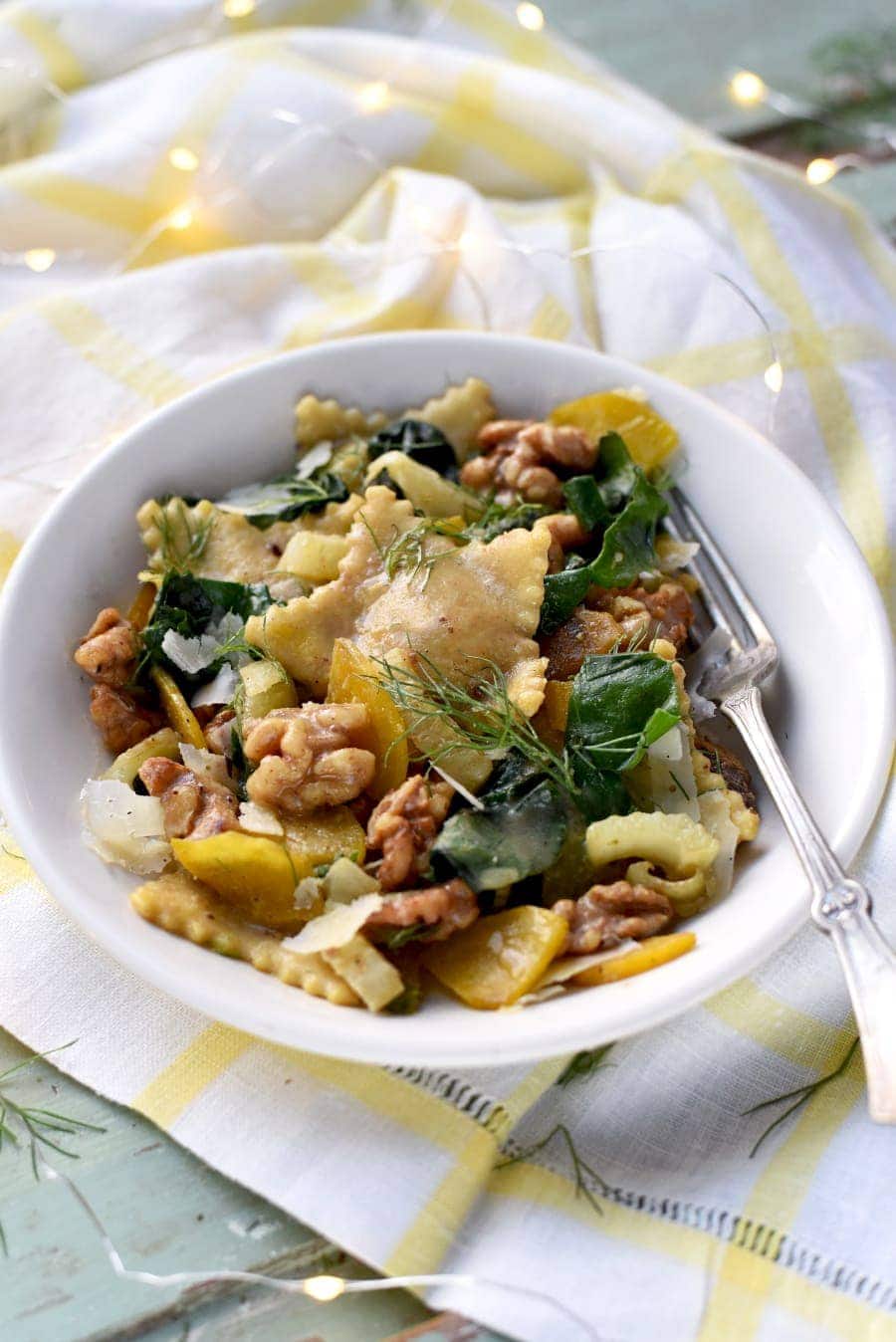 Isn't it a gorgeous dish? It is so foodie, but yet such a simple meal that it will become a family classic! Enjoy the recipe!
Happy Holidays!
-Kitty
Golden Beet Ravioli in Brown Butter Orange Sauce with Walnuts and Fennel
This savory pasta dish is extra special! It's made with homemade golden beet ravioli and tossed in a super easy orange brown butter sauce. Walnuts, fennel and beet greens round out this vegetarian dish that is perfect for special occasions.
Print
Rate
Ingredients
Golden Beet Ravioli
1

tablespoon

butter

1

small

golden beetroot

quartered and sliced thinly

1

small

fennel bulb,

sliced

3/4

cup

walnuts,

half coarsely chopped

greens from beet,

chopped
Brown Butter Orange Sauce
4

tablespoons

butter

juice of one orange

salt and pepper to taste
Garnish
Shaved parmesan

Fennel fronds
Instructions
Ravioli
Fill a large pot with water and give it a generous pinch of salt.

Bring the water to a boil.

Once the water is boiling, reduce the heat so the water is simmering,

Add in the ravioli and cook 3-5 minutes, until the pasta is al dente.

Using a slotted spoon, remove the ravioli and set aside.
Brown butter orange sauce
In a large skillet (preferably stainless or ceramic) , melt butter over low heat.

Once the butter is melted, turn up the heat to medium high.

Swirl the pan and watch for the butter to foam up.

When the foam starts to die down and the milk solids are browned, remove the pan from the heat and add the orange juice.

Season the sauce with salt and pepper to taste.

Strain the sauce through a fine mesh sieve and reserve.
Saute the vegetables
Wipe out your saute pan with a paper towel and return to the burner.

Heat remaining tablespoon of butter over medium heat.

Add beets to the pan and saute 2-3 minutes.

Throw in the sliced fennel and cook until the fennel is tender and slightly browned, about 3-5 minutes.

Add in the walnuts and saute for a minute or two.

Pour the butter sauce into the pan.

Toss in the beet greens and wilt them for a minute or two, then add in the cooked ravioli.
Garnish
Dish up the ravioli between two bowls.

Garnish with shaved parmesan and fennel fronds.
Notes
If you're wondering how to brown butter, this post from A Beautiful Plate is very helpful.
Be careful to not cook your ravioli too hard. A hard boil will often break apart even commercial ravioli.
We've written this recipe as a dish for two, but you can easily scale up the recipe to serve more people. The beet ravioli recipe will serve ten people, so multiply this recipe by five to make a party dish.
If you'd like to make this dish for a holiday dinner, you can make the sauce and cook the vegetables in advance. When ready to serve, cook the ravioli in small batches (about 12 ravioli). Reheat the vegetables in a large pot, adding a little sauce if necessary. Resume the recipe with the walnuts, allowing a bit more time to reheat the sauce before adding in the ravioli.
Nutrition
Calories:
568
kcal
|
Carbohydrates:
6
g
|
Protein:
6
g
|
Fat:
34
g
|
Saturated Fat:
17
g
|
Cholesterol:
123
mg
|
Sodium:
603
mg
|
Potassium:
66
mg
|
Vitamin A:
1115
IU
|
Vitamin C:
3
mg
|
Calcium:
21
mg
|
Iron:
0.1
mg
Tried this recipe?
Let us know how it turned out for you! Scroll down to leave a comment below.
You might also like:
Italian Vegetable Casserole
This Italian Vegetable Casserole is a hearty and healthy main course dish that will satisfy even the pickiest of vegetable eaters! So cheesy and flavorful!

Prosecco Pineapple Sorbet Floats
Prosecco Pineapple Sorbet Floats are the ultimate light and refreshing brunch cocktail or dessert.
Pomegranate Pistachio Cupcakes with Greek Yogurt Buttercream
Made from scratch with fresh lime zest, pomegranate seeds, pistachios and ginger beer, these Pomegranate Pistachio Cupcakes are the perfect compliment to whipped Greek Yogurt Buttercream.