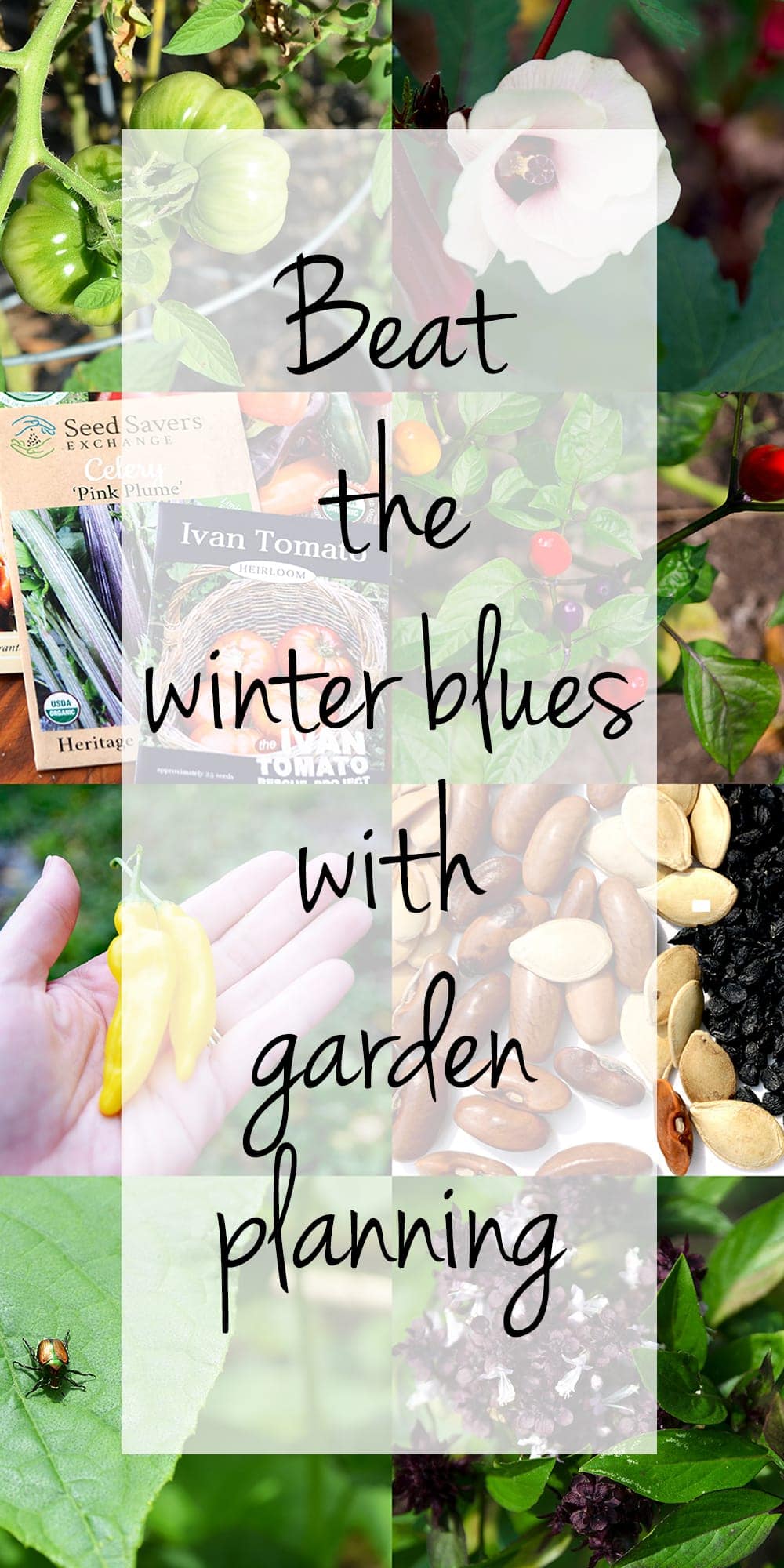 Beat the winter blues with garden planning! You'll find this a useful resource for buying heirloom seeds to plant your vegetable garden.
---
It's hard to be sad when you're dreaming of your summer garden. Find the best places to order heirloom seeds and get your garden plan started!
Winter is hard for me. The short days and bitter cold take a toll on my well being and by January, I am normally in a slump. It's hard to not get the blues this time of year, but that doesn't mean you give into the sadness.
There are many ways I combat the winter blues, like taking extra vitamin D, baking, going antiquing….doing the things I love. But by far, my favorite way to beat the winter blues is garden planning.
It's a chance to think back upon previous harvests and decide what I want to grow again, and what may not have worked out very well. For instance, I know this Chinese Five Color Pepper is a keeper. It's ornamental and well as prolific. It's also magnificently spicy!
But I also know which plants have easily succumbed to pests like Japanese beetles and squash bugs. Since my aim is to have an organic garden, I have to pick varieties that are are hearty and resistant to bugs and diseases.
On the other hand, great food starts with great produce, so I'm also thinking about flavor when I choose the types of vegetables and fruits to grow. For the best taste, heirlooms are a must!
This hunt for heirloom seeds, is much of what sustains me through winter. When you're looking through sunny catalogs filled with brightly colored fruits, it's hard not to be hopeful for spring. Luckily there are many great companies that sell heirloom seeds, many of them rare and unusual.
Most of these varieties will never make it to your supermarket because they are not commercially viable, even though they are delicious. So there's also that feel good knowledge that you're protecting biodiversity when you plant heirloom seeds!
To start your garden planning, it's time to purchase seeds. You may be thinking that it's too early, but since many vegetables must be started indoors 2-4 weeks before last frost, planting time is just around the corner. (You already feel those blues melting away, right?)
So, grab some graph paper, sketch out your garden planting area and grab your seed catalogs. It's time to beat the winter blues with garden planning! Don't have a catalog yet? See my favorite resources below.
Where to find heirloom seeds:
There are quite a few companies specializing in heirloom seeds. These are some of my favorites.

Baker Creek Heirloom Seeds
Baker Creek was started by Jere Gettle when he was just 17 years old. Now, 19 years later, the company offers over 1850 fine varieties of unique seeds from over 100 countries.
Victory Seeds
Victory Seeds sells heirloom, open pollinated seeds. They raise many of the seeds they sell, but what they don't produce themselves, they obtain from a network of carefully selected growers. If your garden is small, check out the Dwarf Tomato Project varieties they have available.
Southern Exposure Seed Exchange
Southern Exposure Seed Exchange offers more than 700 varieties of seeds, specializing in varieties that perform well in the Mid-Atlantic and Southeast regions of the US.
Another fun way to garden is to plant seeds that are endangered. Here are some interesting varieties you might enjoy.

Bradford Watermelon
In the 1850s, Nathaniel Bradford developed a unique watermelon with ultra-sweet flash and dark green skin. By the early 1900s the Bradford watermelon fell out of cultivation. However, the Bradford family never stopped growing the original watermelon. Recently "rediscovered," seeds for Bradford Family Watermelon are bringing this sweet watermelon back!
The Appalachian Bean Project
Many Appalachian families cultivated pole beans which they passed down for generations. Sow True Seed is working to preserve this unique agricultural heritage.
Beaver Dam Pepper
This pepper variety was brought to America by Hungarian immigrant Joe Hussli. Almost lost to history, Lee Greene saved this heirloom from near extinction. Today the pepper in Beaver Dam which hosts a festival in its honor!
The Ivan Tomato Rescue Project
When three friends realized their favorite tomato was no longer available through public sources, they started the Ivan Tomato Seed Project.
How do you beat the winter blues? Leave a comment below or find us on Facebook @vintagekittycom, Twitter @the VintageKitty and Instagram @vintagekittyblog.
You may also like:
Seed Saving 101
If you've ever wanted to save your own seeds, these Seed Saving 101 tips and cute envelopes will get you started on next year's garden!
Seed Starting Tips
The arrival of spring means its time to start working on your vegetable and herb gardens. Follow these simple Seed Starting Tips to get started!
Elegant Cabernet Strawberry Rhubarb Pudding
Rhubarb prefers a sunny spot and seems rather easy to grow in climates with a cold winter…finally, a reason to like winter!